10-year U.S. Treasury yield broke the 3 percent key level
On 24 April 2018, the 10-year U.S. Treasury (UST) yield close above the key resistant level of 3% for the first time since December 2013. The 3% yield for the 10-yr UST was largely observed by market participants as a key level in determining the end of a 30-year bond market bull run.
Fig 1: 10-year treasury yield kept below the downtrend line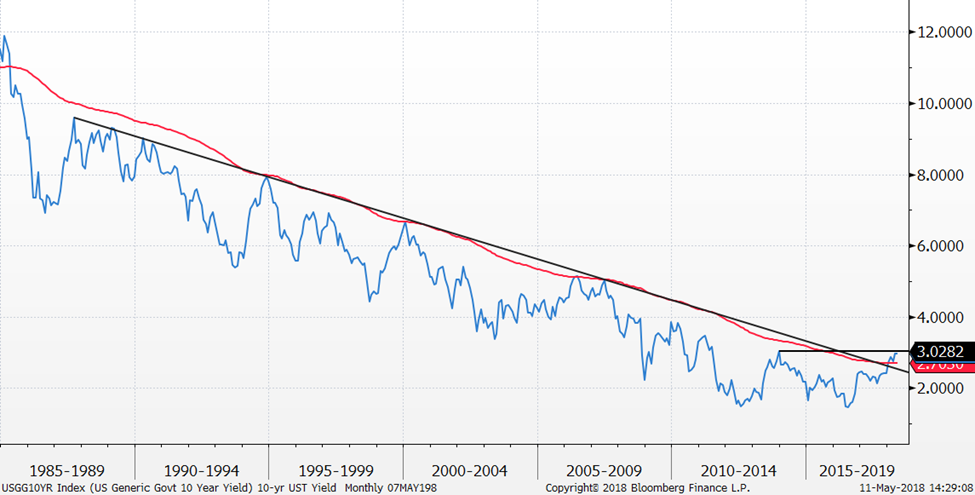 Since the close above 3%, the 10-yr UST yield has subsided by 50bps to around 2.95% and flirted with the 3% level. As the Federal Reserve continues their plan to hike their fed fund rate, we believe the 10-year UST yield will also move higher together in this rising interest rate environment.
Treasury yield will rise with Fed fund rate hikes till 2020
The current rate hike cycle which started in December 2015 is at its 30th month and is one of the longest cycle since 1980. However, it is also one of the slowest rate hikes in the Fed fund rate with just 1.50% increase since the start of the cycle.
On average, Fed fund rate increase by 3.20% in a cycle. Therefore we expected the current cycle to end when the Fed fund rate reached about 3.45%. According to the FED dot plot, that will happen at the end of 2020.
Fig 2: This is currently the longest but slowest rate hike cycle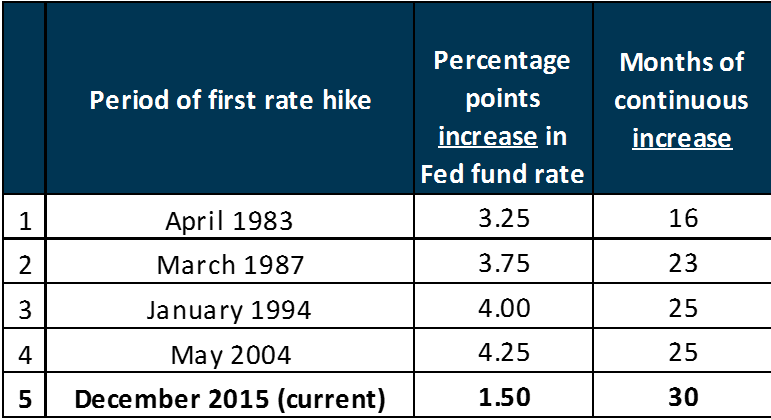 Real 10-year yield correlates to GDP growth rate
Stripping out inflation (PCE core) from the nominal 10-year yield, we observed that the real 10-year yield move in tandem with the GDP YoY growth rate. In fact, historically, 10-year real yields tend to be above the GDP growth rate reflecting the premium paid to investors for taking on the sovereign risk of U.S.
However, this correlation was broken after the Global Financial Crisis (GFC) in 2009. The Federal Reserve (FED) quantitative programme (QE) artificially suppressed the 10-year real yield. This kept the 10-year yield level below the GDP growth rate as seen in the red box in Fig 3. For the first time in history, real 10-yr yield was push to negative in 2012 and 2016 as the FED kept the interest rate at zero percent to try to spur inflation.
The programme to unwind QE was finally set in place in October 2017. With the reversal of QE, we believe that 10-yr yield should close the gap and reverse back to its historical level, i.e. above the U.S. GDP YoY growth rate.