Federal Reserve hikes rate for the 8th time since 2015
On 26 September 2018, U.S. Federal Reserve concluded their two days conference with a rate hike as anticipated by the markets. This is the 8th rate hike since the cycle began, bringing the Fed Fund Rate to 2.25% for the first time since March 2008. In summary, one more rate hike is expected this year, three more hikes next year and two more in 2020.
Five key points to note
1. Dot plot shows additional hike this year: FOMC raised its Federal fund rate by 25 basis points to a range of 2.00% to 2.25%. The dot plot projection showed 12 members of the Federal Reserve expecting the fed target rate to reach 2.375% at the end of 2018. This would imply one more rate hike this year to bring the total number of rate hikes to four by the end of 2018. Based on the Dot plot projection for 2019, two more rate hikes is a high probability event as more FOMC members are gearing towards three or more rate hikes in 2019.
2. Economic growth & Inflation: Fed upgraded its GDP forecast for 2018 to 3.1% from 2.8% and 2019 to 2.5% from 2.4% suggests the Fed does not expect the trade tensions and tariffs to have any major adverse impact on the US economy in the near-term. Jerome Powell also reiterated during the press conference that the US economy is strong and jobless rate is low. The Fed chair also mentioned the hiking cycle is a function of the strength in the economy. PCE Inflation is projected to reach 2.1% by year end with the Core PCE reaching 2.0%. The preferred inflation measurement by FOMC, Core PCE Deflator is currently at 1.99%, near the 2% target.
3. Unemployment: Unemployment for this year was revised higher to 3.7% compared to the 3.6% projected in June earlier this year. The projected unemployment rate will fall to 3.5% in 2019 and 2020, unchanged from the June projection. The longer-run rate of unemployment remains at 4.5%, which is the estimated rate for full employment when labour supply and demand is in balance.
4. Change of tone in statement: Comparing the current statement with the one in August, FOMC dropped the sentence "the stance of monetary policy remains accommodative, thereby supporting strong labor market conditions and a sustained return to 2% inflation" signals a more hawkish tone. However, during the press conference, Powell reassured the market that the interest rate hike will be done gradually. Powell said that dropping accommodative language in the FOMC statement does not signal rate path change. The outlook of the economy remains the same as the August statement stating that labor market has continued to strengthen and that economic activity has been rising at a strong rate.
5. Notable mentions during the press conference from Powell:
Gradual return to normal interest rates helping to sustain US economy
Tightening cycle a reflection of strength of the economy
It is hard to see much happening from trade war at the national level at this point
By some valuation measures, stocks high historically
If inflation surprise to the upside, we could move faster
Figure 1: Dot plot (13 June 2018 vs. 26 September 2018)

Figure 2: Federal Funds Target Rate – Upper Bound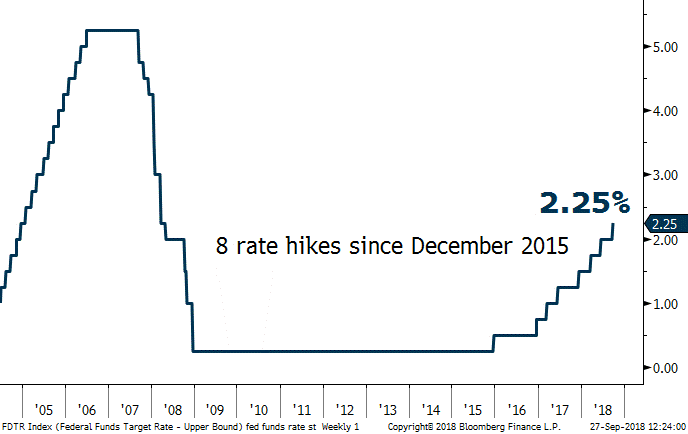 Figure 3: US Unemployment Rate & labour force participation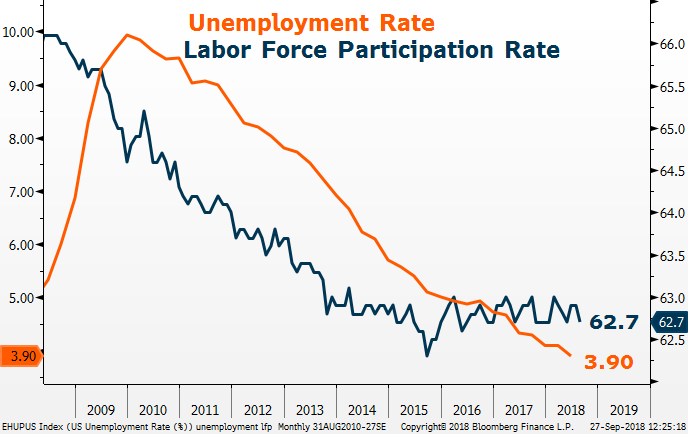 Source: Bloomberg, PSR