JANUARY 2018 PORTFOLIO PERFORMANCE (%)

Highlights
January ended pretty much the same way as 2017 ended, i.e. higher across most equity markets. However, February didn't start as well as January, and we saw most equity markets correcting more than 10% from its peak in January.
A few reasons were attributed for the correction, but we found that the shrinking of Federal Reserve (Fed) balance sheet or Quantitative Tightening (QT) does seem to have a huge impact on the markets. On the last week of January, Fed balance sheet shrunk the most in 5 years, with a net change of negative US$22.1bn. We believe the correction in the markets and the huge negative change in Fed balance sheet are more than mere coincidental.  
Although we have never experience QT before, we can infer from the effects of Quantitative Easing. Just as how quantitative easing has supported asset prices, we should be prepared for the opposite effect of QT.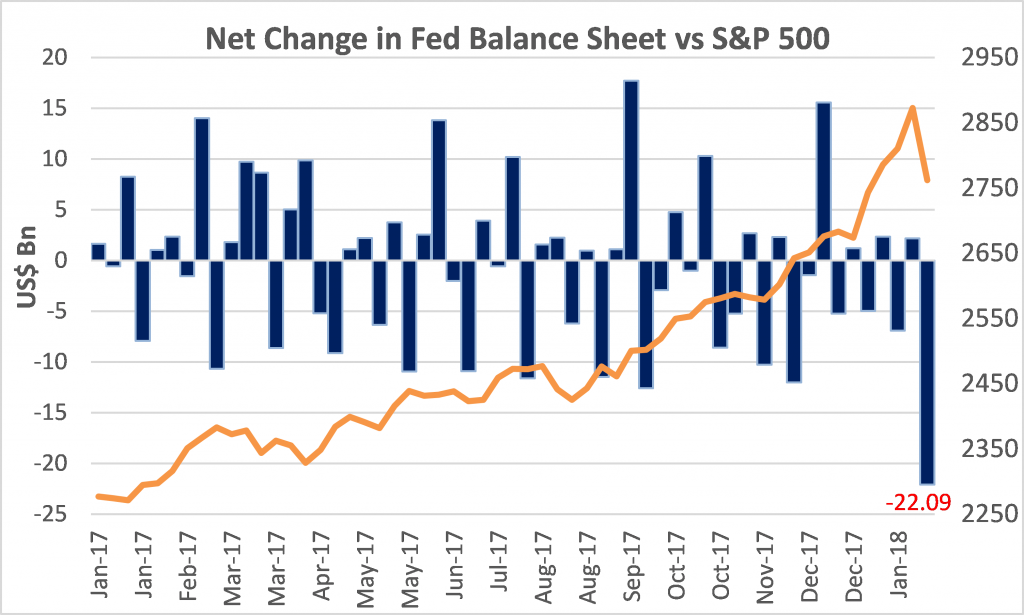 Source: Federal Reserve, Bloomberg, PSR
US inflationary pressure, a rising treasuries yield and the blow-out of the short volatility trade have also created many jitters in the markets.
February job data finally showed a long-awaited improvement in wage growth. Wage grew 2.9% YoY, the fastest pace since June 2009.  The data caught the market by surprise as investors were still expecting lower for longer inflation. Inflation has also put upward pressure on Treasuries yields, with the 10yr treasuries yield cutting above certain key technical level. This has led to many investors calling for the end of the 37-year bond bull markets.
In addition, the sudden and huge move in the S&P500 caused the rewind of the short volatility trade. This was evident as one of the popular short volatility ETN (XIV) loss 90% of its value, and the issuer of the ETN announced that they would be closing down the fund on 20 February.
Going forward, we believe that there is a paradigm shift in volatility and we will watch out for any form of indiscriminate selling from the market as a first warning sign for a change in sentiment.

INSTRUMENTS FOR PHILLIP ETF MODEL PORTFOLIOS

KEY CHARTS