We were hosted by Pacific Star Development Limited (PSD) to visit their latest development, Puteri Cove Residences & Quayside, in Iskandar Puteri, Malaysia on 1 February 2018. We were shown various units, amenities and briefed on the economic prospects and other upcoming developments, such as the One°15 managed private marina, in Puteri Harbour.
Company Background
PSD is an ASEAN property developer with previous property launches and investments in Kuala Lumpur and Bangkok, and pipeline projects in Iskandar and Bangkok. PSD was formed from a reverse takeover (RTO) and subsequently listed on the SGX Catalist Board on 16 February 2017. It also has a non-property division comprising its aluminium building works business in Singapore.
Site Visit Highlights
Prime asset within a Waterfront CBD
Premium mixed-use project (residential units priced at ~RM1,450psf) located right opposite the upcoming One°15 Marina Clubhouse
Puteri Cove Residences (Tower 1 and 2) expected to be issued its Certificate of Completion and Compliance before the end of February 2018
Diverse demand pool due to unique nature of development
No restrictions on foreign ownership, affordable housing, or Bumiputera quotas
Diversified nationality of buyers (28 different nationalities – 50% are Singaporeans)
Average 75% sold for the residences
Iskandar Puteri key pillar of up-and-coming special economic zone
Iskandar Puteri is poised to be the key commercial centre of Iskandar, Malaysia
Puteri Harbour is nestled within Iskandar Puteri, along with Legoland and EduCity – which are seen to be among the main draws for tourists and foreigners
Investment Actions
No stock rating or price target provided, as we do not have coverage on PSD.
Peer Comparison – PSD's P/B and ROA is the highest among its peers

Source: Bloomberg, Company
Background
PSD is the resultant entity of the S$140 million RTO with LH Group limited, which previously only comprised the non-property division. PSD's Management has collective experience in deal origination and property investment management, having managed 3 closed-end property funds since 2005.
PSD disposed of its non-core business (Autotrax) in May 2017, and had inked a MOU in September 2017 with an Indonesian Master Developer to develop an iconic waterfront project, and in October 2017 entered into a strategic partnership with a DFM-listed property developer in Dubai to develop luxury properties in key cities across Southeast Asia over the next five years.
Property division: Current projects
PSD has two current projects – Puteri Cove Residences and Quayside (51% owned with DB2 Land) in Iskandar and The Posh Twelve (51% owned joint-venture) in Bangkok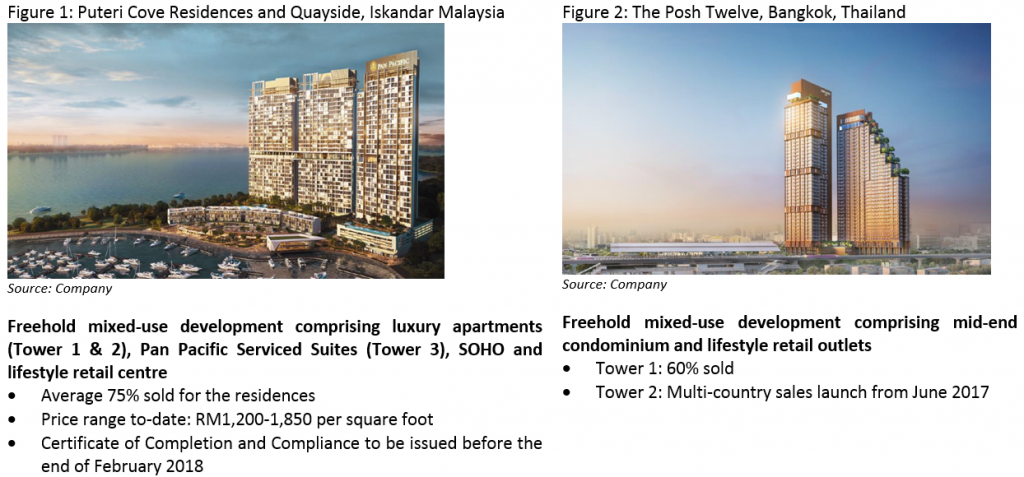 Property division: Pipeline projects
– Different stages of negotiations in Malaysia, Thailand, Indonesia and Vietnam
On-going negotiations in mid to advanced stages with land owners and strategic partners in Thailand and Malaysia to develop 400,000 sqm GFA in various prime locations
Exploratory discussions with landowners in Jakarta and Ho Chi Minh City
Non-property division: Aluminium division
Figure 3: Structure of PSD's Aluminium division

PSD's Aluminium Division provides design, fabrication and installation of building facade and exterior walls
PSD's Aluminium Division is one of the 8 approved Singapore Housing Development Board (HDB) window suppliers and installers, and has also completed various iconic landmarks in Singapore such as Changi Airport Terminal 3, The Sail@Marina Bay, Orchard Central, Yale-NUS College, Sky Terrace@Dawson and Waterbay EC
Prime asset within a Waterfront CBD
Premium mixed-use project (residential units priced at ~RM1,450psf) located right opposite the upcoming One°15 Marina Clubhouse
Puteri Cove Residences (Tower 1 and 2) expected to be issued its Certificate of Completion and Compliance before the end of February 2018
Pan Pacific Serviced Suites (205/340 units of Tower 3) will be operational in 2H2018