Global growth and inflation seems to be back on track
Sentiment has shifted and optimism is finally back in the markets
The sentiment change should push financial markets to euphoria level
Excess credit remains a huge risk factor
We are positive on Russia, China equity markets and Gold in 2017
Investment Strategy
As we close the chapter on another fruitful year of investing in 2016, we look forward to 2017 with a long-awaited optimism. Even as we saw improved economic data pouring in throughout the year of 2016, we had always felt something amiss. Alas, we figured that the missing puzzle-piece was the upswing in sentiments.
The turn of sentiment has subtlety pushed the market upward.  "Trumpflation" seems to be spreading its effect all over the world as global equity markets trends higher in rejoice of a U.S. led by Donald Trump. The believe of a de-regulatory financial system, a Keynesian style fiscal spending and a huge tax cut for America corporations created the almost perfect scenario for "America to be great again." All major indices of U.S. are reaching new all-time high. Europe and Japan markets have also found a bottom and has started to build momentum for an upward trend.
U.S. equity market indices making record high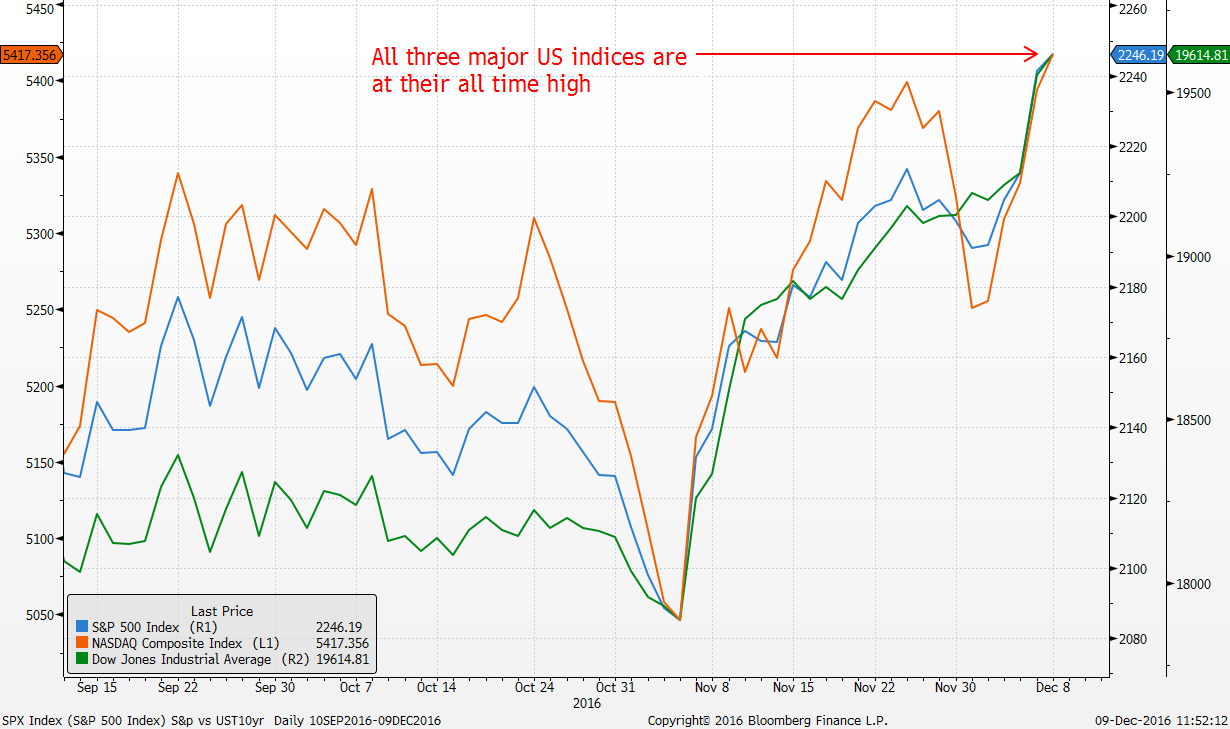 Source: Bloomberg, PSR
Global Economy
Growth and Inflations seems to be improving, indicating a supportive environment for markets. The G3 economies had three consecutive quarters of decent growth with no contracting quarters. Inflation, measured in terms of consumer price index (CPI), has also reversed their disinflationary trend this year with all three countries reporting positive inflation in November 2016. Removing the base effect of energy prices, core CPIs which exclude volatile energy and food prices had also been in positive territory for the year of 2016 in these three major economies.

Aside from the G3 economies, other prominent economies such as Brazil, Russia, India and China (BRIC) are also showing similar supportive economies outlook. India and China led the emerging economies with GDP growth above 6%. Brazil and Russia are moving out from their recessionary period as the contraction of their economies decrease. All BRIC countries are expected to have a positive economic growth next year.

G3 economies are expected to have benign growth in 2017 and 2018 with modest inflation. China and India are expected to continue leading, in terms of growth, while Russia and Brazil should recover from its respective recession. All BRIC countries are expected to maintain a healthy inflation rate between 2% to 5%.

Please download the full report to read further.