Description
NVIDIA Corporation (NASDAQ:NVDA) engages in Visual Computing. The Company operates through its GPU and Tegra Processors. The GPU businesses include GeForce for personal computer gaming, Quandro for computer aided design, video editing, special effects, and other creative applications; Tesla for deep learning and general purpose computing; GRID for cloud and data centres. NVDA's Tegra processors are primarily designed for its DRIVE, which provide automotive computing for driving and SHIELD, which designs devices to harness the power of mobile cloud for gaming.
Source: Thomson Reuters
Investment Action
We are bullish on NVDA on the company's strong line of products and its market share. NVDA, besides performing extremely well in its traditional core segment, pc gaming, has also positioned itself well to take advantage of the coming trends in the Technology sector; Autonomous Driving, Deep Learning Artificial Intelligence, Cloud and Virtual Reality. We believe that NVDA makes for a solid investment on the back of its strong line of products, its strong balance sheet and current valuations.
Intel's recent acquisition of Mobileye surprised many investors and we feel has signaled legitimacy to NVDA's continued efforts in the autonomous vehicle space. NVDA had previously announced partnerships with Tesla as well as Audi, Daimler, Bosch and many other automotive companies. While some investors had remained skeptical about whether the autonomous driving space would be worthwhile, Intel spending a massive US$15.5 bn to acquire Mobileye would seem to signal that Intel feels the need to catch up on the autonomous driving space. US$15.5 bn valued Mobileye with about US$383 mn in sales at 43x Sales, in contrast, NVDA generated about US$487 mn in Automotive related sales, and its total current valuation puts it at about 9x total sales. We believe that NDVA's Xavier, which uses a different technology and ARM chip architecture to Intel's x86 chips, is superior in performance and will continue to be the chip of choice for autonomous vehicle makers.
In terms of NVDA's Core segment, Gaming, it reported an increase of 66% y-o-y and 8% q-o-q in its most recent quarter, with a record US$1.35 bn in revenue. The gaming industry, which we touched on in our previous report, has been growing every year and is now an impressive US$100 bn industry. NVDA recently released their new graphics card, the GTX 1080 Ti, which matched the performance of its previous high end graphics card for about 60% of its cost. It remains to be seen if NVDA is able to hold on to their margins due to the reduction in price or will the company have its margins squeezed.
NVDA's foray into other segments has also garnered good results. Its Quadro revenue grew 11% y-oy to US$225 mn in its latest quarter, and as computing and special effects continue to rise in importance in design and entertainment, NVDA should also continue to reap those rewards. NVDA also reported that its Datacenter revenue tripled y-o-y to US$296 mn, reporting that Microsoft, Facebook and Google were among some of the early adopters to use deep learning to provide customers with AI services, which drove growth in the use of NVDA products in Datacenters.
Overall, NVDA has positioned itself very well to capture the fastest growing trends in technology with the biggest potentials; Gaming, Cloud/datacenters, Autonomous Driving and AI, and as such we are bullish on NVDA.
Key Points:
Technicals. NVDA has been soaring in a powerful uptrend since August 2015 where price continued to break new record highs without getting into any significant correction. It was only until recently where price reached a new record high of 120.00 round number resistance area where a technical correction occurred. The shooting star rejection off the 120.00 round number resistance area on the week  ended 10 February, 2017 managed to shift price into a healthy correction where price found a new higher lower base off the confluence of 95.17 support area, 38.2% Fibonacci retracement level and 20 week moving average.
Moreover, there was a strong reversal off the support area on the week ended 17 March, 2017 where buyers succeeded in breaking price above the pullback line validating the strength in the uptrend.
Expect the long term uptrend to resume next for price to retest the 120.00 resistance area.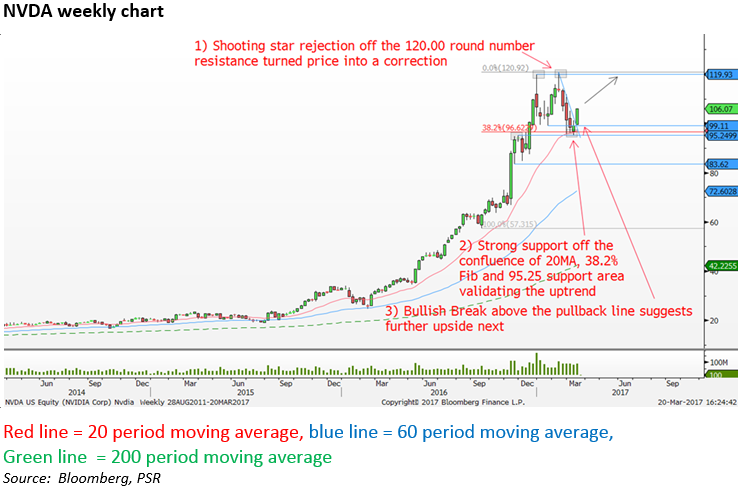 Valuations. NVDA currently trades at a PER of 42.26. In comparison, Advanced Micro Devices (NASDAQ:AMD) is currently loss making and Intel Corporation (NASDAQ:INTC) is trading at 16.67 PER. However INTC has been facing declining profits and slower growth for the past 2 years. NVDA average PER for the past 5 years is 24.21, however, many of NVDA's growth catalyst are relatively recent. NVDA's forward PER based on consensus estimates is about 32.36 NVDA also has a very strong balance sheet, with more than US$4.8 bn in net cash. NVDA has an Operating Margin of 27.99% and Net Profit Margin of 24.11%. Overall, we believe that NVDA is currently slightly Under Valued.
Risk. NVDA's core segment is still responsible for the vast majority of its earning, and the other segments can be considered to be in infancy stage. However, much of NVDA's valuation derives from expectation of future performance in its other segments. As such, if there is a slowdown or loss of market share or if there is a misstep in their GPU offerings, or If NVDA's future growth segments were also to face any issues, NVDA's current valuation is likely to face downward pressure.