Investment Summary
We issued 1 Buy Trade in April 2017, GameStop Corp., the company has since surpassed our target price since the call. We also updated our current positions by closing our MDT trade and increasing our Target Price for GME and NVDA. By the end of April, the US Trading Note Portfolio has generated a 5.4% return (assuming an equal weight in all positions).
Medtronic PLC (MDT):  MDT fell a little in mid to late April but has recovered strongly at the end of the month. At the start of May, MDT hit our Target price of USD 84.28 and we have decided to take profit and close our position in MDT on 2nd May. The Affordable Healthcare Act, the Republican healthcare bill, managed to pass Congress in the USA and is up for a vote in their Senate. It is estimated that millions of Americans will no longer have medical insurance coverage if the bill passes. As such, in light of the likely volatility of the situation, we have decided to close the position.
GNC Holdings Inc (GNC): GNC saw a massive jump in price when they reported their latest earnings, going up almost 24% to above USD 9 a share as they reported better than expected results. However subsequent to the gap up, the share price continued to tumble down as recent news regarding their failed renegotiation of their debt burden has come out. While the recent earnings showed that the company's turnaround strategy was gaining traction, there is concern if the company would be able to cover the new terms for their debt. We continue to hold the position as we believe the turnaround plan instituted by the company has merit. It should be able to generate the Free Cash Flow required to cover and reduce their debt.
Aflac Inc. (AFL): AFL came close to hitting our target price at the end of April after reporting better than expected results; however, it ultimately was not able to maintain that momentum and since stabilized around USD 74. We believe the fundamental story is unchanged for AFL and continue to hold the share.
NVIDIA Corporation (NVDA): Despite falling close to our Stop Loss of USD 95.07 on negative reports of slowdown in Gaming hardware, overvaluation and their competitor AMD reporting worse than expected results, which led to a more than 20% fall in AMD's share price, NVDA managed to recover above USD 104 for the end of April. They also reported much better than expected in their latest earnings, with revenue up 48% YoY, and GAAP EPS up 126% YoY. On the back of the strong earnings, NVDA managed to surpass our previous Target Price of USD 120. Given the better than expected performance and improving fundamentals, we have decided to moderately increase our Target Price to USD 127.50.
GameStop Corp (GME): Following our buy call on GME on 7 April, GME has managed to hit our Target Price of USD 23.96. Subsequently, GME has continued its bullish momentum and closed at USD 24.95. As GME continues to play out the same pattern as detailed in our previous report, we have decided to increase our Target price to the USD 26.50 resistance level seen in the previous patterns. GME will report the latest quarter earnings at the end of May and we will continue to monitor the stock for changes in their fundamentals.
GME daily chart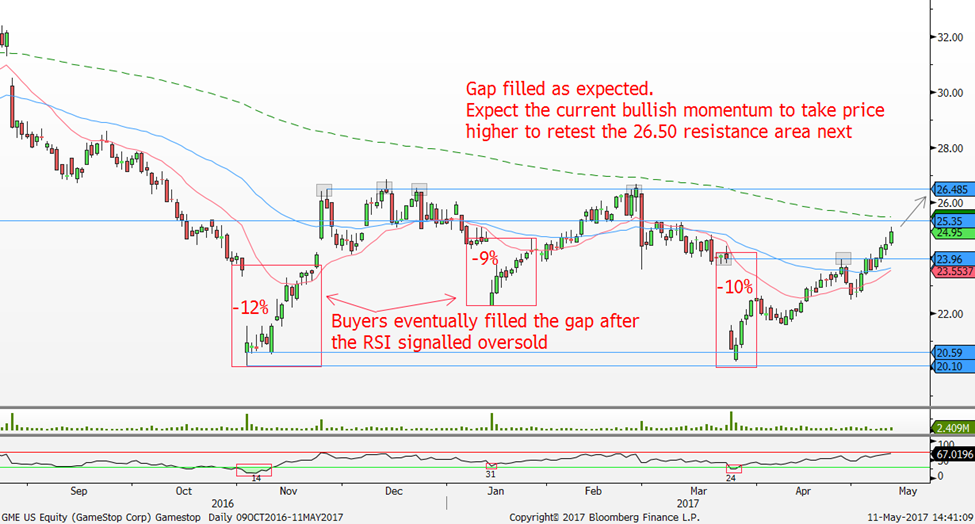 Red line = 20 period moving average, Blue line = 60 period moving average, Green line  = 200 period moving average
Source:  Bloomberg, PSR
Figure 2: Summary of Open Positions

Figure 3: Summary of Closed Positions

Figure 4: Index Monthly Performance

Source: PSR, Bloomberg