Investment Summary
We issued 3 Buy Trades in January 2017, Alibaba Group Holdings Ltd, Facebook Inc and Medtronic PLC. The 3 stocks hit our entry prices and have performed well for the month of January. January was a month of transition for the USA and indexes were relatively flat, with the NASDAQ being the exception.
BABA: Since we released our trading note on BABA, the company's founder Jack Ma, paid a visit to President Trump, which turned out positive. BABA also released better than expected earnings, beating EPS and revenue estimates by about US$0.17 and US$370mn respectively.
Technical Analysis: Our view remains unchanged.
FB: FB also had good earnings with an EPS of US$1.41, vs estimates of US$1.31, and Revenue of US$8.81 bn, beating estimates by US$300 mn. However, FB guided that it expects ad revenue growth rate to "come down meaningfully" in 2017. FB may also be facing user base saturation. Despite reaching about half the 3.5 bn people with access to the internet with 1.86 bn Monthly Active Users, Daily Active Users as a percentage has been stuck at 66% since Q1 of 2016.
Technical Analysis: Price has run up in line with our expectations and recently retested the 133.50 previous all-time high on 2 February 2017. However, the bullish momentum appears to be waning as the 133.50 resistance area aggressively knocked price down lower resulting in the formation of a Bearish Outside Bar. Moreover, the Bearish Outside Bar rejection off the 133.50 resistance area was backed by increasing volume signals a great deal weakness and we expect FB to enter into a period of correction next.
The 133.50 resistance area might mark a double top formation here and hence, we have decided to close the current buy position at 130.98 from 3 February 2017 closing price with a 4.8% gain.
FB Daily chart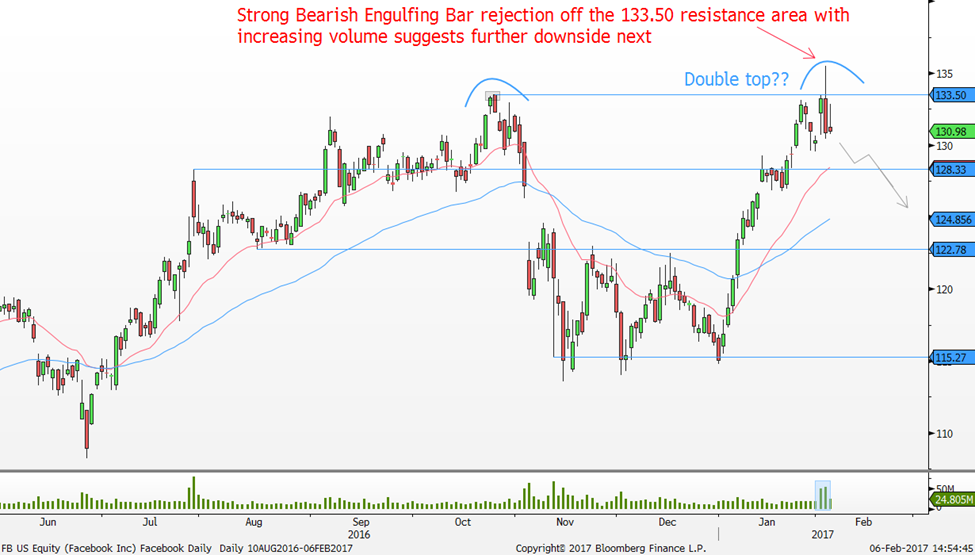 Red line = 20 period moving average, Blue line = 60 period moving average, Green line  = 200 period moving average
Source:  Bloomberg, PSR
MDT:  MDT had a rocky start after our release, owing to President Trump's executive actions on the Affordable Care Act, which was one of the risks we mentioned in the note. However, MDT subsequently recovered and is above our entry price. News broke that MDT was preparing to sell its medical supplies business, which could be valued at about US$5 bn, helped to move the needle up on MDT's share price. The business unit was acquired when MDT bought over Coviden 2 years ago and is not part of MDT's core portfolio of high tech medical devices.
Technical Analysis: Our view remains unchanged.