Price has corrected c.6% post-Trump victory
Pricing-in of rate hike expectations, but valuations are attractive
Debt management profile is top in class
Near-term visibility of DPU growth from completion of BTS project
Accumulate on price weakness
Upgrade to "Accumulate" rating with unchanged DDM valuation of S$1.74
The price for Mapletree Industrial Trust (MINT) had corrected some 6% since 8 November, following a Trump victory and on higher expectations of a rate hike by the end of this year. There is near-term visibility for DPU growth, coming from the completion of the Hewlett-Packard build-to-suit (BTS) project, which is fully committed. Low gearing of 29.0% affords the firepower to make acquisitions with a debt headroom of $633mn based on 40% gearing, by our estimates.
Valuation is attractively low, notwithstanding a rate hike
We had indicated on Page 16 of our initiation report (11 April 2016) that "MINT has historically never traded at a discount to its book value. The lowest P/NAV multiple it has ever traded to was 1.08x." We now derive a price floor at $1.48, based on historical low 1.08x multiple and current NAV of $1.37. We expect any further downside to be limited. Current relative valuation of 1.16x P/NAV, which is above 1 standard deviation below the historical average is attractive.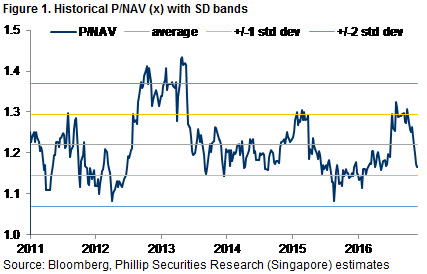 Higher expectations of rate hike, but MINT's debt management profile is top in class
MINT has 2.8% of debt maturing in 2H FY17 and 17.4% in FY18. We refer to Page 7 of our recent report on the Industrial sub-sector (11 November 2016), which shows that as at end of September 2016, MINT has the lowest gearing, second-highest weighted average debt maturity and second-highest interest coverage ratio among the Industrial S-REITs.
FY18 lease expiry is a concern, but tenant retention has a good track record
Portfolio weighted average lease expiry (WALE) stood at 2.8 years, as at end of September 2016. 6.8% of leases by gross rental income (GRI) will be expiring in 2H FY17. We currently view this as manageable against the backdrop of a challenging environment. However, FY18's 32.8% of leases by GRI expiring is a concern, as the current oversupply condition could persist until then. Of the leases expiring in FY18, about half of it comes from the Flatted Factories segment. The silver lining in all of this is that MINT has a track record of tenant retention that is higher than 60%, both at the portfolio level and for the Flatted Factories segment.