ComfortDelGro ordering 200 new taxis – its first in 1.5 years
CCCS investigation into Grab and Uber transaction not completed, and being overtaken by events as new entrants have already entered the market
Taxi population contracted at an accelerated pace, while Rental cars population stabilises as growth moderates
Maintain Overweight on the Land Transport Sector, and "Buy" rating on ComfortDelGro Corp with unchanged target price of $2.50.
What is the news?
ComfortDelGro Taxi on May 7 announced that it has placed an order for 200 new hybrid Hyundai Ioniqs – its first in close to 1.5 years.
On the same day, Grab and Uber proposed Smith & Williamson LLP (S&W) to be the independent monitoring trustee, to monitor compliance with terms of the Interim Measures Directions (IMD) issued by the Competition and Consumer Commission of Singapore (CCCS). The CCCS approved S&W's appointment. There is a list of seven terms that S&W is to monitor.
How do we view this?
The Positives
Worst could be over for Taxi: Purchase of new taxis a sign of recovering demand. Takeaways from the Media Release from ComfortDelGro are: the 200 new taxis will be immediately leased out; there is a growing line of would-be hirers; the number of new hirers that signed on in April 2018 was close to double that from a year ago. However, the 200 new taxis will not have a material impact as it increases the Comfort & CityCab fleet by only 1.6%.
The Negatives
Some IMDs appear onerous on Grab and unlikely to be in place after investigations are completed. Specifically, term a. which requires Grab to maintain its (artificial) pre-merger pricing, and term f. which disallows Grab from taking over Uber's operational data. Lifting of these interim terms would be positive for Grab and work against Taxis.
Investment Action
We maintain Overweight on the Land Transport sector. We were Overweight on the sector on the basis of regulatory reviews and changes that address profitability and sustainability, which is a structural positive for the sector. The revival in demand for Taxis is a mid-term catalyst for re-rating the sector.
We have a "Buy" rating on ComfortDelGro Corp with a target price of $2.50. We forecast earnings to have bottomed in FY17, with the Public Transport Services segment largely driving earnings going forward.
Note: ComfortDelGro Corp will be announcing its financial results for 1Q FY17 after trading hours on 11 May.
Taxi Outlook
The CCCS has yet to complete its investigation; and had put in place interim measures to "preserve and/or restore competition and market conditions"
After the transaction between Grab and Uber was made public, the Competition and Consumer Commission of Singapore (CCCS) had issued Interim Measures Directions (IMD) to Grab and Uber, while it continued with its investigation. The shutdown of the Uber app was also extended twice with its final day of operation on May 7.
CCCS investigation being overtaken by events and losing relevance – competitors are already entering the market
The objective of the CCCS's investigation is to determine whether the transaction between Grab and Uber would result in a substantial lessening of competition in Singapore. That was on the basis that Grab and Uber were a duopoly and hence had significant combined market share. The other concern was high barriers to entry which would impede new entrants to the ride-hailing space. However, we see that since Uber's exit, two other ride hailing apps, Jugnoo and Ryde, have already commenced operations. A third entrant after Uber's exit, Filo, is expected to start offering its service by the end of the month.
Figure 1: New entrants to the ride-hailing scene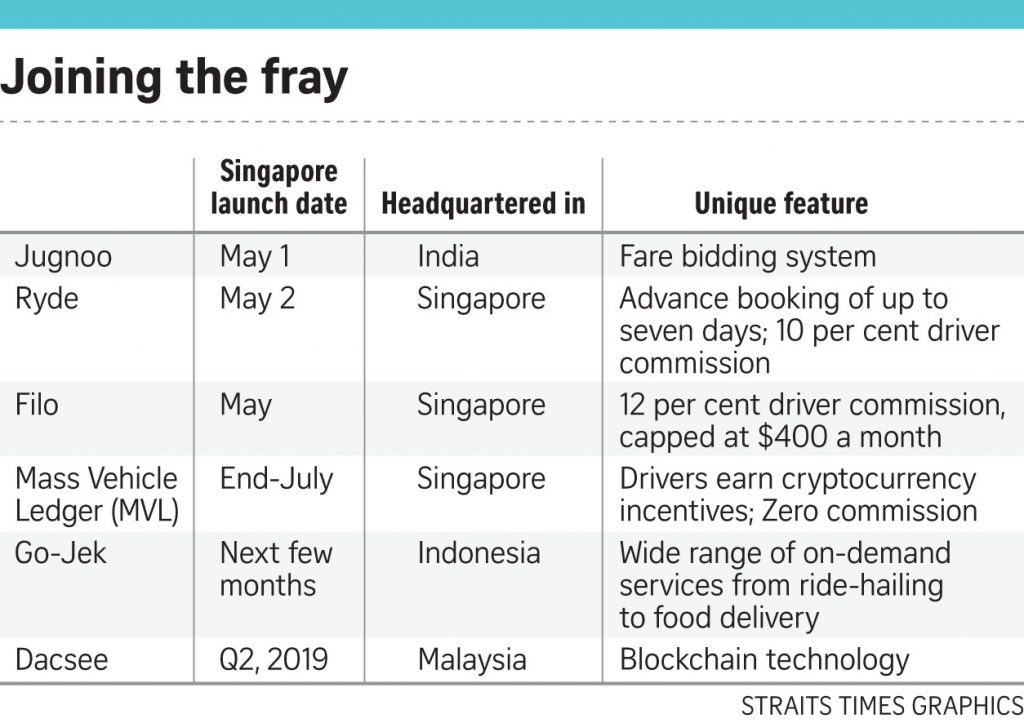 Source: The Straits Times