Acquisition of Data Centre in Cardiff, Wales, United Kingdom
Strengthens position in Europe, diversifies across five cities in Europe
Fully funded by debt and immediately DPU accretive
What is the news?
Keppel DC REIT (KDCREIT) announced the acquisition of a shell and core building of a data centre in Cardiff, Wales, United Kingdom. The data centre is located within the Celtic Gateway Business Park and comprises a two-storey data centre that is connected to a three-storey office block. The site is on c.26,000 sqm (279,864 sqft) of freehold land and the buildings have a total lettable area of c.7,380sqm (79,439 sqft). The purchase consideration is for GBP 34.0mn (c.S$59.7mn). The acquisition of the data centre has been fully-funded by debt and aggregate leverage has increased from 29.1% to c.32.5%.
How do we view this?
REIT Manager demonstrates ability to acquire from outside of the ROFR
This is the fourth acquisition by the Manager; and the third from outside of the Right of First Refusal (ROFR) portfolio. The first two from outside of the ROFR portfolio are the forward purchase of maincubes Data Centre (Frankfurt) and the Milan Data Centre which is pending transaction completion.
Geographical diversification, but increases exposure to GBP amidst Brexit
This will be the fifth city in Europe in addition to the existing locations of London, Dublin, Amsterdam and Milan. KDCREIT would strengthen its position in Europe, balancing out the contribution from Asia Pacific. Rental income contribution from Europe increases to 28.5% from 24.7%. However, we note that the GBP has depreciated c.20% relative to SGD over the last twelve months, and could depress further with the ensuing uncertainty over Brexit. FY17e exposure to the GBP would be c.7.4% by Gross revenue in SGD-terms without the acquisition, and c.12% with-acquisition, by our estimates.
Income stability from a fully-fitted lease, reducing exposure to co-location leases
The data centre is on a triple-net lease to one of the largest global cloud service providers. Publicly available information suggests that the data centre is known as BT Cardiff Bay Data Centre and is located on Watkiss Way. The client is well-established and creditworthy. The lease is for 15 years commencing 24 June 2016. Consequently, the portion of income from master lease will be increased to 35.0% from 31.6%, and portfolio weight average lease expiry (WALE) extends to 9.5 years by lettable area from 8.7 years.
Immediately accretive, but Unitholder dilution could come in the future
The acquisition was fully funded by GBP debt, thus providing a natural hedge and at the same time making it immediately accretive. Leverage has increased from 29.1% to c.32.5%. On an illustrative pro-forma basis, the Manger expects the acquisition to be 0.28 cents accretive to distribution per unit (DPU); but our analysis suggests that it will be closer to 0.20~0.24 cents. We think that the balance sheet can be further utilised to make two or three more acquisitions, before any equity fund raising is required to bring the gearing back to the Manager's long-term target of 30%.
Maintain "Accumulate" rating with new higher target price of S$1.29 (previous: S$1.26)
Key downside risk to our target price is the capital structure for the acquisition of Keppel DC Singapore 3 (formerly known as T27) and dilutive effect arising from the associated equity fund raising (EFR). Our FY18e DPU is already lower than FY17e DPU because we have assumed an EFR for the acquisition of mainCubes data centre, which will increase the Unitholder base by c.10%.
Note: KDCREIT will be announcing 3QFY16 financial results on 17 October, after trading hours.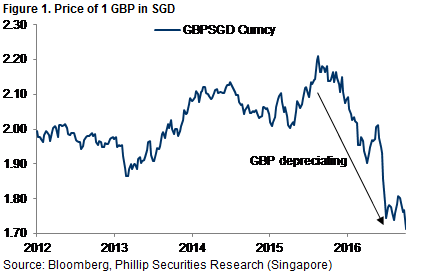 Peer relative valuation
KDCREIT is trading at a premium to Australia Stock Exchange (ASX)-listed peer Asia Pacific Data Centre in terms of P/NAV multiple and with a lower 12M-trailing yield.