S$22.66mn Gross revenue missed our forecast of S$24.82mn by 8.7%
90 cents DPU exceeded our forecast of 1.72 cents by 10.5%
Adjusting for one-off refund, 1.67 cents DPU was in line with our forecast of 1.72 cents
Acquisition of 90% interest in Keppel DC Singapore 3 for S$202.5mn announced
274-for-1,000 Preferential Offering to raise c.$275.3mn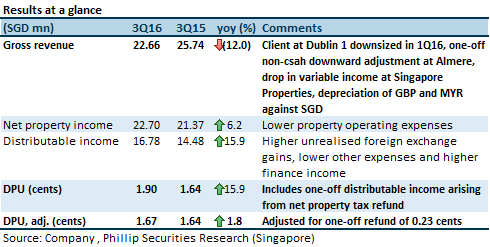 Higher portfolio occupancy (92.3% → 92.7%), but at the expense of negative reversions
Higher occupancy at Keppel DC Singapore 1 (KDC SGP 1) from 85.7% to 87.6%, as disclosed in the previous quarter where a client signed a forward renewal to expand by 6,800 sq ft in two phases (half in 2HFY16, half in 2HFY17). The client was given a negative rental reversion, such that rental income in the first year would be lower than the preceding rental income, and then higher in 2HFY17.
Occupancy at Keppel DC Singapore 2 (KDC SGP 2) was maintained at 100%, with a major client renewing for more than five years, thus lengthening the weighted average lease expiry (WALE) to 4.2 years from 1.2 years. However, the client was given -8% rental reversion, on account of being a major client throughout the portfolio. Inferring from the quarter-on-quarter (qoq) difference in lease expiry profile for 2016 (from 7.2% to 1.3%), we estimate that this tenant occupies c.75% of KDC SGP 2. We do not view this development favourably, as it appears that client concentration has resulted in the client having significant bargaining power over rental negotiations.
Occupancy at Keppel DC Dublin 1 (KDC DUB 1) remained largely unchanged qoq, from 55.3% to 55.8%. The Manager maintains its effort in raising occupancy at the data centre.
Acquisition of 90% interest in Keppel DC Singapore 3 (KDC SGP 3), targeted for December
Unitholder approval for the acquisition will be sought at an Extraordinary General Meeting. The property is located at 27 Tampines Street 92 and has a lettable area of 50,245 sq ft. The property has been fully-committed to two clients. We view the acquisition favourably for the stability of the income from the property, which is underpinned by the SGD-denominated income and long WALE of 5.7 years.
274-for-1,000 PO to raise c.S$279.5mn, increasing Unitholder base by 27%
Use of the proceeds from the Preferential Offering (PO) is to acquire 90% interest in KDC SGP 3 for c.S$208.6mn, pay off existing short-term debt of c.S$33.4mn associated with the acquisition of Intellicentre 2, c.S$33.3mn to repay loans, for capital expenditure and/or future acquisitions, with the remaining c.S$4.2mn for fees and expenses incurred in connection with the Preferential Offering.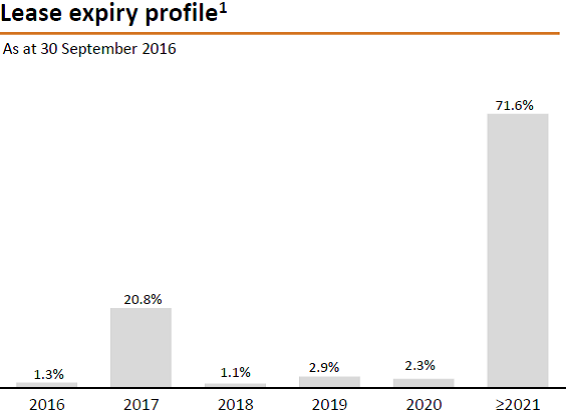 Source: Company 3QFY16 Results Presentation, 17 October 2016
20.8% of leased lettable area up for renewal in 2017
Management shared that this comes from three major leases – one in Singapore and two overseas.  Management shared in a previous quarter that one of the overseas assets is the Basis Bay Data Centre, which is in Malaysia, and the other overseas asset, we believe is KDC DUB 1. Management shared that the Basis Bay tenant has indicated it will be renewing the lease.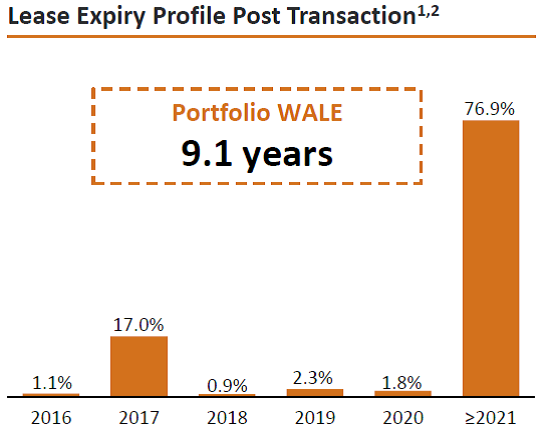 Source: "Proposed Acquisition of 90% Interest in Keppel DC Singapore 3" Presentation, 17 October 2016
Acquisition of KDC SGP 3 extends portfolio WALE to 9.1 years
Post-acquisition, only 2017 will see significant lease expiry. There is negligible vacancy risk from 2018 to 2020 (subject to tenures of the renewals in 2017). The rest of the leases will be expiring five years from today in 2021 onwards.
Maintain "Accumulate" rating with lower target price of S$1.26 (previous: S$1.29)
We have trimmed our forecasts for KDC SGP 2, on account of the -8% rental reversion given to the client that occupies c.75% of the data centre, by our estimate. We estimate the acquisition of KDC SGP 3 to add c.18%/c.14% to FY17e/FY18e portfolio Gross revenue. The lower target price reflects both the enlarged portfolio and the highly dilutive PO that increases the Unitholder base by 27%.
Relative valuation
KDCREIT is trading at a premium to Australia Stock Exchange (ASX)-listed peer Asia Pacific Data Centre in terms of P/NAV multiple and with a lower 12M-trailing yield.