Acquisition of Data Centre in Milan, Italy
Solidifies position in Europe, diversifies across four cities in Europe and eight cities globally
Fully funded by debt and expected to be DPU accretive
What is the news?
Keppel DC REIT (KDCREIT) announced the acquisition of a shell and core building of a data centre in Milan, Italy. The data centre comprises three interconnected four-storey buildings with a total lettable area of c.15,365 sqm (165,390 sqft). The purchase consideration of the data centre is for EUR37.3mn (c.S$57.3mn). The data centre is to be fully-funded by debt and aggregate leverage is expected to increase from 29.1% to c.32.5%. On an illustrative pro-forma basis, the acquisition is expected to be 0.17 cents DPU accretive.
How do we view this?
Geographical diversification, but increases exposure to a depreciating currency
This will be the fourth city in Europe in addition to the existing locations of London, Dublin and Amsterdam. Additionally, KDCREIT had in October 2015, entered into a forward sale and purchase agreement to acquire the mainCubes Data Centre just outside of Frankfurt when it is completed in 2018. KDCREIT would further entrench itself in Europe, concentrating exposure to the EUR, which has depreciated 4% relative to SGD over the last twelve months. FY17e exposure to the EUR would be c.28% by Gross revenue in SGD-terms without the acquisition, and c.32% with-acquisition, by our estimates.
Income stability from a fully leased property with well-established tenant
The data centre is fully leased to a client that is one of the world's largest telecommunications company, which we believe to be Vodafone. The lease is for 12 years until 31 December 2027, with an option to extend for a further six years. Consequently, the portion of income from master lease will be increased to 34.2% from 31.6%, and portfolio weight average lease expiry (WALE) extends to 9.3 years by lettable area from 8.7 years.
Minimal cash drag due to structure of lease and shell and core asset
The data centre is a shell and core asset that is leased out on a double-net master lease. KDCREIT will only be responsible for the property tax, insurance cost and maintenance capital expenditure (CapEx) of the property. The client will be responsible for the heavy CapEx associated with a fully-fitted property such as power supply and cooling systems.
Adjustments made to our forecasts
Due to the effects of the acquisition, we have raised our FY16e/FY17e/FY18e Gross rental income estimates by 2.0%/5.6%/4.9%. In addition, after reviewing our previous Property expenses estimates, we think that we have been overly-conservative. We have lowered our FY16e/FY17e/FY18e Property expenses estimates by 8.6%/8.3%/9.1%. Consequently, our FY16e/FY17e/FY18e DPU forecasts are 1.8%/13%/12% higher than previous. Our FY18e DPU is lower than FY17e because we have assumed an equity fund raising (EFR) for the acquisition of mainCubes data centre, which will increase the Unitholder base by c.10%.
Upgrade to "Accumulate" rating with new higher target price of S$1.26 (previous: S$1.13)
Near-term positive catalyst comes from the acquisition of Keppel DC Singapore 3 (formerly known as T27), which we have not baked into our forecasts. We await more clarity on the terms and capital structure of the acquisition.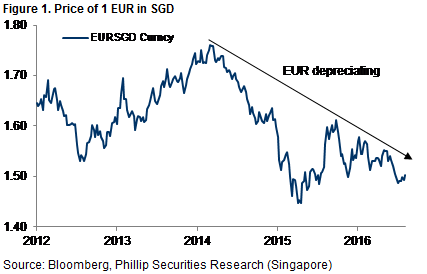 EUR has depreciated 4% over the last 12 months, and 10% over the last 24 months, relative to SGD.
Relative valuation
KDCREIT is trading on par with Australia Stock Exchange (ASX)-listed peer Asia Pacific Data Centre in terms of P/NAV multiple, but with a lower 12M trailing yield.