We attended a site visit organised by Japfa Ltd ("Japfa") to its Dairy Farm 3 and 4 in Dongying City, Shandong Province, China on Thursday 24th Aug-17. We had the privilege of understanding Japfa's Dairy operations with the Group's CFO and Head of Dairy, who shared with us their market insights and technical knowledge.
Key takeaways from the site visit
Ramping up raw milk production
China: Farm 7 in Inner Mongolia has started milking in Nov-16 and targets to be fully milking by end-17. Its medium- to long-term plan is to eventually expand it into a five-farm hub.
Indonesia: Construction of the new Farm 2 in Wlingi, East Java is on track and targets to start milking in early-18. It is in discussion to acquire a site for the third farm.
New processing plants to build its downstream business
China: A 300,000 metric tonnes p.a. capacity milk processing plant is currently under construction and is slated for completion in Jun-18. The new plant will transform its China dairy to a fully vertically integrated business, thus capturing growth and margins across the dairy value chain, as well as accelerate the development of its Greenfields brand in Asia.
Indonesia: New 7-hectare processing plant combined with its existing plant increases fresh milk production capacity by 80%. The additional capacity will be commissioned in staggered phases, in tandem with demand growth.
These new capacities will support its dairy product range expansion, adding two new product pillars, yoghurt and cheese, in the Group's dairy portfolio.
Key competitive strength
One of the leading producers of premium raw milk in China and Indonesia.
Profitability is driven by superior milk yield amid low raw milk prices environment in China.
Replicable large-scale industrialised-dairy farms translate to consistent and sustainable productivity, as well as economies of scale.
High-quality fresh milk – Greenfields is the No.1 brand of Fresh Pasteurized Milk in Indonesia; Choice of milk for baristas and coffee chains, such as Costa and Starbucks.
Investment Actions
Japfa is undervalued relative to the peer average EV/EBITDA and P/E multiples. Company is trading at c.43% discount to its peers' EV/EBITDA and c.23% discount to its peers' PER.
No stock rating or price target provided, as we do not have coverage on Japfa Ltd.
Peer Comparison

Dairy Business Overview
Japfa's dairy operations are mainly in China and Indonesia. It owns 7 world-class fully operational dairy farms and a processing plant, that are designed, equipped and meet international standards in productivity and biosecurity.
China
Operates a five-farm hub of dairy farms in Dongying city, Shandong Province, with close to 55,000 heads of Holstein cattle.
Building a new five-farm hub in Inner Mongolia. Farm 6 started milking in Jan-16 and was fully milking in Nov-16. Farm 7 has started milking in Nov-16 and is expected to be fully milking by end-17.
Focus on upstream dairy farming to produce premium raw milk for downstream customers such as Yili, Mengniu and New Hope. Currently is one of the leading producers of premium raw milk in China.
Indonesia
Operates a vertically integrated dairy business in Malang, East Java, which produces premium raw milk that is used further downstream dairy processing plant for its Greenfields dairy products.
Its Indonesia dairy farm is the largest dairy farm operation in the country by volume of premium fresh milk produced.
Its consumer brand Greenfields, launched since 2000, is positioned in the premium segment. Greenfields is the No.1 brand of Fresh Pasteurized Milk in Indonesia and is also exported to neighbouring Southeast Asian countries, including Singapore, Malaysia and the Philippines.
Figure 1: Japfa's business model at a glance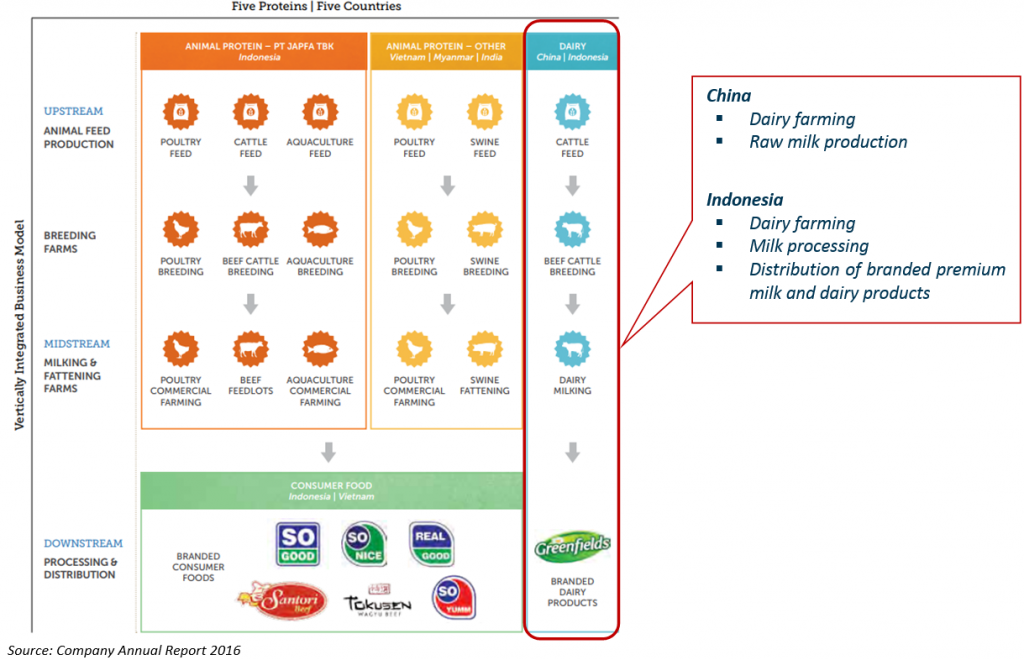 Figure 2: Dairy's regional footprint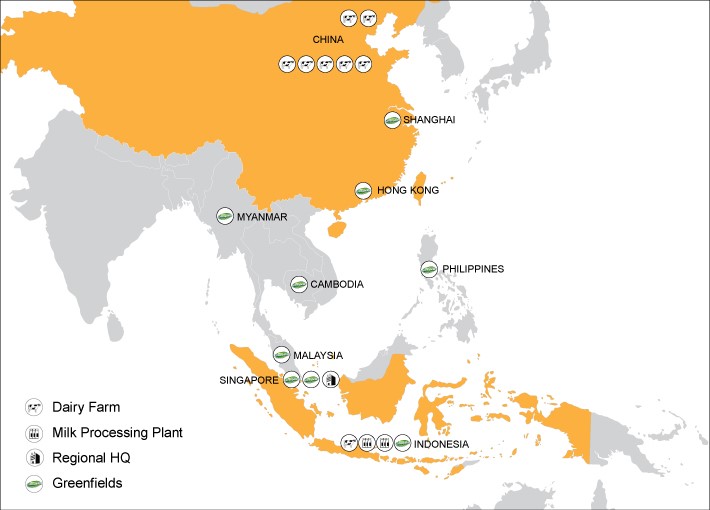 Source: Company website
Ramping up capacity to capitalise the increasing demand for dairy products in China
Structural growth in consumption of milk and dairy products, driven by growing consumer affluence, technology advancement
Rising consumer demand for traceable and premium dairy products.
Higher ownership of household refrigeration enables proper storage of milk and dairy products.
More and better refrigerated transportation enables fresh dairy products to be the increasingly available countrywide.
Introduction of modern processing technologies, including ultra-high temperature pasteurisation, has greatly expanded the shelf life of dairy products
Consumption of fresh dairy products per capita is set to increase to 29kg/capita in the least developed countries and to 56kg/capita in developing countries by 2025.
Source: OECD/FAO (2016), "OECD-FAO Agricultural Outlook", OECD Agriculture statistics (database).
Figure 3 & 4: China's Dairy Consumption Pattern in 2016

Figure 5-8: China's Milk and Dairy Products 2015-2025 Outlook