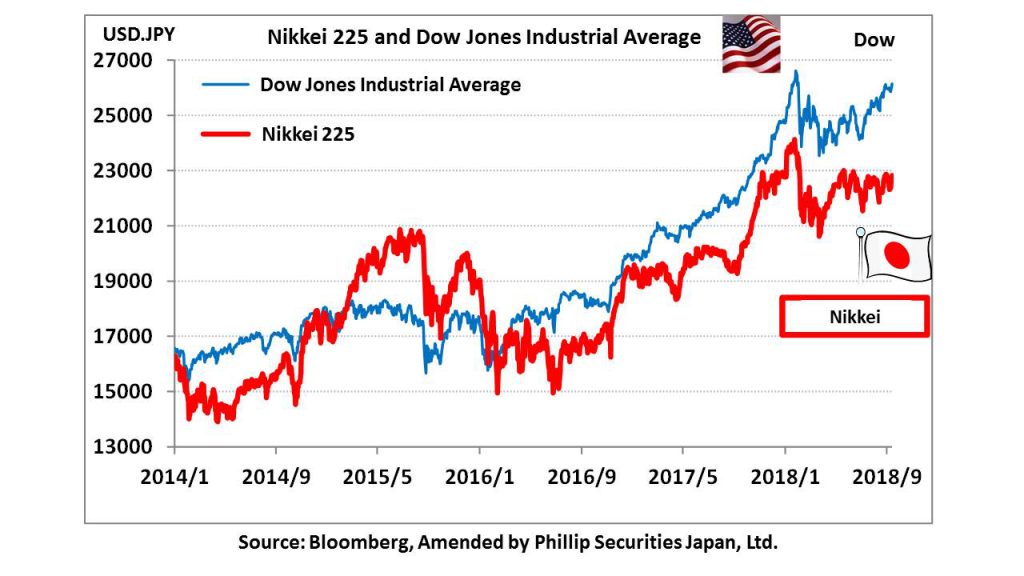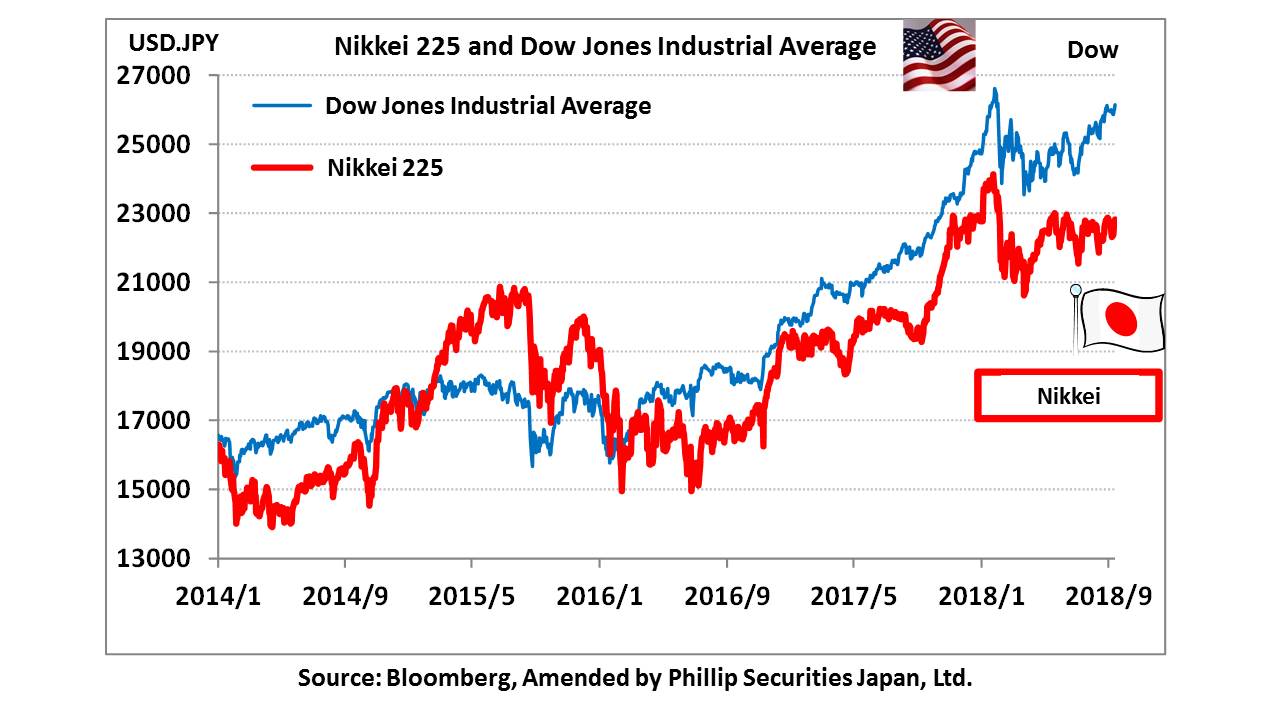 Beginning with the bursting of the US housing bubble in 2007, the problem of non-performing subprime mortgage loans began to surface. Many financial institutions and investors held large amounts of debt as a result of complex financial products such as mortgage-backed securities (MBS, etc) and collateralized debt obligations (CDO) that had lost creditworthiness. Bear Stearns, a leading major securities firm, went bankrupt in March, 2007 (bought over by JP Morgan Chase), and in August, 2007, a mutual fund under BNP Paribas began freezing contract cancellations from investors. For a while, world financial markets began to panic (Paribas shock). And it was the collapse of Lehman Brothers on 15th September, 2008, that caused the most symbolic and globally inter-linked credit contraction of the financial crisis from 2007 to 2008.
Ten years after the "Lehman crisis", much debate is surfacing on the market, such as "No mistakes will be repeated", "The crisis is approaching again, but in a different shape". In fact, the tough US trade policy is pushing down the world economy, with possibilities of negative chain-reactions spreading, including fiscal deterioration, currency declines in some emerging markets and inflation.
President Trump had stated that he would activate an additional tariff of 200 billion dollars on China immediately after the hearings from private enterprises, etc, had finished, but as of this moment, that threat is yet to be executed. According to the WSJ, on 9/12, Treasury Secretary Mnuchin had sent a letter to the negotiators led by Vice Premier Liu He of China, proposing a new meeting to discuss bilateral trade. At a press conference on 9/13, a spokesman from the Chinese Ministry of Commerce confirmed that there had been a proposal to reopen ministerial- level discussions, and said the Chinese side "welcomed it". Perhaps the US government officials are recalling the once-in-100 years crisis that happened 10 years ago.
It is not surprising that the Trump administration has the mentality that their achievements including the historical economic boom and high stock prices created by them "should not be laid to waste" before the mid-term elections. On 9/13 the Central Bank of Turkey raised the policy interest rate (one-week repo rate) by 625 points to 24%, and the Turkish Lira rose strongly against the dollar as a result of the interest rate increase which was much higher than market expectation. The Nikkei average closing price on 9/14 was 23,094.67 points, breaching the 23,000 points barrier for the first time since 5/21. However, the US is expected to make severe demands during the Japan-US trade negotiations (FFR) planned for 9/21, and the Japan-US summit expected within this month. Therefore, for the foreseeable future, we expect upper limits of stock prices to be suppressed.
In the 9/18 issue, we will be covering Kobe Bussan (3038), Rohto Pharmaceutical (4527), Japan Post (6178), Chiyoda Corp (6366), Yamaha Motor (7272) and Daiwa Securities Group (8601).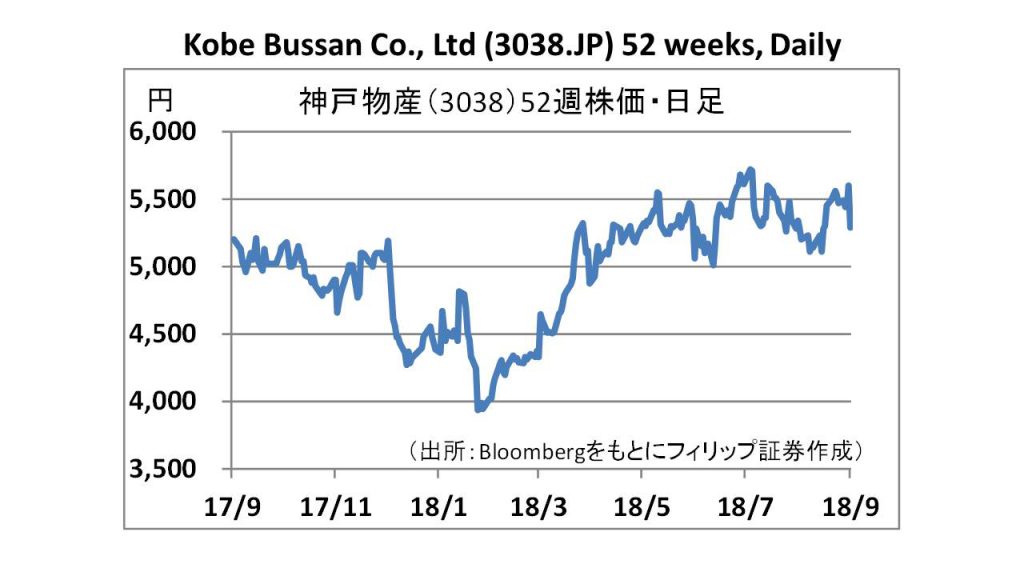 Kobe Bussan Co., Ltd (3038)
・Established in 1981.  Manufacture, wholesale and retail of commercial ingredients.  Pushing food supermarket business, namely "Business Supermarket" business targeting business users through the FC method.  Also involved with ready-made meals chains and dining-out chains such as "Kobe Cook World Buffet", "Green's K" and "Green's K Teppan Buffet", and renewable energy business. 
・For 3Q (2017/11-2018/7) of FY2018/10, net sales increased by 5.9% to 198.364 billion yen compared to the same period the previous year, operating income increased by 5.6% to 11.783 billion yen, and net income increased by 23.4% to 7.941 billion yen.  New stores have been pushed out mainly in the Kanto region, and relocation of obsolete stores is also in progress.  Company is focusing on developing PB products, reinforcing its own factories and strengthening own imported products.
・For FY2018/10 plan, net sales is expected to increase by 5.4% to 265.0 billion yen compared to the previous year, operating income to increase by 2.7% to 15.0 billion yen, and net income to increase by 15.0% to 9.6 billion yen.  Company's subsidiary, G.Taste Co., Ltd., has absorbed Kabenoana Co., Ltd. which is developing spaghetti specialty stores, Italian restaurants and udon specialty stores, as a wholly-owned subsidiary.  Further synergies can be expected with this acquisition.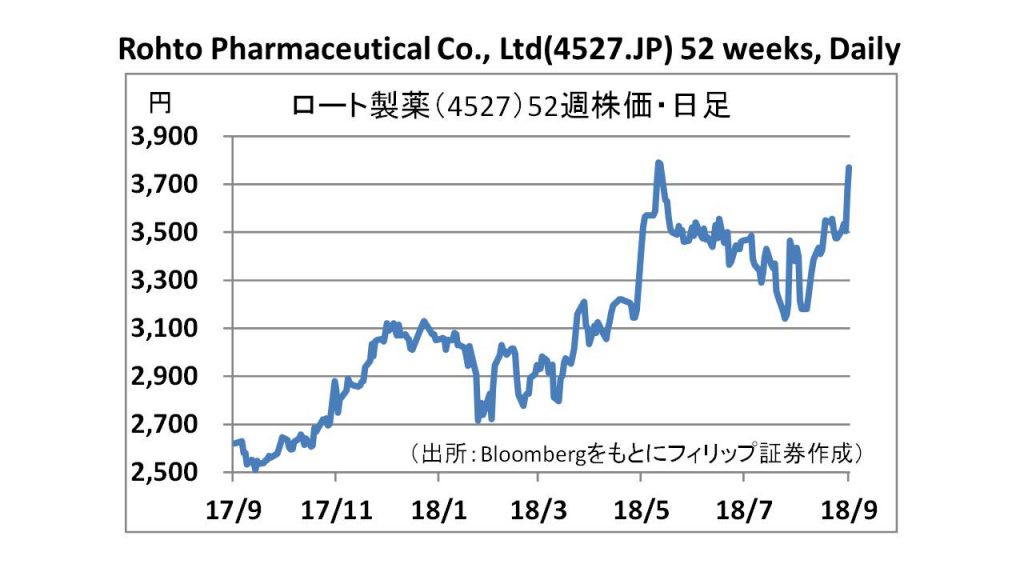 Rohto Pharmaceutical Co., Ltd (4527)
・Founded in 1899 as Shintendo Yamada Anmin Pharmacy. In the Health & Beauty Care sector, company manufactures and sells eye care products (eye drops, eye washes, etc), and skin care products (skin medicine, lip cream, sunscreen, functional cosmetics, etc), , internal medicine / food products (gastrointestinal medicine, herbal medicine, supplements, etc), and others (in vitro test drugs etc). 
・For 1Q (Apr-June) of FY2019/3, net sales increased by 13.4% to 40.638 billion yen compared to the same period the previous year, operating income increased by 47.4% to 5.061 billion yen, and net income increased by 51.2% to 3.44 billion yen.  In Japan, sales of high value-added products were strong, and new products such as "Skin Aqua Tone Up UV Essence" continued to perform well.  Overseas, recovery in Asia is continuing. 
・For FY2019/3 plan, net sales is expected to increase by 2.5% to 176.0 billion yen compared to the previous year, operating income to increase by 2.2% to 19.5 billion yen, and net income to increase by 28.1% to 11.9 billion yen.  Company and Shionogi have signed a license agreement for the domestic exclusive development and sale of "ADR-001", a regenerative medicine candidate which the company has been developing for liver cirrhosis treatment.