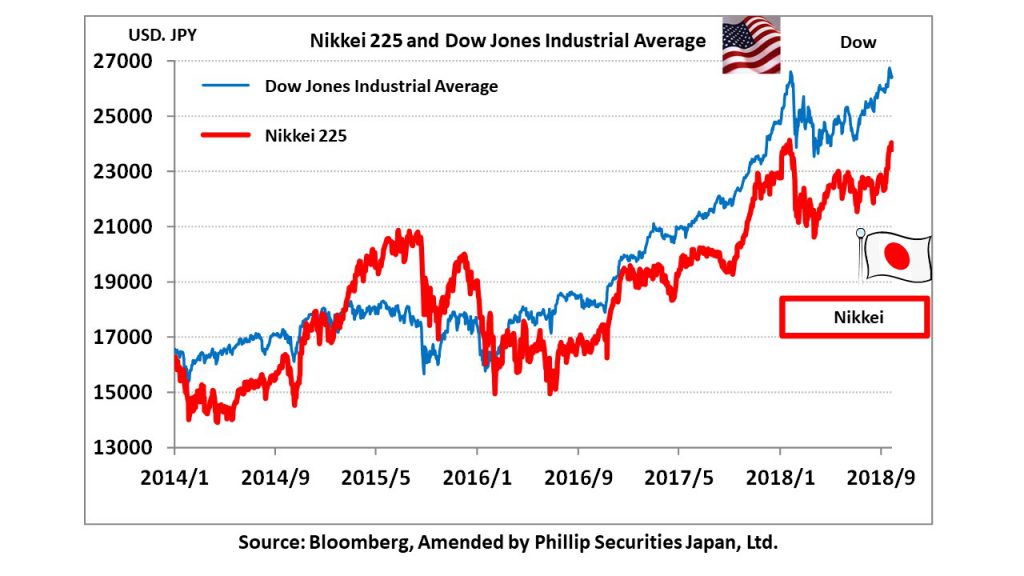 On 26/9, the Nikkei average rose for the 8th consecutive session since 12/9, bringing its gains to 1,429.18 points (+6.32%). After a slight retreat on 27/9, the following day of 28/9, the index temporarily rose to a high level not reached since 14/11/1991, 26 years and 10 months ago, and closed at 24,120.24 yen which was close to the year's high on 1/23. In forex, the US dollar continues to appreciate against the yen, giving a rise in momentum of the Nikkei average.
The dollar-yen went from 113.17 yen/dollar on 19/7 and bottomed out at 109.78 yen/dollar on 21/8, then momentarily rose to 113.64 yen/dollar on 28/9, about 9 months since 21/12/2017, greatly pushing up stock prices. The pace of this rally is similar to the rise in market prices in September the previous year.  Last year, the Nikkei average strengthened from a low of 19,239.52 yen on 8/9/2017 to a high of 24,129.34 yen on 23/1/2018 in consecutive sessions. The dollar-yen bottomed out at 107.32 yen/dollar on 8/9/2017 and depreciated to 114.73 yen/dollar on 6/11/2017.
It appears market trends will track the dollar-yen. The rise in US stock prices and positive business indicators may encourage investors to reduce their risk aversion, and the dollar to appreciate against major currencies. In addition, Italy, which has been grappling with financial problems has its coalition government faced with the budget for the next fiscal year, and will find it difficult to reduce the vast financial deficit pledged to the EU thus far, which has resulted in Euro weakness. Short-term buying and short covering movements in the market are expected. In the beginning of Oct, major US economic indicators such as the September's ISM Report on Business and employment statistics, etc., are expected to register positive statistics. It is expected that yen depreciation is maintained at the higher level than assumed by domestic companies.
However, major stock price indices such as the Nikkei average, etc., show signs of overheating from major upper divergences, etc.  from the RSI, up-down ratio and moving average line, so a short-term correction is expected. It is likely that the trade negotiations between US and China, and the NAFTA between US and Canada will continue to face difficulties. On the other hand, for US and Japan, in a trade conference between the two countries, an agreement was reached in the early stages of negotiation on the Trade Agreement on Goods (TAG), and during the conference, it has been confirmed that US will not invoke additional tariffs on automobiles. The worst scenario to be feared is a recession. China has announced cuts on individual income tax up to 320 billion yuan (about 5.1 trillion yen) yearly from October, and a reduction in average tariff rates on machinery, textiles, paper products, etc. from November. While securing profits in the rise in market prices, adopt the stance of buying the dips focusing on major blue chip stocks.
In the 10/1 issue, we will be covering Besterra (1433), Asahi (3333), Niitaka (4465), Toyo Business Eng. (4828), Fujitsu (6702), and Unicharm (8113).
Selected Stocks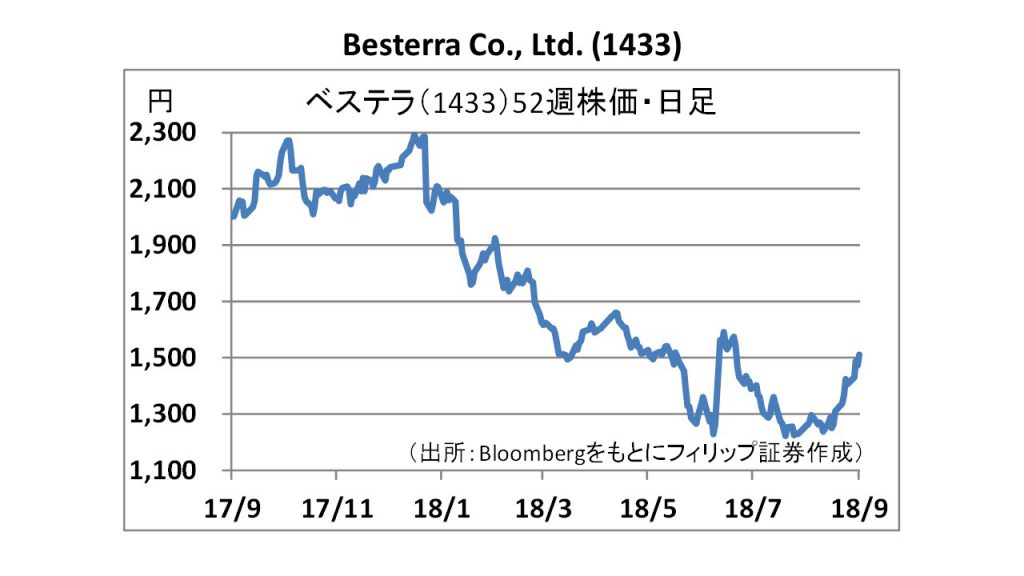 Besterra Co., Ltd. (1433)
・Founded in 1947, established its company in 1974. Carries out the dismantling of plants involving steelworks, electrical, gas and fuel, etc. Possesses knowledge and experience regarding the removal of harmful substances such as PCB, asbestos, dioxin, etc., and has unique dismantling methods, such as the "apple skin peeling method" and "boiler dismantling method". Also offers recruitment services and 3D measurement services, etc.
・For 1H (Feb-Jul) of FY2019/1(*), net sales decreased by 3.3% to 2.11 billion yen compared to the same period the previous year, operating income decreased by 12.2% to 139 million yen, and net income decreased by 14.9% to 90 million yen. The lag time between the timing of recording of the sales and cost price has resulted in a decrease in profits.
・Company has also decided to sell real estate held as assets for leasing. Extraordinary profits are expected to be recorded, and company has revised its 2019/1 plan(*) upwards. Net sales increased by 13.4% to 5.1 billion yen compared to the previous period, and although operating income increased by 9.3% to 422 million yen and was unchanged, current income doubled to 540 million yen (originally plan 286 million yen). 
(*) As the consolidated financial statement from 1Q (Feb-Apr) of FY2019/1 is being compiled, the rate of change from the same period last year, and from the previous period are reference values.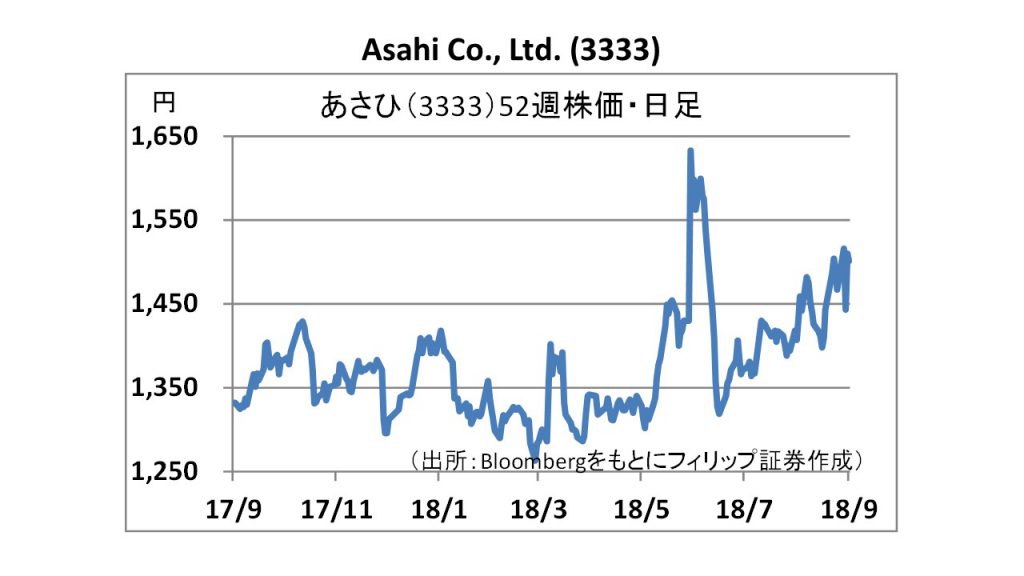 Asahi Co., Ltd (3333)
・Established in 1975. Sells automobiles and the related products such as parts and accessories, etc., and also provides ancillary services such as servicing or repair of various parts. In addition to having 435 directly-managed stores, they have expanded to 24 FC shops and runs an e-commerce (end 2018/2). Also runs a business supplying commodities to retailers or online businesses based in Beijing, China.
・For 1H (Mar-Aug) of FY2019/2, net sales increased by 6.5% to 33.915 billion yen as compared to the same period the previous year, operating income increased by 7.5% to 4.256 billion yen, and net income increased by 8.0% to 2.89 billion yen. The practice of 'ordering online and picking up in-store' has been favourable. Sales of high value-added products such as sports bicycles and electrically-assisted bicycles, etc. are growing and average spend per customer has seen a significant increase. 
・ For FY2019/2 plan, net sales increased by 9.8% to 58.87 billion yen compared to the previous period, operating income increased by 20.3% to 4.12 billion yen, and current income increased by 35.6% to 2.781 billion yen. Although the rate of progress has exceeded the operating income and net income by 100%, the tendency to focus on automobile repair and inspection in-store during the average year's most crucial period in Spring, has resulted in a standstill.