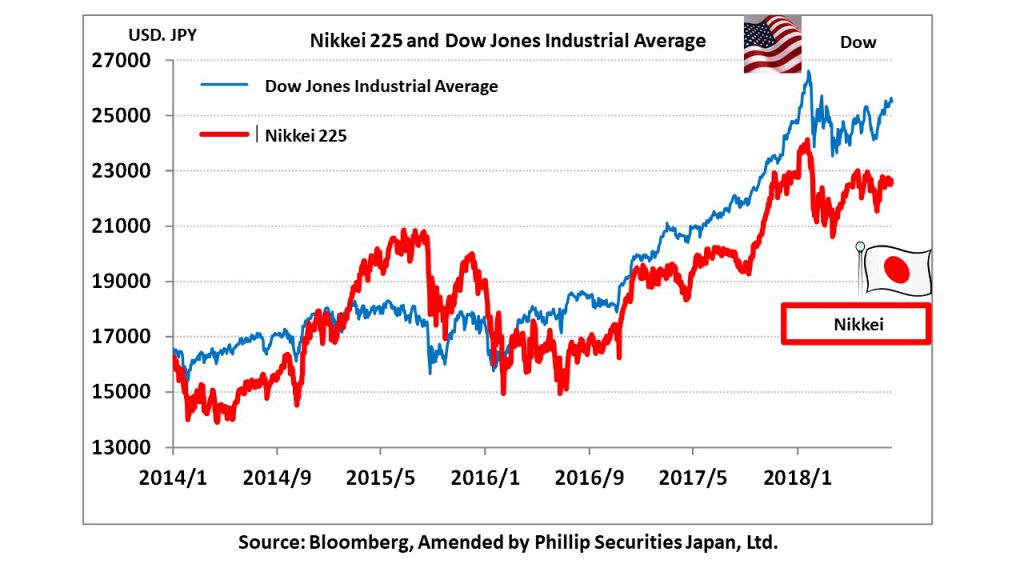 Japanese stocks are in a stalemate situation over concerns about trade frictions, especially that between the US and China.  Beginning with the US, corporate earnings for the Apr-June period expanded globally, and rate of net income increase of domestic listed companies seems to have increased more than 20%.  Meanwhile, the Nikkei Average is currently moving within a narrow range of between 22,400 and 22,800 points.
Komatsu (6031), a major stock related to China, announced an 86% increase year-on-year in its operating profit to 96 billion yen for the Apr-June period.  Despite this record-breaking earnings announcement which has exceeded market expectations, its stock price continued to struggle.   Toyota Motor (7203) has also announced record earnings, but has kept its FY2019/3 plan unchanged with expected decrease in income and gains.  The company has announced that, with the imposition of 25% additional tariffs on automobiles and related parts by the US, exports from Japan alone would incur an additional tax burden of 470 billion yen.  At present, the shadow cast by this trade friction is hovering over the market, and investors are extremely cautious as a result.
On the other hand, we can also focus on business opportunities for Japanese companies as the trade war intensifies.  As countermeasures against trade friction, China is planning monetary easing measures and expansion of infrastructure investment.  On its part, in addition to considering additional tax cuts, the US, besides investments in domestic infrastructure, has also announced, as a countermeasure against China, 113 million dollars (about 12.5 billion yen) worth of investments in new technology, energy and infrastructure in the Indian Ocean region.  However, there are views that as part of its "One Belt One Road" strategy, China will be investing a maximum of 1.3 trillion dollars (about 144 trillion yen) over the next 10 years on trunk roads, railways, pipelines, power plants, etc.  Although Caterpillar (CAT) has the top share of heavy machinery in the world, there is also a possibility that alternate demands may switch to Komatsu (6301) and Hitachi Construction Machinery (6305).
The US is also becoming increasingly wary of advancing high-technologies in China.  US sanctions against ZTE, a leading Chinese telecom equipment manufacturer, are still fresh in our memory.  The US-China trade war is also strongly inclining towards a fight for high-tech supremacy.  Advanced technology is indispensable for communication, data and military usage.  Such technologies also cannot be overlooked from the security viewpoint.  Chinese technological progress is remarkable.  For example, China's memory semiconductor company, YMTC, has announced the launch of second generation 32-stages 3D NAND flash memory.   China is actively pursuing construction of semiconductor factories.  There are therefore possibilities for business opportunities for Japanese semiconductor-related companies to expand further.  We should therefore pay attention to the activities of semiconductor manufacturing equipment makers like Tokyo Electron (8035).  We may therefore also like to bear in mind these silver linings as a result of the trade frictions.
In the 8/13 issue, we will be covering Pressance Corp (3254),   Sushiro Global HD (3563), Daikin Industries (6367), Brother Industries (6448), Nitto Denko Corp (6988) and Tokyo Electron  (8035).
Selected Stocks: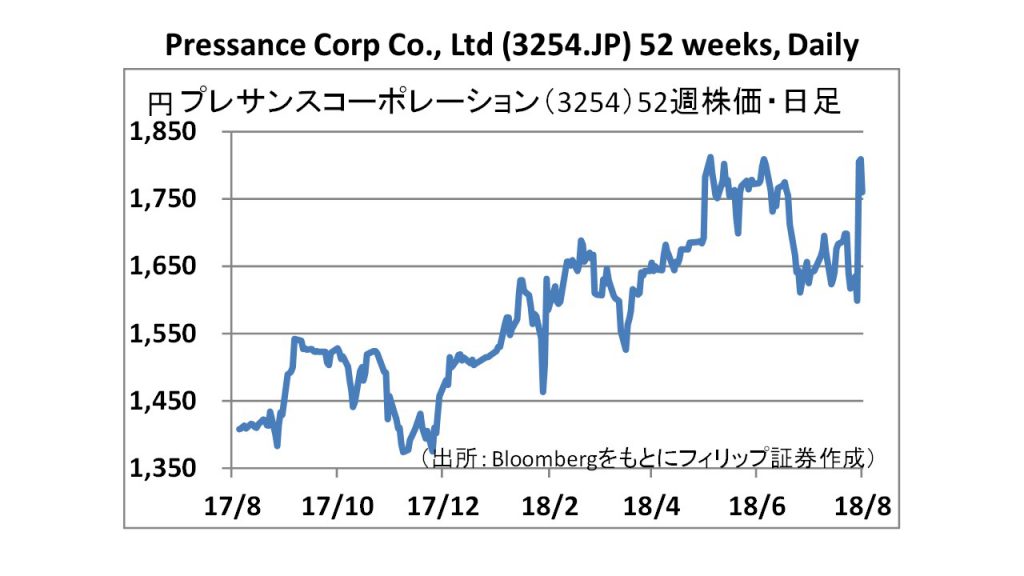 Pressance Corporation Co., Ltd (3254)
・Established in 1997.  Plans, develops and sells one-room apartments (investment apartments rented out mainly to singles) and family apartments (apartments intended for family use). Business operations mainly in Kansai, Tokai, Kanto and Okinawa regions.  Also manages rental and leasing of one-room apartments. 
・For 1Q (Apr-June) of FY2019/3, net sales increased by 2.3 times to 81.514 billion yen compared to the previous period, operating income increased by 2.8% to 19.274 billion yen, and net income increased by 2.9 times to 13.111 billion yen.  Sales of family apartment complex, "Legend Biwako", and one-room apartment complex, "Pressance Osaka Fukushima Shieru", were strong.  Rental real estate operation is also doing well.
・For FY2019/3 plan, net sales is expected to increase by 13.7% to 152.471 billion yen compared to the previous year, operating income to increase by 20.5% to 24.541 billion yen, and net income to increase by 17.3% to 16.132 billion yen.  As of the end of 2018/6, the main apartment sales business consisting of actual sales and expected revenue bookings has already secured 93.1% of company's sales plan.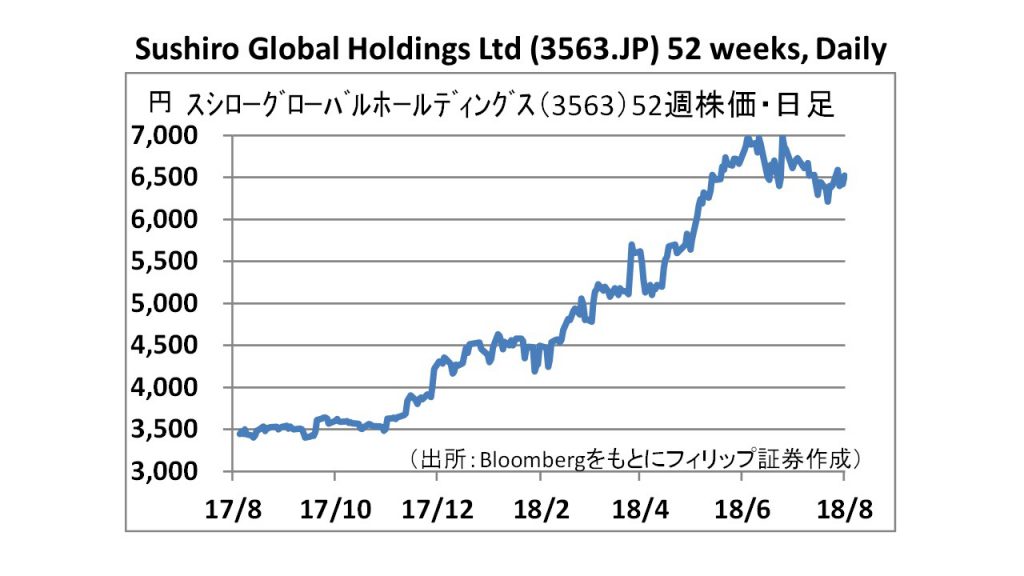 Sushiro Global Holdings Ltd (3563)
・Founded in 1984 as "Sushi Taro".  Developing conveyor-belt sushi shops domestically through direct management via the "Sushiro" brand.  Overseas, developing conveyor-belt sushi shops through direct management in Korea.  Purchasing, in-store cooking, utilization of IT systems are its main source of competitiveness.  As of the end of 2018/6, there are a total of 512 stores consisting of 502 domestic stores and 10 overseas stores.  
・For 3Q (2017/10-2018/6) of FY2018/9, net sales increased by 11.5% to 128.044 billion yen compared to the same period the previous year, operating income increased by 35.9% to 8.918 billion yen, and net income increased by 36.7% to 5.957 billion yen.  Besides sweets, discount fairs had also contributed. 
・Because of strong sales at existing stores and successful cost reduction efforts, company has revised its 2018/9 plan upwards.  Net sales is expected to increase by 11.9% to 175.0 billion yen compared to the previous year (original plan 169.361 billion yen), operating income to increase by 26.0% to 11.6 billion yen (original plan 9.939 billion yen), and net income to increase by 12.2% to 7.8 billion yen (original plan 6.62 billion yen).