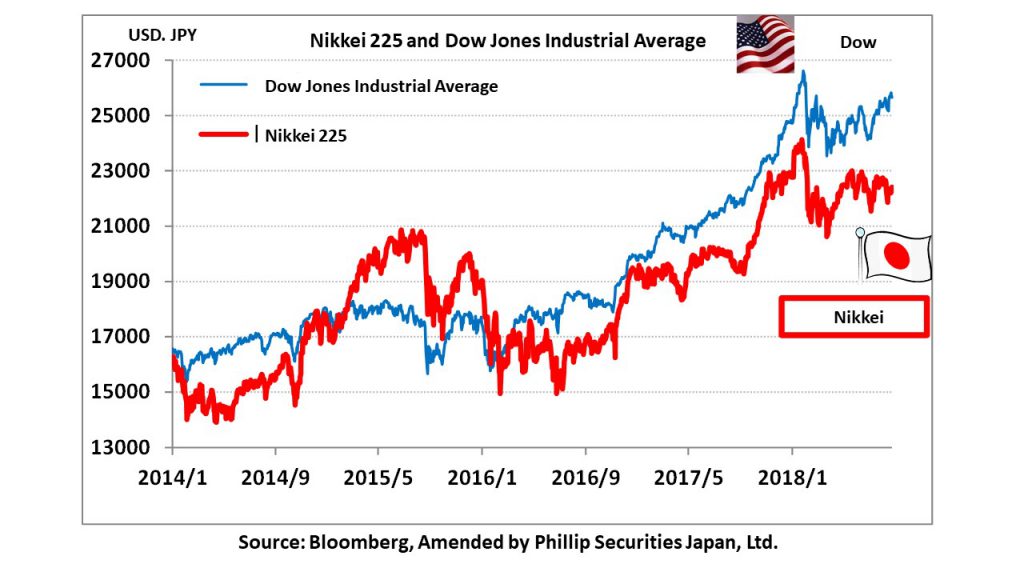 It looks like small and medium-sized Japanese stocks have bottomed out and are recovering steadily.  Although uncertainty arising from external factors still remains, US stocks have been rising and the yen is depreciating again, with the dollar/yen exchange rate reaching 111 yen to the dollar.  As a result, as of 8/24, the Nikkei average had risen 1.49% in the past five business days.  Of the constituent stocks, Tokai Carbon (5301) rose 8.13%, Showa Shell Sekiyu (5002) rose 8.08% and Fast Retailing (9983) rose 7.93%, showing that investors are revising performance expectations and valuing good stocks.
At the same time, the Mothers Index rose 3.73% during the same period, with Mobcast (3664),  Mediaseek (4824) and Datasection (3905) all having huge increases of 39.47%, 34.22% and 26.19% respectively.  Meanwhile, projections by Applied Materials (AMAT) and NVIDIA (NVDA) during their earnings announcements were below market expectations, causing overall selloff of semiconductor stocks.  As a result, the SOX index declined, but recovered and rose subsequently.  This was a factor supporting Japanese stocks.
Amongst the 33 industries in TOPIX, petroleum / coal products rose by 4.27%, other products rose by 4.03% and pulp /paper industry rose by 3.15%.  On 8/13 OPEC cut demand forecast for crude oil for 2019, and the price of crude oil plummeted as a result.  However, crude oil price bottomed out after that and staged a steady recovery.  While we need to pay attention to supply and demand trends, the world economy is nevertheless expanding.   Phillip Capital is of the opinion that demand will continue to grow.  We expect WTI crude oil futures price to be around 65-70 dollars for the time being.  Meanwhile, performance of Tencent, a major Chinese internet service provider, worsened due to slow growth in game revenue.  There was also a report that regulators in China were freezing game distribution licenses as part of public opinion control.  As a result, Nintendo's (7974) stock was largely sold, but subsequently rose for four continuous days.
Both the US and China imposed the second round of additional tariffs on imports equivalent to 16 billion dollars.  It seems that trade negotiations by vice-ministerial level staff of both countries have ended without much progress.  Besides the possibility of further US sanctions on Turkey and Iran, uncertainties surrounding the market, such as suspicion of President Trump's involvement with Russia, still remain.  There are indeed still a lot of investors adopting a wait-and-see attitude.  Domestically, with revaluation of stock prices of good-performing companies going on, risks due to wrong timing of market entrance are emerging.  Indeed, investors may be close to reversing their current stance. 
In the 8/27 issue, we will be covering ADEKA (4401),  Eisai  (4523), Artra (6029), ULVAC (6728), Mitsubishi Estate (8802) and Kyoritsu Maintenance (9616).
Selected Stocks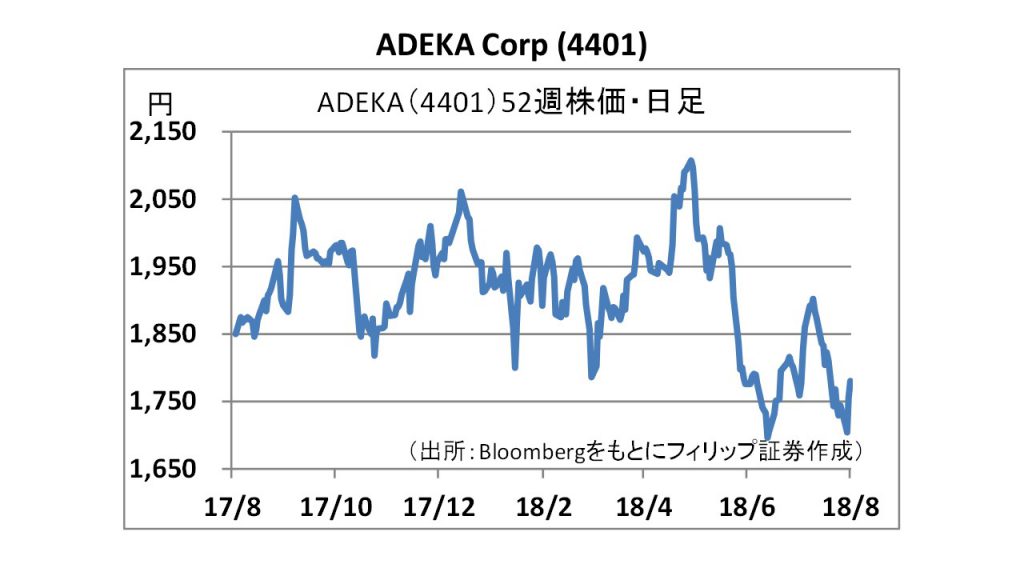 ADEKA Corp (4401)
・Established in 1917 as Asahi Denka Co., Ltd.  Operates chemical and food products businesses.  In the chemical product sector, company provides various inorganic and organic intermediate products, additives for plastics and fine chemical products such as high performance materials for semiconductors and digital home appliances.  In the food product sector, company offers margarine, shortening, oil and fat for chocolates, etc.
・For 1Q (Apr-June) of FY2019/3, net sales increased by 7.5% to 61.779 billion yen compared to the same period the previous year, operating income increased by 3.2% to 5.384 billion yen, and net income increased by 6.0% to 4.09 billion yen.  Strong sales of information and electronic chemical products such as photo-curing resins as a result of strong demand in the semiconductor market. Resin additives such as antioxidants, and the food product business had also performed well.
・For FY2019/3 plan, net sales is expected to increase by 8.1% to 259.0 billion yen compared to the previous year, operating income to increase by 3.6% to 22.1 billion yen, and net income to decrease by 2.2% to 7.1 billion yen.  Company has announced the conversion of Nippon Nohyaku, an affiliate, into a subsidiary.  Pursuing synergy in R&D and sales in the newly-identified life science sector.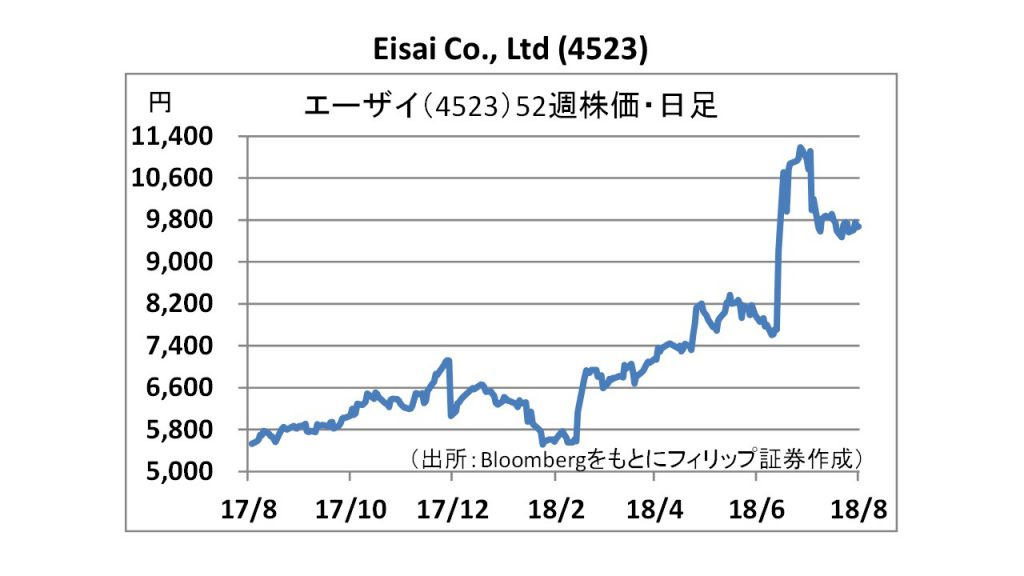 Eisai Co., Ltd (4523)
・Established in 1941.  Develops, manufactures and sells medical-use drugs, generic drugs and general use drugs.  Positions "oncology" and "neurology" as two strategically important areas.  Products include anti-epileptic drug "Fycompa", obesity treatment agent "BELVIQ", new combination tyrosine kinase inhibitor "Lenvima", and anticancer drug "Halaven", etc.
・For 1Q (Apr-June) of FY2019/3, revenue increased by 8.1% to 153.304 billion yen compared to the same period the previous year, operating income increased by 36.0% to 20.58 billion yen, and net income increased by 79.0% to 27.243 billion yen.  "Lenvima" sales grew strongly after gaining approval for use in treatment of hepatocellular carcinoma in Japan.  Sales of "Fycompa" and "Humira", an anti-rheumatic drug, had also increased. 
・For FY2019/3 plan, revenue is expected to increase by 5.3% to 632.0 billion yen compared to the previous year, operating income to increase by 11.4% to 86.0 billion yen, and net income to increase by 10.9% to 57.5 billion yen.  "Lenvima" has been approved by the European Commission as a monotherapy for adult patients with advanced or unresectable hepatocellular carcinoma without history of chemotherapy.