Interested to trade in the Japan market?
From 1 Jun – 31 Aug 2018, receive SGD38* when you start trading in the Japan market! Read on for more information! 
*Terms & Conditions Apply.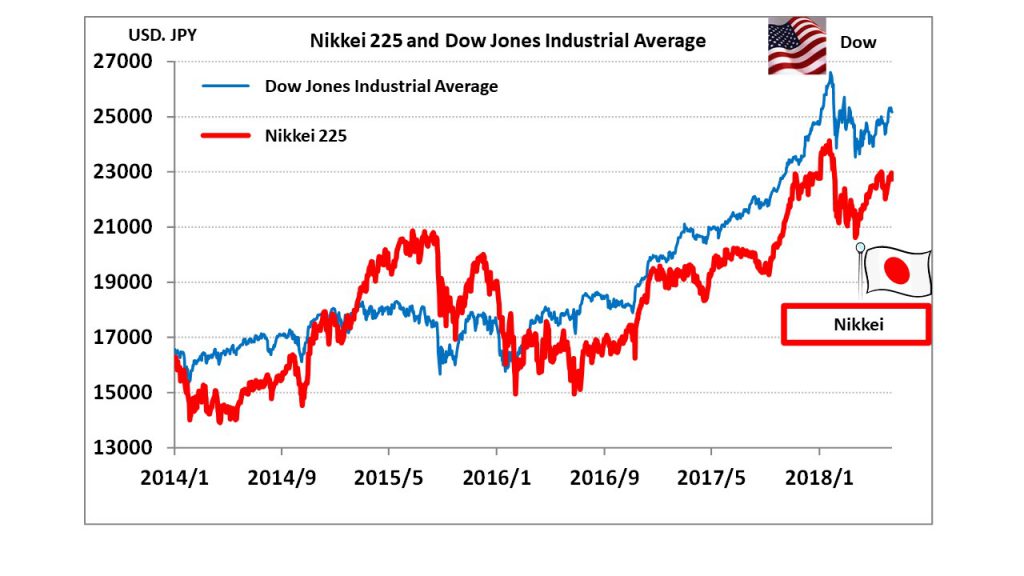 The FRB, on 6/13, announced the decision to raise interest rates signaling 4 rate hikes (2 hikes to come for the rest of the year) this year compared to 3 rate hikes (1 more to come) that had been planned at the March FOMC. It is still uncertain whether rate hikes will be accelerated as 8 FRB board members (vs 7 the last time) forecast 4 rate hikes this year while 7 members (vs 8 the last time) forecast 3 rate hikes.  We, therefore, expect the rise in interest rates to moderate.
It seems the FRB intends to normalize interest rates to a neutral level during the economic boom.  As the US economic long-term expansion would have lasted 9 years by the end of June, it seems the FRB intends to create room for economic stimulus measures by monetary policy to counter any potential recession.
After the FOMC finished almost within the expectations, the dollar fell temporarily in forex markets and long-term interest rates declined. The next day on 6/14, the ECB announced that the Governing Council would end quantitative easing (QE) by the end of the year.  Following the US, Europe has also decided to move towards the normalization of monetary policy. It is expected that the level of asset purchases will be maintained until September at EUR 30 billion a month, reduced to EUR 15 billion thereafter and end at the end of December. The ECB also indicated the inflation forecast for 2018 and 2019 was revised upwards to 1.7% from 1.4% while the economic growth rate for 2018 was revised downwards to 2.1% from 2.4%. The ECB said, in the announcement, that "they intend to keep interest rates steady at least until next summer".  The ECB President, Draghi, said "QE policy will not go away" and confirmed that the ECB would not accelerate monetary tightening.
The euro temporarily rose to 1.185 USD/euro after receiving ECB's decision to exit the assets purchase program by the end of the year, but then plummeted to 1.15 USD/euro. The dollar index temporarily dropped to 93.193 points and then jumped to 94.9. The Bank of Japan, at the Monetary Policy Meeting on 6/15, decided to maintain monetary easing measures to keep short-term interest rates at minus 0.1% and long-term interest rates at   around 0%. If the strong dollar and weak yen policy continues, there is a possibility that the yen dollar rate would hit 111 yen/dollar again, since the last time on May. Although there are concerns on the US trade policy such as applying the additional tariff for the economic sanction on China by the Trump administration, the US stocks are expected to remain high due to the good economic and corporate performance. In Japanese domestic market, it is expected investor sentiments to improve due to the behavior of foreign investors, and the Japanese stocks to be steady. We see Hi-tech stocks and export related stocks are compelling investment targets in addition to domestic demand related stocks.
In the 18th of Jun issue, we will be covering Ateam (3662), Nippon Paper (3863), Macromill (3978), ORIENTAL LAND (4661), CyberAgent (4751), and OHARA (5218).
Selected Stocks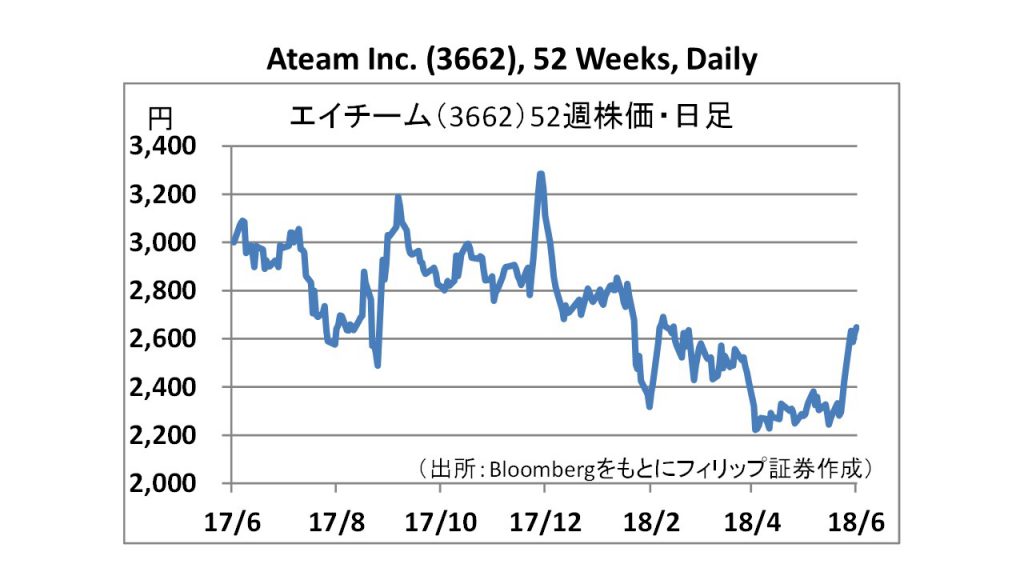 Ateam Inc(3662)
· Established in 2000. Ateam Inc is a comprehensive IT company that plans, develops and manages game contents mainly for smart devices such as smart phones and tablets; comparative sites and information sites; electronic commerce (EC) sites, among others. It also runs "Hikkoshi Samurai", a website that provides house moving quotations for comparison and reservation as well as "cyma (CycleMarket)", an online shopping site for ordering fully assembled bicycles.
· For 3Q (August 2017 – April 2018) of FY2018/7, sales were up 12.5% to 28.338 billion-yen, operating profit increased by 37.5% to 3.809 billion yen, and net income rose 44.2% to 2.650 billion yen as compared to the same quarter last year. Sales improved significantly due to a rise in relocation cost caused by a lack of manpower in the moving industry and a high demand for movers during the busy season in March. Bridal related business also contributed to the revenue growth.
· For 2018/7 full year forecasts, sales is expected to increase by 15.6% to 40 billion yen, operating income up by 15.3% to 4.7 billion yen, and net income to increase by 20.2% to 3.1 billion yen as compared to the previous year. With the release of a new game application "Mikuni BASSA !!" on May 21, fees collection started from May 25. "TOYOTA NEXT" a joint project in the lifestyle support business went into high gear.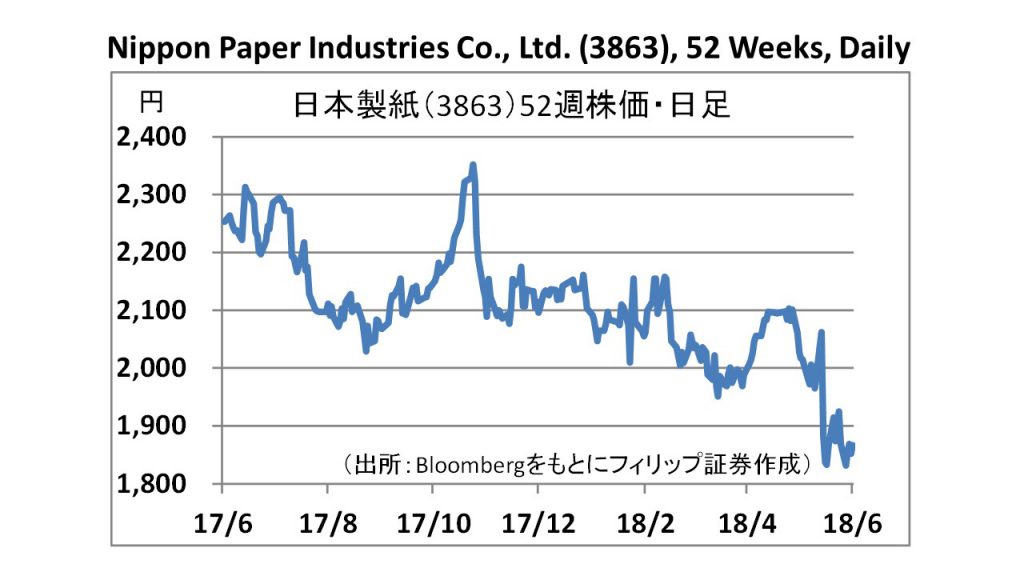 Nippon Paper Industries Co Ltd(3863)
· Established in 1949. In addition to the manufacture and sale of paper and pulp, this company is also engaged in paper related business, timber, building materials, civil engineering business as well as leisure business. The company aims to transform itself into a comprehensive biomass enterprise by using technology to make efficient use of wood resources.
· For 2018/3, sales increased by 5.4% to 146.499 billion yen, operating income decreased by 25.9% to 17.613 billion yen, and net income declined 6.6% to 7.847 billion yen as compared to the same period the previous year. Demand for printing paper for advertising was sluggish against the backdrop of digitization while sales of office products grew. Declining profitability was caused by shrinking profit margin due to rising raw material cost such as waste paper.
· For 2019/3 full year forecasts, sales is expected to increase by 3.2% to 180 billion yen, operating income to increase by 41.9% to 25 billion yen, and net income to be in the deficit of 18 billion yen from 7.847 billion yen in the previous fiscal year. The company announced a price increases for wallpaper base paper. The price will increase by 15% or more from 7/21 shipment onwards to absorb rising raw material and logistics costs.