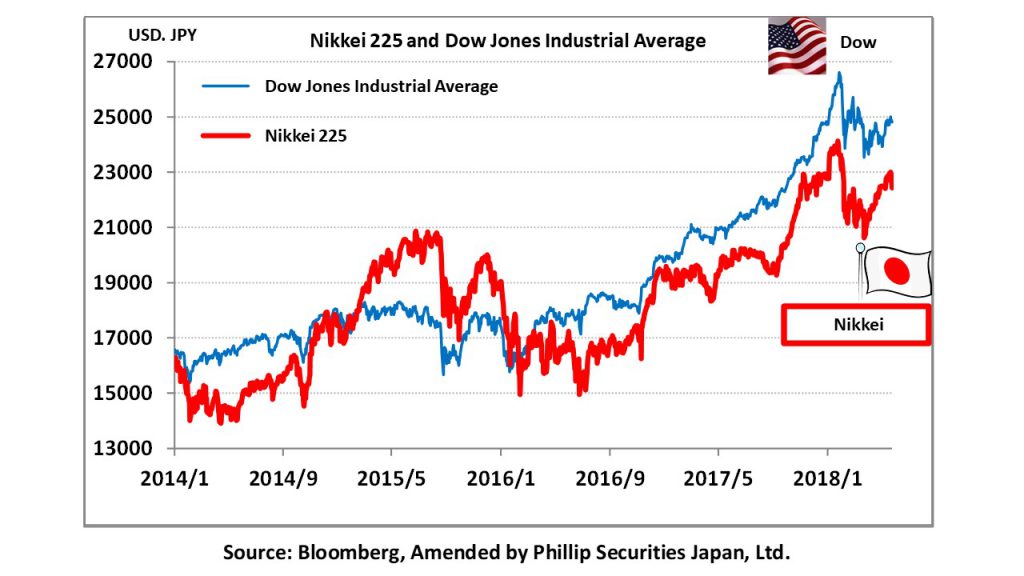 The Trump administration decided to invoke additional tariffs of 25% and 10% respectively for steel and aluminum imported from EU, Canada and Mexico from 6/1.  On its part, the EU plans to impose a retaliatory tariff of 2.8 billion Euro on 6/20.  Ultimately, the EU is preparing a retaliatory tariff of the same scale as the loss due to the US import restrictions (6.4 billion Euro).  Canada and Mexico are also planning to implement retaliatory tariffs.  The outcome of the US-China trade negotiations is also uncertain.  There is indeed concern that the trade war centering on the US is expanding globally.
Political trends in southern Europe are also having an impact on the market.  As a result of political instability, the Italian 10-year government bond yield temporarily jumped to 3.4% level on 5/29, and stock price plummeted.  Long-term bond yields in southern European countries such as Spain, Portugal and Greece also all rose at the same time.  On the other hand, funds flowed into US 10-year Treasury bonds, which are considered as safe assets, resulting in yields falling to 2.7% levels.  On the same day, the NY Dow fell by 391.64 points (1.58%) compared to the previous day.  In the forex market, yen buying accelerated in an effort to avert risks.  As a result, the yen appreciated temporarily to 108.11 yen/dollar, and on 5/30, the Nikkei average broke 22,000 points temporarily with cheaper prices across the board.  The price subsequently closed lower by 339.91 points (1.52%) at 22,018.52 points.
On 5/31, Italian President Mattarella approved the cabinet submitted by Mr Conte who was appointed as the next prime minister by the president, thereby averting possible confusion.  However, the question remains as to how Mr Conte, a political novice, is going to manage the coalition government comprising the populist (populism) party (Five Star Movement) and the ultra-right-wing "League".  On top of that, the EU appears unlikely to welcome the new administration which is aiming for economic stimulation through large-scale fiscal expansion measures.  Therefore, we need to continue to pay attention to potential impacts on the financial markets. 
In May, the Nikkei average rose to 23,002.37 points at closing on 5/21 as a result of the temporary truce in the US-China trade war.  The yen depreciated to 111.40/dollar on that day, but the Nikkei average fell sharply with the subsequent appreciation of the yen.  In May, the index fell 1.18% (266.05 points) during the month.  However, the rapidly declining US 10-year Treasury bond yields have bottomed out, and the dollar/yen is gradually moving towards a dollar appreciation/yen depreciation situation.  There are still many uncertainties remaining, such as trade issues centering on the US, political risks in Europe, and outcome of the US-North Korea talks, etc.  However, in June, we expect the Nikkei average to gradually recover from the downturn during the second half of May with a target bottom of 22,000 points. 
In the 6/4 issue, we will be covering Shiseido (4911),   Hirata Corp (6258), Kawai Musical Instrument Manufacturing (7952), Nintendo (7974), Iwaki (8095) and KDDI (9433).
Selected Stocks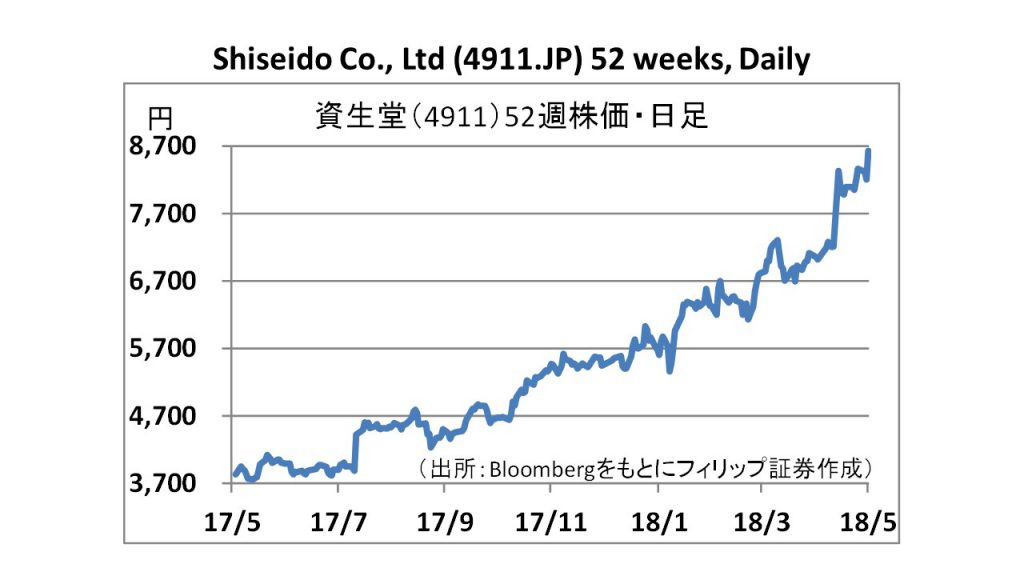 Shiseido Co., Ltd (4911)
・Established in 1872 in Ginza, Tokyo, as the first western-style pharmacy in Japan.  Manufactures and sells cosmetics, cosmetic tools, toiletry products, beauty products, beauty foods, medicines, etc.  Boasts the largest scale in Asia as a cosmetic manufacturer, with operations in 120 countries and regions.  Brands include "Shiseido", "Clé de Peau Beauté" etc. 
・For 1Q (Jan-Mar) of FY2018/12, net sales increased by 13.5% to 263.76 billion yen compared to the same period the previous year,  operating income increased by 95.3% to 47.144 billion yen, and net income increased by 2.1 times to 28.87 billion yen.  Both net sales and operating income achieved historical highs.  Sales of premium-priced cosmetics were strong in China, and domestic sales to overseas visitors to Japan had also increased significantly as well.
・For FY2018/12 plan, net sales is expected to increase by 2.8% to 1.033 trillion yen compared to the previous year, operating income to increase by 11.9% to 90 billion yen, and net income to increase by 2.4 times to 54 billion yen.  The State Council of China had announced that import tariffs on consumer goods would be lowered from 7/1.  For cosmetics, this will be lowered from 8.4% to 2.9%.  We can therefore expect exports to China to expand.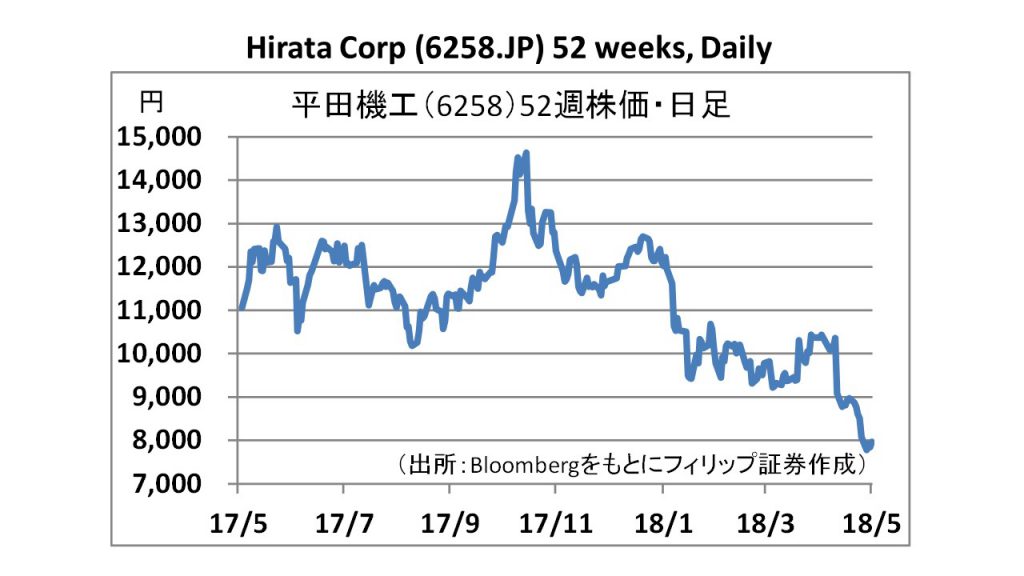 Hirata Corporation (6258)
・Established in 1951.  Manufactures and sells automated labor-saving equipment.  Supplies automated assembly lines for automobile and parts manufacturers, silicon wafer transfer equipment such as load ports and wafer transfer robots for semiconductor manufacturers, production equipment for household electric appliances, and logistics-related equipment.  Also handles vapor deposition equipment for OLED panels.
・For FY2018/3, net sales increased by 16.9% to 94.163 billion yen compared to the same period the previous year,  operating income increased by 13.6% to 9.371 billion yen, and net income increased by 13.2% to 6.666 billion yen.  In addition to growth in the vapor deposition equipment business for OLED panels, powertrain and EV-related production facilities for North American automobile manufacturers, as well as housing and home appliance related production equipment had remained strong. 
・For FY2019/3 plan, net sales is expected to increase by 0.9% to 95 billion yen compared to the previous year, operating income to decrease by 30.6% to 6.5 billion yen, and net income to decrease by 34.0% to 4.4 billion yen.  According to reports, Apple had decided to adopt OLEDs for all new iPhone models to be released in 2019.  Inquiries for OLED equipment are therefore expected to rise.