The Turkish shockwave has also spread to stagnant Japanese stocks, with ensuing market volatility. While the Turkish lira is finally becoming more stable, uncertainty about its future still remains. With Turkish President Erdogan not relenting his hardline stance, the US may launch further sanctions on the country. We can therefore expect strong market volatility for a while.
In response to the detention of an US pastor living in Turkey, the US froze assets of the Turkish cabinet and announced sanctions to double import duties on steel and aluminum from Turkey. The Trump regime is seen as continuing hardline measures in view of the upcoming mid-term elections because the pastor belongs to the Christian Evangelicals, which is the biggest Christian group in the US accounting for 25% of its population.
Since the beginning of August, the Turkish lira had fallen more than 30% at one time, affecting emerging markets. As of 8/16, the MSCI Emerging Market Index had fallen 5.3% in the past five business days. In Europe, there are large numbers of bank bonds in Spain, France and Italy, etc, that are exposed to Turkey, resulting in huge selling of bank stocks in the stock market. However, although the problem is unresolved and there is still concern regarding trade friction, we can nevertheless affirm that the economies of Japan, US and Europe are good, and business performance has been improving strongly. Compared with the previous period, annual GDP growth rates for April to June was 1.9% for Japan, 2.0% for EU and 4.1% for the US. GDPNow, the forecast by the Federal Reserve Bank of Atlanta, expects the US GDP growth rate from July-September to be 4.3% (as of 8/16). According to Bloomberg, as of 8/16, the EPS growth rate for April to June of 467 S&P500 constituent companies was 24.4% compared to the same period last year. Of these, 379 companies (81.2%) performed beyond market expectations. The net income of domestic listed companies seems to have increased by double-digits by more than 10% in real terms.
Projections of NVIDIA (NVDA), a major semiconductor company, and Applied Materials (AMAT), a major semiconductor manufacturing device company, at their 8/16 earnings announcements were below market expectations, but the May-July results showed increased income and earnings which were largely beyond market expectations. While these are selling points for this sector in the short-term, we should still look out for sustainable expansion of the semiconductor market from a long-term perspective. In the near term, we need to pay attention to the US-China trade talks which are restarting on 8/22, and the speech on economic and monetary policies by Chairman Powell at Jackson Hole. We also need to look at the trends of Chinese stock prices, as well as financial stocks centering on banks which are again looking at continuing interest rate hikes.
In the 8/20 issue, we will be covering Persol HD (2181), Mandarake (2652), Open House (3288), OpenDoor (3926), V Technology (7717) and SG Holdings (9143).
Selected Stocks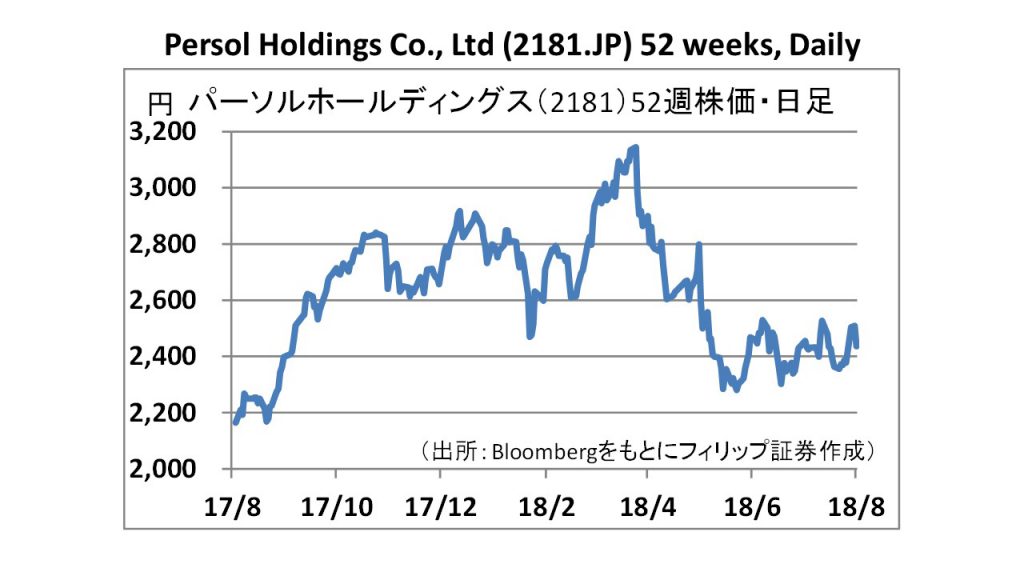 Persol Holdings Co., Ltd (2181)
・Comprehensive human resource group established in conjunction with the merger of Tempstaff Co. and Tempstaff People Co. in 2008. Involved in a wide range of businesses ranging from temporary staffing / introduction, media, design / research & development and IT outsourcing, etc. The group comprises 100 companies both in Japan in overseas, and operates "DODA", a job-search information site, and "Persol Tempstaff" related to temporary staffing.
・For 1Q (Apr-June) of FY2019/3, net sales increased by 39.6% to 225.929 billion yen compared to the same period the previous year, operating income increased by 26.5% to 11.53 billion yen, and net income increased by 22.2% to 6.631 billion yen. Temporary staffing / BPO are performing healthily in light of structural manpower shortages. Recruiting has also been strengthened through personnel increase. M&A of PROGRAMMED had also contributed.
・For FY2019/3 plan, net sales is expected to increase by 30.2% to 940.0 billion yen compared to the previous year, operating income to increase by 17.8% to 42.5 billion yen, and net income to increase by 2.8 times to 21.8 billion yen. Objectives of the medium-term plan by 2020/3 are net sales of 980.0 billion yen, EBITDA of 63.0 billion yen, EBITDA margin of 6.4%, operating income of 48.0 billion yen, and operating income margin of 4.9%.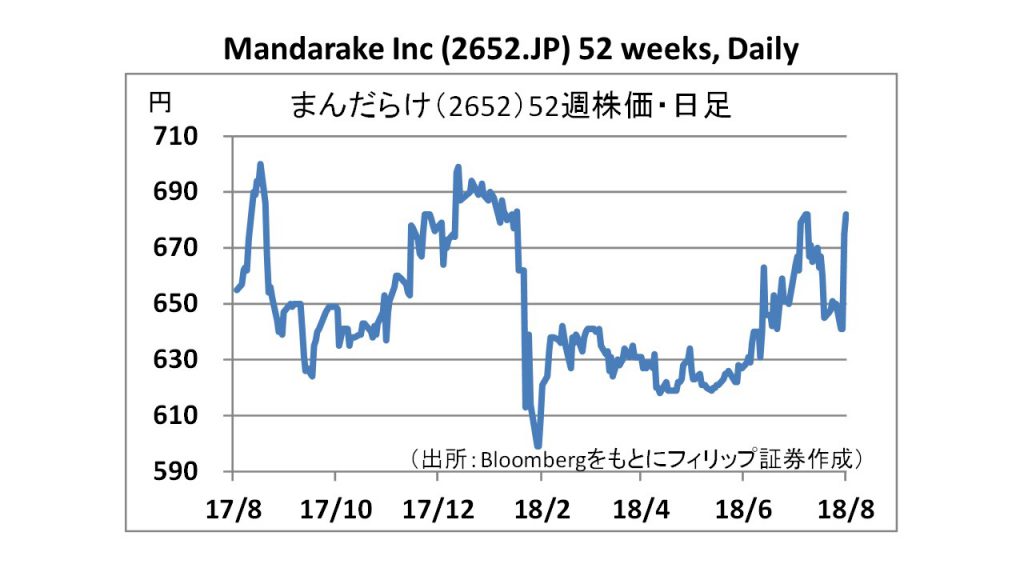 Mandarake Inc (2652)
・Established in 1987 in Nakano, Tokyo.  Purchases and sells Japanese manga-related secondhand books and goods, and animation-related products.  In addition to secondhand mangas, mangas, products related to animation, toys and doujinshi, also handles all sorts of collector items and cultural antiques.  Operates 11 stores throughout the country. 
・For 3Q (2017/10-2018/6) of FY2018/9, net sales increased by 3.1% to 7.4 billion yen compared to the same period the previous year, operating income increased by 20.0% to 757 million yen, and net income increased by 24.0% to 476 million yen.  Gross profit margin improved by 0.8% to 55.0%.
・For FY2018/9 plan, net sales is expected to increase by 1.1% to 9.69 billion yen compared to the previous year, operating income to increase by 1.5% to 751 million yen, and net income to increase by 1.6% to 416 million yen.  Performance has been above company plans, with operating income achieving 100.8% and net income achieving 114.4%.  Prospective PER was 10.8 times on 8/16 closing price basis, with room for further improvement.