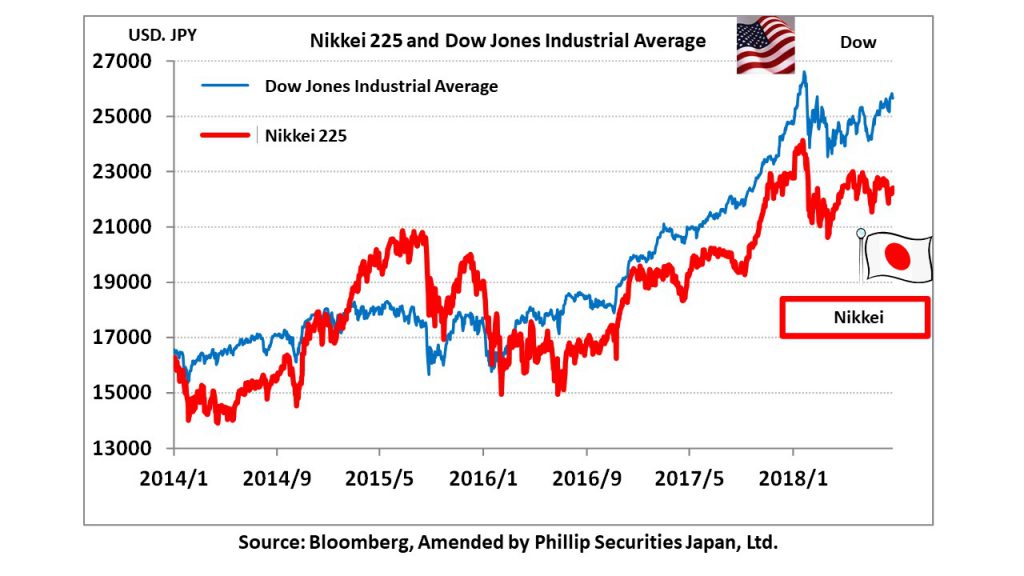 In Miyuki Nakajima's masterpiece "Jidai" (Times), she sang that "times go around".   That was a song meant to uplift those who have lose hope and will.  Indeed, the current era has been shifting relentlessly.  Drone and EV (electric vehicle) development are advancing, and with the advent of IoT, there are high expectations for the next generation 5G communication technology.  Sharing-economy is advancing globally, and domestically, besides car-sharing, the younger generation is embracing simple lifestyles such as rental of high-quality clothes and branded handbags through monthly flat-rate payments.  They cannot help but feel a generation gap with the generation brought up watching the commercial, "One day I shall own the Toyota Crown", dreaming of owning a car, getting married and then owning a home, and which had sweated it out through steady savings and the expectation of lifetime employment.
According to a survey released by the Cabinet Office on 8/24, 74.7% of respondents say that they are "satisfied" (including "satisfactory") with their current lives, the highest rate since the survey began in 1963.  This has increased significantly from 58.2% in 2003. Of particular note is that 83.2% of those between the ages of 18-29 years answered that they were "satisfied", representing the highest proportion with such an answer amongst all age groups.  In addition to "Food & Housing", "Self-development / improvement" and "Leisure / recreation", "Sense of fulfilment in the current lifestyle" has also garnered the highest response amongst all age-groups.
It seems that the "Around Fifties" generation, to which the writer belongs, may have a misguided thinking that, faced with an uncertain future due to the pension problem, collapse of lifetime employment, declining birth rate and ageing population, the younger generation is placed in a very difficult environment.  Perhaps there are many things that we can learn from this younger generation which is not concerned about ownership issues, but is living a comfortable life by making full use of their high IT literacy.
Of late, flying cars have become a hot topic.  Recalling the scene in "Back to the Future II" starring Michael J. Fox where the time-machine "DeLorean" developed by Dr. Brown (Doc) flew through the air, I believe many others besides myself were very excited.   On 8/29, the Ministry of Land, Infrastructure, Transport and Tourism and the Ministry of Economy, Trade and Industry held the first session of the "Public-Private Conference for Future Air Mobility" in Tokyo where the public and private sectors will join effort to realize the "flying car" dream for Japan.  By learning from the younger generation which is not bound by stereotyped ideas, Japan may derive new ideas with global competitiveness.  While preaching moderately, we should also listen to the ideas of the younger generation occasionally.  This may lead to the discovery of new brands. 
In the 9/3 issue, we will be covering ThreePro Group (2375),   Wacoal HD (3591), PiPEDO HD (3919), Mitsubishi Chemical HD (4188), Yokogawa Electric (6841) and Ryoro Electro (8068).
Selected Stocks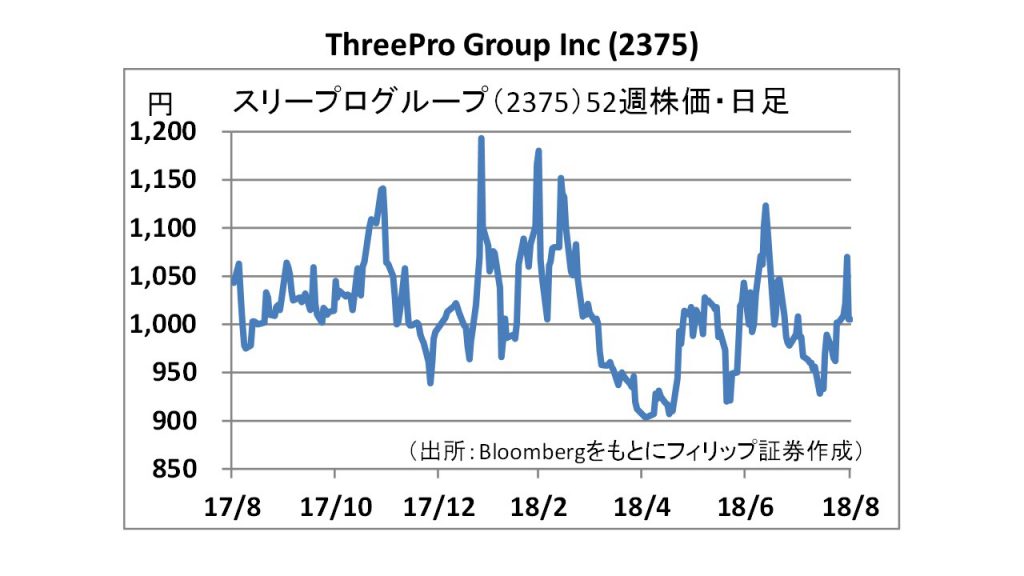 ThreePro Group Inc (2375)
・Established in 1977.  Develops support services centered on IT business for companies that target users of IT environments and IT-related equipment, and individuals / companies that make use of these.  Provides services such as sales / sales support, IT infrastructure implementation / installation / exchange, and operator / IT personnel dispatch. 
・For 3Q (2017/11-2018/7) of FY2018/10, net sales increased by 19.0% to 11.929 billion yen compared to the same period the previous year, operating income increased by 49.3% to 425 million yen, and net income increased by 84.8% to 313 million yen.  Overseas PC manufacturers' OTC sales and sales support services for home electronics mass merchandisers have performed well due to expansion of orders arising from increased advertisement expenditure by companies.
・For FY2018/10 plan, net sales is expected to increase by 22.6% to 16.5 billion yen compared to the previous year, operating income to increase by 31.1% to 500 million yen, and net income to increase by 33.2% to 287 million yen.  In terms of actual progress, net income has already exceeded 100% of forecast, but full year performance has been maintained as per original forecast because of the possibility of expensing costs related to headquarter function expansion.  Annual dividend is forecast to increase from 5.00 yen to 7.00 yen.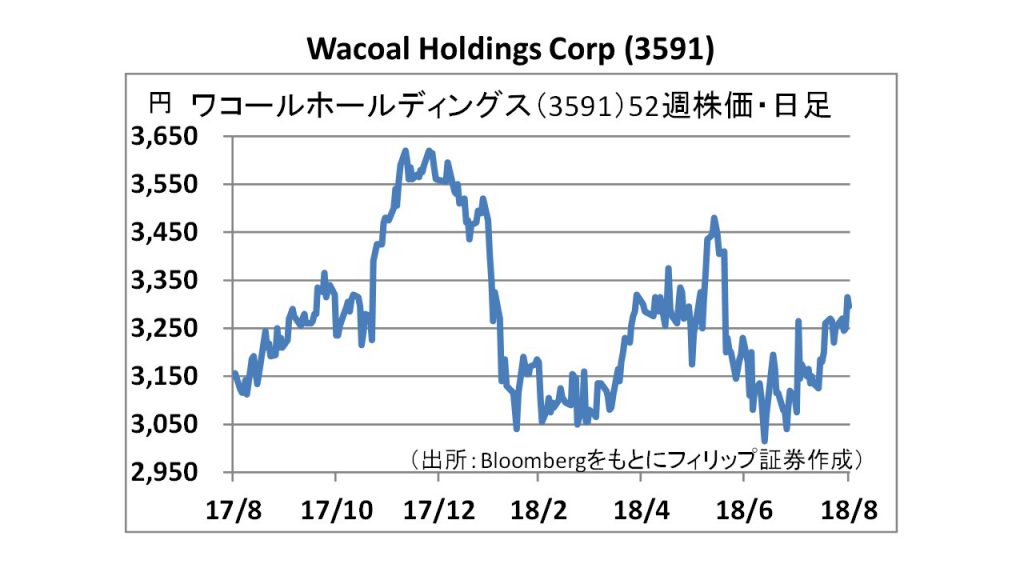 Wacoal Holdings Corp(3591)
・Established in 1946.  Mainstay business is manufacture, wholesales and direct sales to consumers of intimate apparel (mainly women's foundation garments, lingerie, nightwear and children's underwear), outerwear, sportswear, and other textile products and accessories.  Other businesses include food, culture / services and interior furnishing of shops. 
・For 1Q (Apr-June) of FY2019/3, net sales increased by 1.4% to 49.373 billion yen compared to the same period the previous year, operating income decreased by 0.7% to 4.397 billion yen, and net income increased by 59.6% to 6.289 billion yen.  Overseas business had led the increase in revenue, but operating income declined due to compensation for abandoning land destined for factory usage recorded in the same period of the previous year.  Final increase in profit owing to valuation gain of equity securities. ・For FY2019/3 plan, net sales is expected to increase by 2.2% to 200.0 billion yen compared to the previous year, operating income to decrease by 13.0% to 10.0 billion yen, and net income to increase by 2.6% to 10.0 billion yen.  Company has announced a comprehensive business tie-up with Descente.  Through this, company aims to create new businesses beyond the boundaries of the current business domain, and develop products over and above the strengths of both companies.