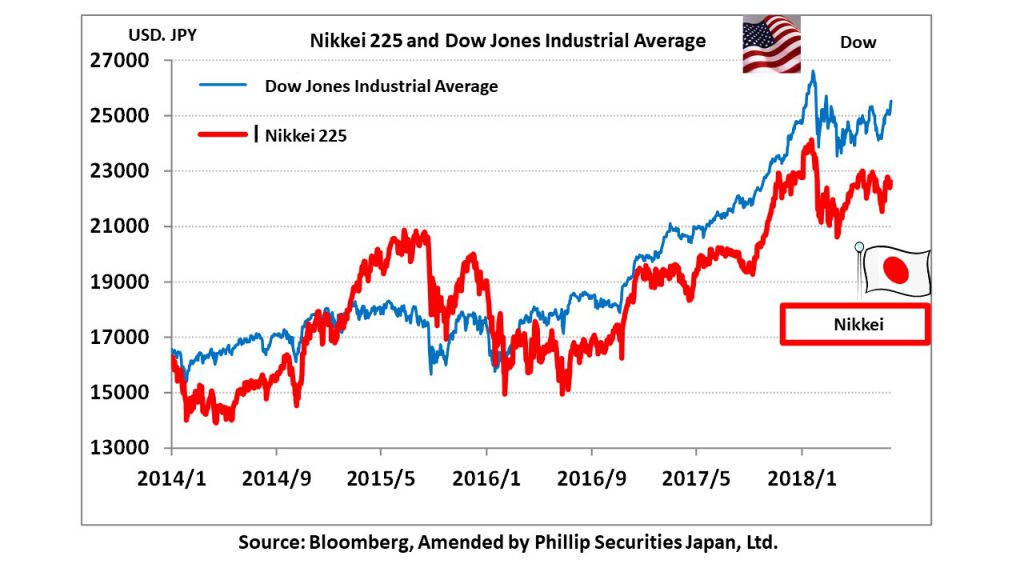 On 7/25, President Trump and President Juncker of the EU agreed that, in future, both parties would not impose new tariffs while trade negotiations were continuing.  The EU will expand imports of LNG and soybeans produced in the US, and both parties agreed to cut tariffs on industrial goods excluding cars. 
President Juncker said there would be no further tariffs while the US and EU negotiate, and that existing US tariffs on European steel and aluminum products, as well as retaliatory tariffs from the EU, would be re-examined "at an appropriate time".  On 7/26, senior EU officials indicated that eventually, automotives would also be included in the zero tariffs list.   Currently, the US imposes 2.5% tariff on passenger cars, and 25% tariff on pickup trucks imported from the EU, while the EU applies a 10% tariff on vehicles imported from the US.  President Trump is preparing to activate an automotive tariff of 20% on the EU.
Concrete negotiations between the US and the EU will commence in September through high-level working groups, and negotiation results are expected within 120 days.  According to the senior official, the timing would be around end-November, implying that there is a high possibility that the US-EU trade war will be in a stalemate situation until after the US mid-term elections scheduled for November. With this concern diminishing for the time being, Japan, US and European stocks are rising.  In addition to the fact that there is pressure on interest rates to rise due to impending monetary policy adjustment by the BOJ in Japan, the yield on US 10-year Treasury bonds has risen sharply to around 3%, the first time in about two months.  Japan's 10-year government bond yield, which had been hovering around the 0.03% level, has soared since 7/23, reaching 0.108% on 7/27.  As a result, investors around the world are now focusing their attention on the next steps to be taken by the BOJ.
Corporate earnings announcements are fully in progress in both the US and Japan, and as of 7/26, 246 S&P constituent companies had released their results.  Of these, 213 companies, representing 86.6%, have EPS results which are better than market expectations.  Domestically, the 1Q earnings results have been good so far, with favorable performance confirmed for major companies like Hitachi Construction Machinery (6305) and semiconductor manufacturing equipment manufacturer Advantest (6857) , of which previously there were concerns about their respective industries.   However, import tariffs imposed by the Trump administration have pushed up the costs of some US companies such as General Motors (GM) and General Electric (GE), and are beginning to affect business results.  Therefore, we will also have to individually assess performance trends of domestic companies. 
In the 7/30 issue, we will be covering LINE (3938),   Shin-Etsu Chemical (4063), OBIC (4684), Milbon (4919), Advantest (6857) and Nippon Valqua Industries (7995).
Selected Stocks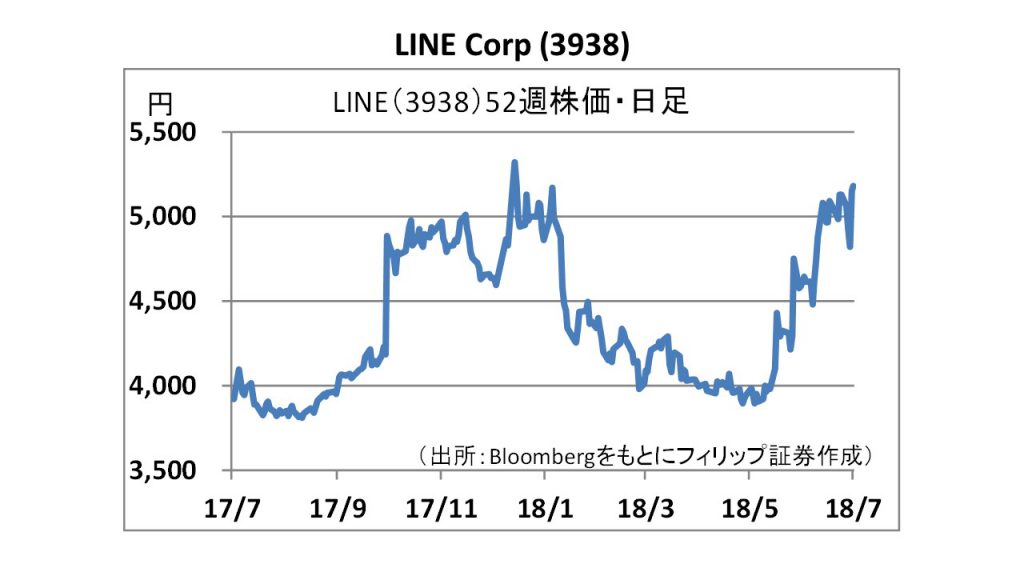 LINE Corp (3938)
・Established in 2000.  Implementing business portal business via the mobile messaging app "LINE".  Providing services such as games, videos, music distribution, photos / videos, news, etc through the "LINE" platform.
・For 1H (Jan-June) of FY2018/12, revenue increased by 26.3% to 99.361 billion yen compared to the same period the previous year, operating income decreased by 44.6% to 10.321 billion yen, and net income decreased by 71.7% to 2.912 billion yen.   Revenue increased owing to increase in online advertising revenue, but as a result of business expansion, personnel expenses have ballooned. 
Expenses related to financial business expansion and AI development had also become a burden. 
・For FY2018/12 plan, market expectations are for revenue to increase by 25.7% to 210.021 billion yen compared to the previous year, operating income to decrease by 43.7% to 14.125 billion yen, and net income to decrease by 50.8% to 4.043 billion yen.  Company aims to energize the use of QR / barcode settlements and will be upgrading the "LINE Pay" incentive program "My Color" from 8/1.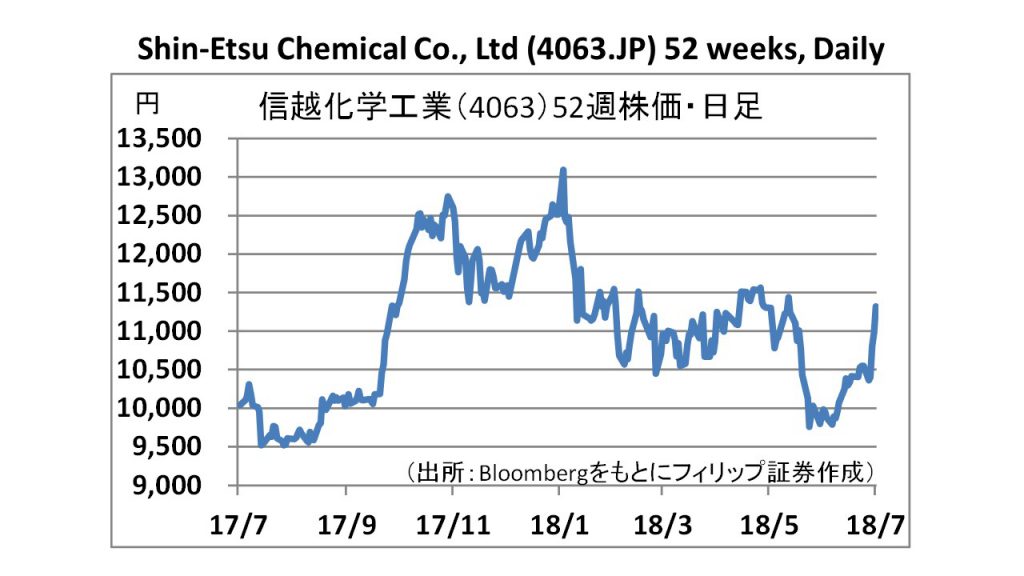 Shin-Etsu Chemical Co., Ltd (4063)
・Founded in 1926.  Manufactures and sells vinyl chloride, caustic soda, silicones, functional chemicals, semiconductor silicon and electronics / functional materials. PVC production capacity of US subsidiary Shintech is the largest in the world.  Has top share in the world for PVC, silicon wafers, synthetic quartz products, advanced photomask blanks and synthetic pheromones. 
・For 1Q (Apr-June) of FY2019/3, net sales increased by 14.1% to 383.633 billion yen compared to the same period the previous year, operating income increased by 28.7% to 95.405 billion yen, and net income increased by 37.3% to 73.718 billion yen.  Main products such as PVC and caustic soda have maintained high levels of shipment.  Shipments of semiconductor silicon also grew against the backdrop of robust demand for semiconductor devices, and price corrections are also in progress.
・For FY2019/3 plan, net sales is expected to increase by 4.1% to 1.5 trillion yen compared to the previous year, operating income to increase by 6.9% to 360.0 billion yen, and net income to increase by 1.4% to 270.0 billion yen.  US subsidiary Shintech has started construction of an integrated PVC resin plant.  Construction investment is expected to be 1.49 billion dollars, with operation scheduled to start in 2021.