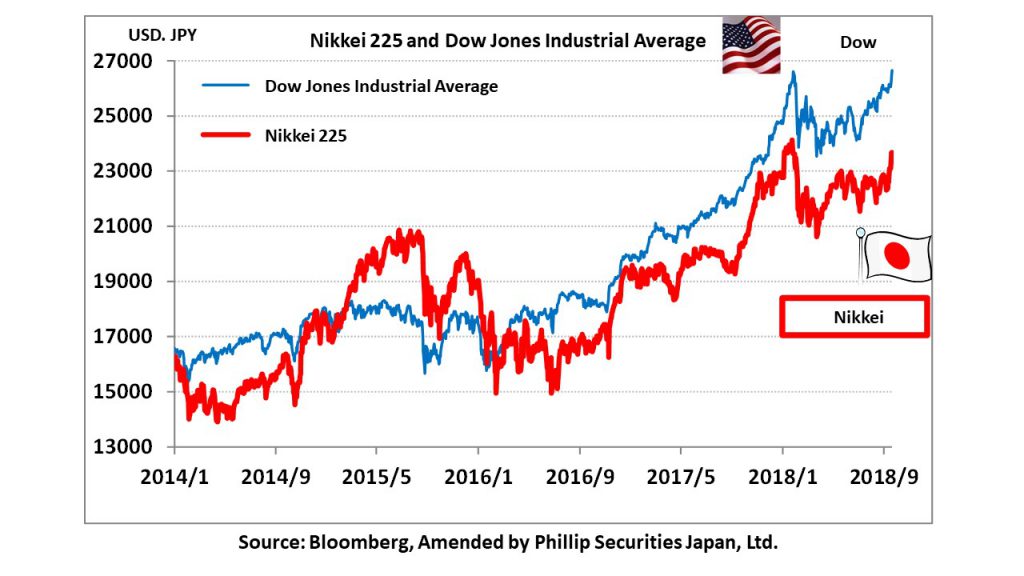 The Trump administration announced that it would invoke the third round of additional tariffs on imported goods from China equivalent to 200 billion dollars on 9/24.  However, the additional tax rate was reduced from the originally expected 25% to 10% for the rest of the year (planning to increase to 25% by year-end).  For the time being, pessimistic scenarios are retreating as pressure on China is expected to be reduced.
Meanwhile, China announced that it would impose retaliatory additional tariffs with effect from 12.01pm on 9/24 on imported goods originating from the US equivalent to 60 billion dollars.  However, China is expected to impose lower additional tax rates on many items such as LNG, compared to those announced on 8/3.  In addition, the Chinese government has raised the rate of reimbursement of export value-added tax for certain items since 9/15.  This appears to be a measure to mitigate the impact of the trade friction on companies exporting from China.
Furthermore, according to some reports, China is planning to lower average tariff rates on imports from most trading partners from October.  This is expected to reduce the burden on Chinese consumers and foreign companies.  While the impact on goods imported from the US is not clear, this action can be considered as an effort by China to open up its market, and also as a move toward relaxation of trade friction.  It seems like a message to maintain the "reform and open-door policy" geared towards both the domestic and overseas audience.   On top of the tariff reduction and with the trade friction with the US intensifying, on 9/19, Premier Li Keqiang said that "the RMB will not be devalued  for the purpose of improved export competitiveness", denying that there were deliberate manipulations of the forex.   He explained that "unilateral depreciation will only bring more harm rather than benefits to the Chinese economy".  We believe this is indeed comforting news for market participants.
In the US, the prices of stocks connected with China, such as Caterpillar (CAT), which had suffered sell-offs since the beginning of the year, have lately been rising continuously, and the NY Dow and S&P500 have both been achieving new highs.
Stock prices of Yaskawa Electric (6506), Hitachi Construction Machinery (6305) and Komatsu (6301), which had been heavily sold since the beginning of the year, had also increased sharply.  The Nikkei average had 6 continuous winning streaks as of 9/21, rising 1,265 points (5.6% rise) during the period.  However, this optimistic scenario seems to be losing steam, and there is also a feeling of overheating in the market from the RSI and Up-down ratios.  There is no denying the possibility of negative outcomes from the US-China, US-Canada NAFTA and US-Japan (FFR) trade negotiations.  Consider this as an opportunity to accumulate funds for the assumed upcoming Christmas rally by averaging through investing over different time periods and taking profits regularly from a portion of your portfolio.
In the 9/25 issue, we will be covering Star Mica  (3230), Kusuri No Aoki (3549), Needs Well (3992), Japan Material (6055), Sony (6758) and NF Corp (6864).
Selected Stocks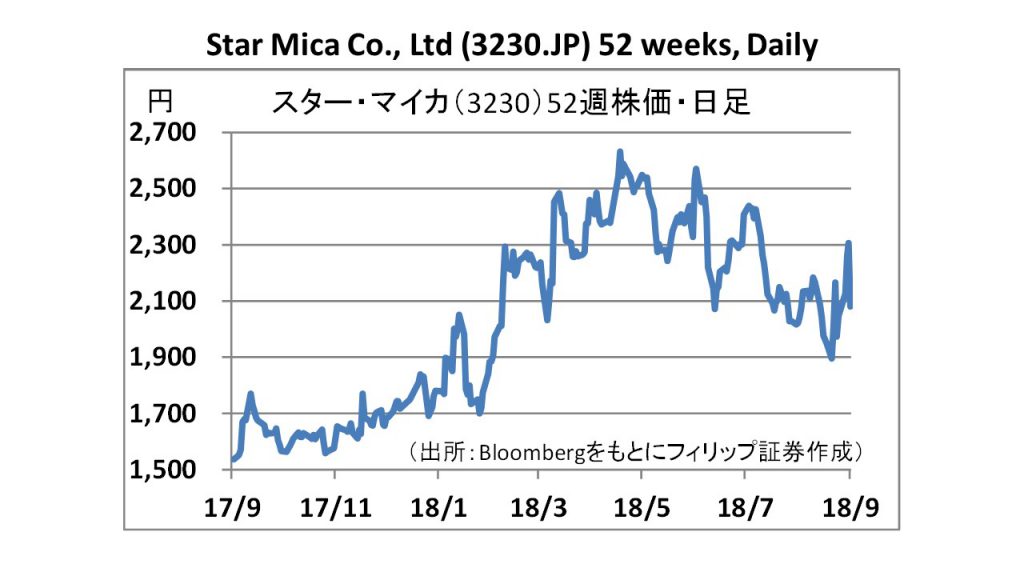 Star Mica Co., Ltd. (3230)
・Established in 2001.  Plans and sells pre-owned condominiums after turning them into renovated condominiums.  Actively acquires "owner-change properties" (properties under lease contracts) so as to improve the marketability of condominiums under lease contracts that have limited buyers in the market.   In addition, also renovates condominiums vacated by tenants and sells these as "new homes" to home buyers.
・For 1H (2017/12-2018/5) of FY2018/11, net sales increased by 42.7% to 17.554 billion yen compared to the same period the previous year, operating income increased by 31.2% to 2.981 billion yen, and net income increased by 34.3% to 1.817 billion yen.  In addition to the increase in rental revenue as the number of properties held increased, higher value-add of properties sold has also contributed.  The sale of some properties held had also pushed up profits. 
・Because of expected increase in rental revenue with increase in purchase of pre-owned condominiums, company has revised its 2018/11 plan upwards.  Net sales is expected to increase by 30.0% to 30.007 billion yen compared to the previous year (original plan 26.059 billion yen), operating income to increase by 9.9% to 3.928 billion yen (original plan 3.669 billion yen), and net income to increase by 8.8% to 2.25 billion yen (original plan2.144 billion yen).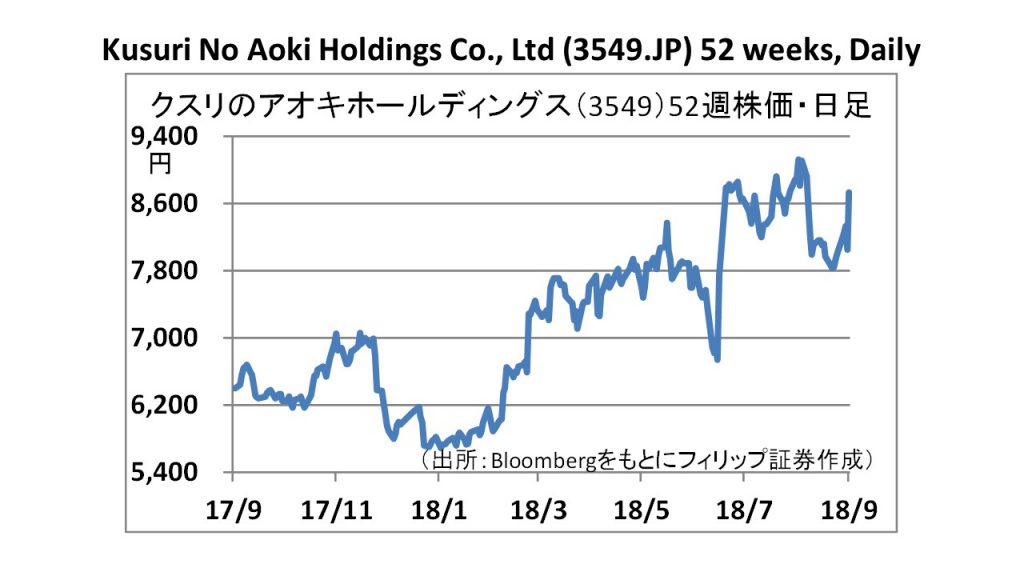 Kusuri No Aoki Holdings Co., Ltd. (3549)
・Founded in 1869.  Operating drugstore chain, "Kusuri-no-Aoki" and dispensing pharmacies.  While focusing on medicines and cosmetics as core products for the drugstores, company is also providing daily necessities such as everyday sundries, goods and small items of clothing in its emphasis to provide more convenience for consumers.  Besides three prefectures in the Hokuriku region, company also has stores in Shin-Etsu, Kita-Kanto, Tokai and Kinki regions. 
・For 1Q (June-Aug) of FY2019/5, net sales increased by 13.4% to 61.712 billion yen compared to the same period the previous year, operating income increased by 7.6% to 3.523 billion yen, and net income increased by 6.6% to 2.499 billion yen.  Besides opening 16 new drugstores and 8 drugstore-cum-pharmacy stores, company has also completely renovated 5 existing stores.  Sales of anti-perspirants and drinks had increased at existing stores.
・For FY2019/5 plan, net sales is expected to increase by 16.1% to 257.0 billion yen compared to the previous year, operating income to increase by 10.6% to 13.124 billion yen, and net income to increase by 5.4% to 9.3 billion yen.  Company is planning to open 80 drugstores and 40 drugstore-cum-pharmacies.  Company is also planning to revitalize existing stores by reviewing assortment of products and carrying out complete renovations.