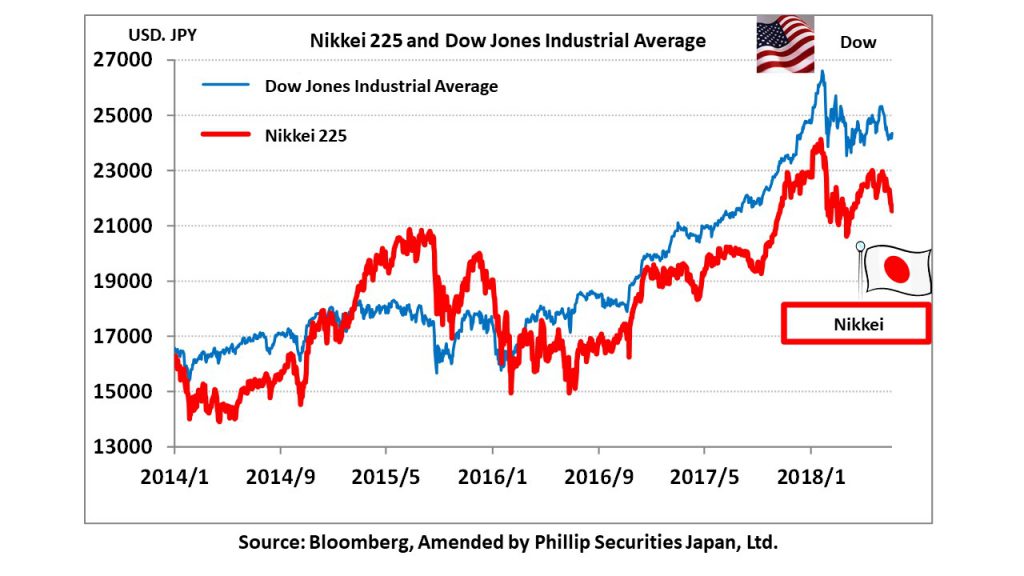 As planned, from midnight 00.01 am US Eastern time on 7/6 (Japan time 1.01pm on 7/6), the US started imposing 25% additional tariffs as sanctions on China on 818 products, equivalent to 34 billion US dollars, including automotive, semiconductors and industrial machinery, etc.  The spokesman from the Ministry of Commerce, China, said that they had verified the impact of these additional tariffs on Chinese companies, and stated that they would be forced to retaliate.  On 7/6, China imposed 25% additional tariffs on 545 products such as soybeans and automotive etc, equivalent to 34 billion US dollars. 
We need to see how the US will respond to China's triggering of these retaliatory tariffs. President Trump had stated that if China were to take any countermeasure, the US would impose additional tariffs on 200 billion US dollars worth of Chinese products.  This is expected to take effect after August.  The US Department of Commerce has also started considering strengthening regulations on the export of high-tech products to China.
With the imposition of additional tariffs by both the US and China, products from both countries are expected to flow to other countries and regions.  There is therefore concern that this may disrupt the global supply and demand situation.  In response to additional tariffs imposed by the US, there is a possibility that the EU may impose emergency import restrictions (safeguards) on steel products provisionally from mid-July.  We are concerned that this may have global effects, including for Japan.  OECD has estimated that, if the cost in the US, Europe and China increases by 10% as a result of these tariff increases, then global GDP will decrease by 1.4%. 
However, on 7/6, major Asian stock markets including Japan and China etc, responded strongly.  Against the background of the escalating trade friction between the US and China, the Shanghai Composite Index fell to 2,690 points on 7/6 from its recent high of 3,100 points on 6/7.  Japanese stocks also continued to decline owing to increasing linkage to Chinese stocks.  There is growing concern that domestic global enterprises that have built supply chains around the world may suffer directly or indirectly through the economic damage that China will sustain.  However, with the start of additional tariffs between the US and China on 7/6, the market appears to accept that the worst is over for the time being, and increased buyback activities could be seen.  The future of trade problems between the US and China is still uncertain.  We expect President Trump's hardline stance to continue towards midterm elections.  However, we anticipate that stocks which had been oversold in the short-term due to the declining market since the middle of June will experience some degree of buybacks.  We should pick up stocks that have confirmed good results and which are resilient against the effects of trade friction. 
In the 7/9 issue, we will be covering Seven & I HD (3382),  Nippon Carbon (5302), TOTO (5332), United Arrows (7606), MANI (7730) and SCREEN HD (7735).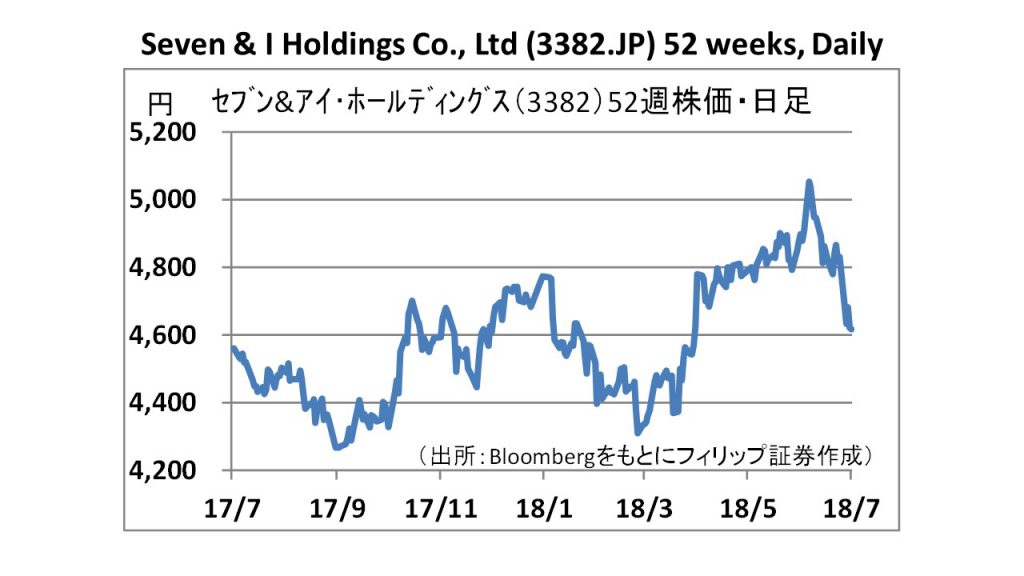 Seven & I Holdings Co., Ltd (3382)
・Established in 2005.  Planning, management and operation of Group companies centering on convenience stores, hypermarkets, food supermarkets, department stores, specialty stores, food services, financial services and IT services, etc.
・For 1Q (Mar-May) of FY2019/2, revenue from operations increased by 8.9% to 1.599 trillion yen compared to the same period the previous year, operating income increased by 5.7% to 86.376 billion yen, and net income increased by 27.5% to 42.887 billion yen.  Overseas convenience store business and financial-related business are doing well.  Hypermarket Ito-Yakodo improved its profitability through structural reforms such as strengthening food sales. 
・For FY2019/2 plan, revenue from operations is expected to increase by 10.7% to 6.683 trillion yen compared to the previous year, operating income to increase by 6.0% to 415 billion yen, and net income to increase by 15.9% to 210 billion yen.  The company will be partnering with Zoshinkai Holdings which is developing correspondence courses "Z-Kai".  It is aiming to create new services by combining stores, classroom network, membership base and product capabilities, etc.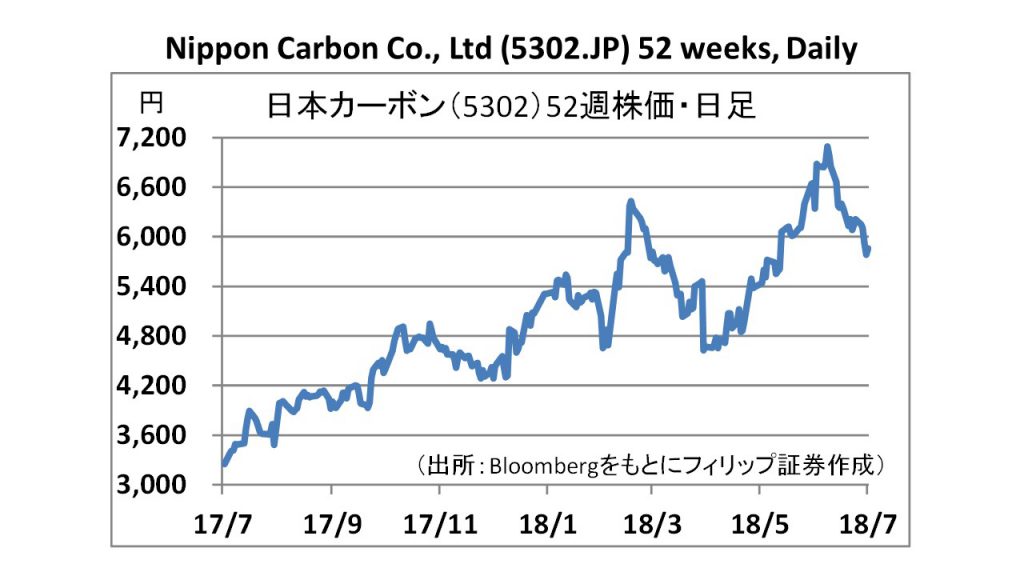 Nippon Carbon Co., Ltd (5302)
・Founded in 1915.  A pioneer in the carbon industry.  Manufactures and sells carbon products. Engaged in Japan's first artificial graphite electrode for electric furnace for steelmaking.  Also handles special carbon products, carbon fiber products, silicon carbide continuous fiber, graphite materials for lithium ion batteries and high purity graphite used for manufacturing crystalline silicon etc. 
・For 1Q (Jan-Mar) of FY2018/12, net sales increased by 48.2% to 8.489 billion yen compared to the previous year, operating income was 1.897 billion yen, and net income was 1.218 billion yen, with both turning positive.  In addition to growth in carbon fiber and specialty carbon products owing to favorable semiconductor market conditions, lithium ion battery negative electrode materials for automotive also maintained steady growth.  Selling price corrections of electrodes also contributed.
・Company has revised its FY2018/12 full year performance upwards as a result of price correction of graphite electrodes, and expansion in the fine carbon and lithium ion battery negative electrode material sectors.  Net sales is expected to increase by 48.4% to 41.5 billion yen (original plan 37.5 billion yen) compared to the previous year, operating income to increase by 4.3 times to 11.0 billion yen (original plan 7.0 billion yen), and net income to increase by 2.5 times to 7.4 billion yen (original plan 4.6 billion yen).