1QFY17 Revenue/NPAT increased 6.4%/24.1% yoy
Three new brands but two net stores opened over the year (total 50 stores as at 30 June 2016)
Main revenue generator "Ajisen Ramen" fizzled, but supported by two other two other flagship brands, "Menya Musashi" and "Osaka Ohsho"
Results at a glance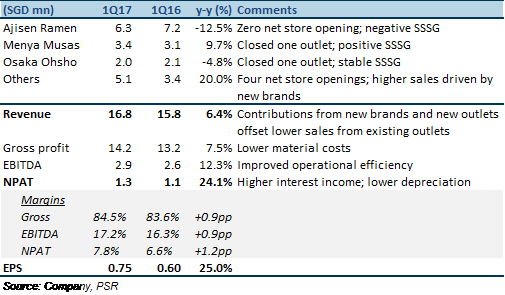 New brands and new outlets growing healthily. The Group launched its self-developed brands, Ginza Kushi Katsu and Dutch Baby Cafe, in April 2016, its first foray into high-end market. Management shared that, the gross margin for these brands are similar to its other brands, as the higher average selling price compensates higher raw material costs. New ManLee Bak Kut Teh (Dec-15) is gaining traction, with its third outlet opened in Bugis+ in April 2016. New brands and new restaurants should help to offset the slowing turnover from Ajisen Ramen.
Lower costs despite sourcing straight from Japan. Management shared that changing some of the recipes in terms of the type of flours and spices, have helped them to save raw material costs. Cutting off intermediaries, the Group is now sourcing directly from Japan, with payments made in Japanese Yen (JPY). The move may backfire if JPY continues to strengthen against Singapore Dollar (SGD).
Restoring cash position, ready for deployment. The Group's cash position strengthened over the quarter from S$16.9mn to S$19.3mn as at end-June 2016. Cash rich with strong, positive cash flow from operations, the Group has the capacity to fund CAPEX internally as it move towards its ultimate aim of reaching 100 store counts in Singapore.
Higher sales with better margins are testament to the effectiveness of the Group's strategies to control raw material costs, operational efficiency and good restaurant portfolio managements.
Investment Actions
No stock rating or price target provided, as we do not have coverage on Japan Foods.
Peer relative valuation
Japan Food is currently trading below the average Price/Earnings and with a higher return on equity (ROE) than the peer average.