1Q17 results were below our expectations but expect earnings to accelerate as works at Changi Airport project is expected to accelerate and boost revenue in the next few quarters
Performance in Civil Engineering (CE) segment remains stable with order book standing at S$915 million that can last till FY22
Construction of Shine@Tuas industrial property development project on track to be completed in FY18; Expect sales to accelerate as sentiments improve

Performance in CE segment remains stable with additional contribution from Changi Airport JV project secured in FY16
The Group's order book in CE stands at S$915 million as at 1Q17 with more than 70% of the amount coming from the recently awarded 60:40 Changi Airport JV (CAJV) project. Gross profit from the CE segment came in 71.4% higher YoY amid new contribution from CAJV project. We are expecting works in the CAJV project to accelerate in the next quarters which will translate to higher revenue to be booked in moving forward. Additionally, the CE segment is expected to remain stable backed by four projects on hand (including CAJV), and will be the main revenue driver for the rest of FY17 in absence of revenue contribution from property development.
Construction of Shine@Tuas on track to be completed in FY18
The Group is currently constructing a 174-unit B2 industrial development property in the Tuas district, which is expected to be completed and handed over in FY18. Sales in the development project has been weak with few units as at 1Q17. The Group is expected to boost marketing efforts in the development project in order to accelerate sales. As at the end of 1Q17, we are estimating the Group to incur another S$70 million in development costs (c.50% incurred) which can be funded mostly with internal resources. We are projecting the Group to book in a development profit of c.S$30.6 million (adding S$0.06 to our RNAV estimate) when the property is completely sold.
Investment Actions
The CE segment continues to remain stable with a sizeable order book which is able to provide revenue visibility till FY22. Sales at the Group's industrial property development, Shine@Tuas, remains weak although we are expecting sales figures to be lifted by an improvement in sentiments in the overall industrial property landscape, as well as ongoing marketing efforts. We have upgraded our rating to "Accumulate" with an unchanged TP of S$0.57. TP is post-payment of special dividends and final dividends declared in FY16 and paid in May 2017.
Valuations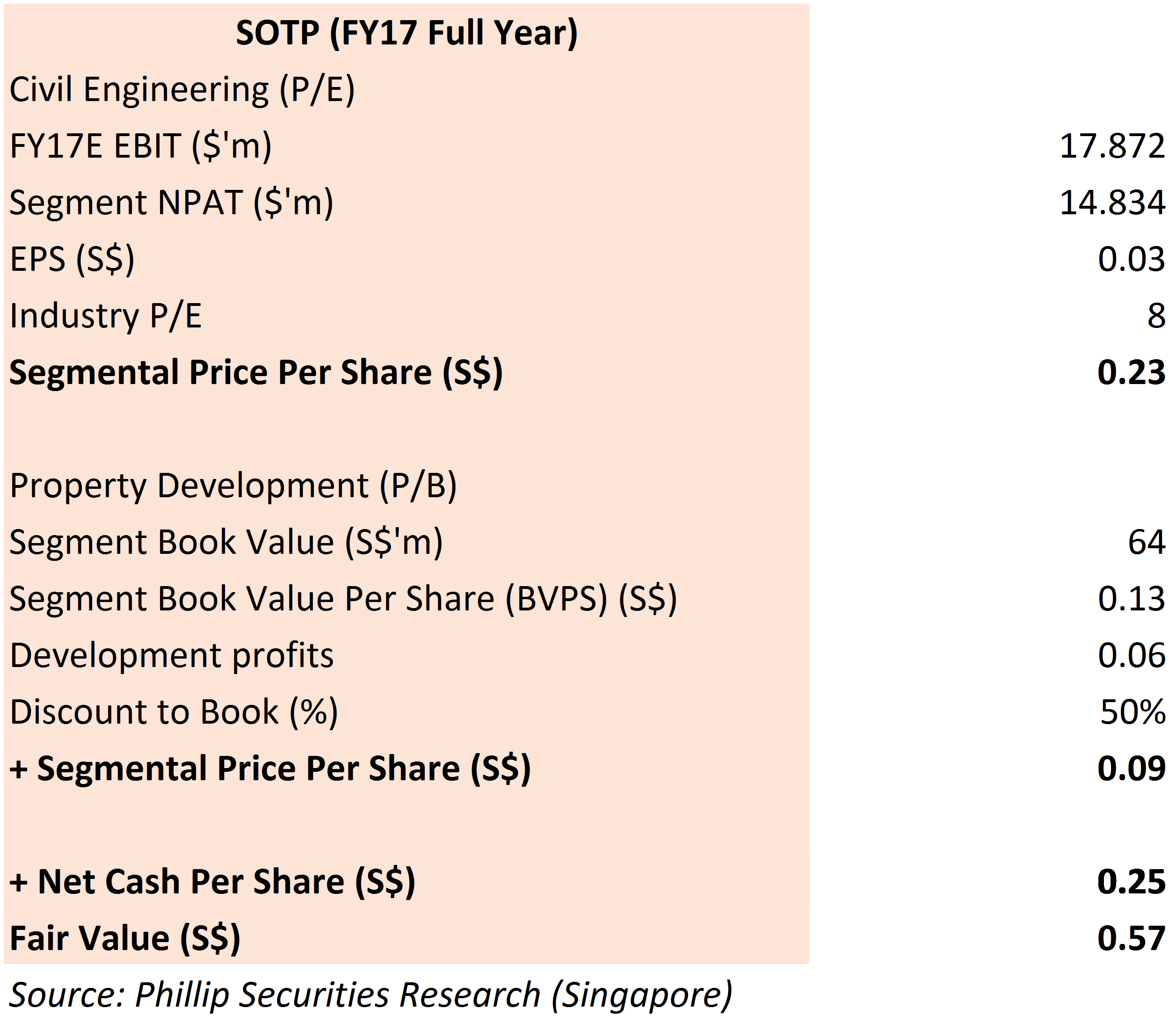 *Net cash excludes special dividend per share and dividend per share (S$0.10 and S$0.025) declared in FY16