Regency taps onto unmet local demand gap whilst Mahkota attracts foreign patients
Investment thesis remains intact: Increasing capacity, stronger patient demand, and higher revenue intensity to boost revenue growth
Unique ability to attract and retain specialist doctors
Maintained "Buy" rating with a DCF derive TP of SGD0.83
We attended an analyst site visit to Regency Specialist Hospital ("Regency") in Johor and Mahkota Medical Centre ("Mahkota") in Melaka on 5th to 6th May 2017. The visit provided an opportunity for us to understand how Health Management International ("HMI") position itself amidst competitive landscape, and how it structures its growth strategies around the diverse operating environment in Johor and Melaka. We also had a brief overview of the performances of new and maturing hospitals.
During the trip, the Group CEO, as well as CEOs, Directors and General Manager of the two hospitals, shared with us some of their market insights and technicalities of the hospital operations.
Site visit key takeaways
The newly launched PET-CT scan in Mahkota dominates diagnostic nuclear imaging service in Melaka. The imaging service is gaining traction, with a total of 54 cases in Apr 2017, i.e. an average if 6-8 patients/day (industry maximum of 10-12 patients/day). Management is optimistic of wider usage of PET-CT scan in Malaysia on the back of its growing prominence; and (ii) increasing incidence of cancer.
Expansion pipeline on track: (i) a new ward with c.30 operational beds to be added to each of Mahkota and Regency by 1H FY18; and (ii) Hospital Extension Block at Regency by FY2020. Next prospective expansion in the medium to long term could be a multi-storey car park and a new hospital extension block for Mahkota. Two plots of car park space available for potential expansion. Currently there are still capacity at the Level 9 Administration Office. Mahkota could move its back office to another location, freeing some space in the existing block to add new beds before constructing a new hospital extension block.
Investment thesis remains intact: (i) Growing patient demand supported by favourable macro backdrop; (ii) Higher average bill size driven by its expanding range of specialist and sub-specialists, facilities and services; and (iii) Expanding capacity. The Group's positioning and growth strategy for the two hospitals varies – Regency to focus on meeting local demand gap; while Mahkota to tap on foreign market demand amidst saturated local market. Higher foreign patient load will boost revenue intensity; higher utilization rate of its facilities and services will increase profitability.
Unique partnership model to attract and retain specialist doctors. Malaysia is suffering from specialist shortage. There are There are only about 9,000 specialist doctors nationwide serving the 30.33 million population of Malaysia (equivalent to 0.3 specialist doctor per 1,000 people). The Group offers specialist doctors a chance to start their own medical practise while able to enjoy as the benefit of being part of a hospital ecosystem. The doctors under the Group earn procedure fees and drugs margins, which has a higher earning potential compared to other private hospitals in Malaysia. Management also shared that collaboration with Kaohsiung Medical University could help in terms of medical staff trainings and attracts Malaysian specialists graduated in Taiwan to return and practise in Malaysia.
Mahkota Medical Centre – the Crown Jewel in Melaka
PET-CT Scan: A revolutionary technology with promising prospect
The PET-CT (Positron Emission Tomography-Computed Tomography) scan combines both PET and CT scan images to produce one image, which can detect most cancers in the human body at an earlier stage than most well-known imaging techniques (such as MRI, CT, and Ultrasound scanning), and even blood tests could. Note that cancer treatment is often more successful in early detection cases.
Essentially, the PET-CT scan can be used in diagnostic imaging procedures in oncology, surgical planning, radiation therapy and cancer staging. It helps physicians to diagnose, stage, treat and mange cancer/tumour with more specificity and accuracy, resulting in a better outcome for the patient.
It gives a more complete picture of a tumour's location, size, growth, and spread.
It also improves the ability to diagnose cancer, to determine how far a tumour has spread, to plan treatment, and to monitor response to the treatment.
It may also reduce the number of additional imaging tests and other procedures a patient need, thus reducing the cost of treatment.
However, PET-CT scan is less common in Malaysia because of resource scarcity – it requires (i) substantial investment in the PET-CT scanner; and (ii) highly trained personnel to operate and manage the radiopharmaceuticals.
Mahkota is the first and the only one in Melaka, to install a PET-CT scanner. Mahkota dominates diagnostic nuclear imaging service in Melaka while offers hospitals in vicinity a nearer solution. The other hospital which offers PET-CT scan service in South Malaysia is KPJ Johor Specialist Hospital (since Nov 2015).
Management is optimistic of a wider usage of PET-CT scan in Malaysia on the back of (i) its growing prominence; and (ii) increasing incidence of cancer.
Table 1:

* MMC does not produce the radiotracer, and as the radioactivity of the F-18 FDG reduces by 50% over 110 minutes, it cannot be imported. The F-18 FDG market in Malaysia is controlled by duopoly, i.e. Beacon Hospital and IBA RadioPharma Solutions, which are located near Kuala Lumpur.
Figure 1 & 2: The newly launched PET-CT scan machine
Preparation work includes pre-injection briefing to patient, preparation of radiotracer for injection, and injection of radiotracer into patient.
The scanning process takes about 20 to 30minutes and patient will be isolated for 2 hours after the scan.
The whole process will take about 4 hours to complete.

Potential expansion in Mahkota of in existing hospital block, as well as additional parking space, and potentially a new hospital extension block
Mahkota owns two parking lots which would be the plots for its potential expansion plan. Management shared that, in medium to long term plan, Mahkota would build a multi-storey carpark, which we think likely to be at Car Park 2 (see Figure 4).
We also think that it is possible that Mahkota will move its back office to another location – freeing some space in the existing block to add new beds before construction of extension block. We think the extension block could be at Car Park 1 (see Figure 3) as it is closer to Mahkota.
We think that a potentially new hospital extension block in the medium to long term plan would mainly add more clinical service areas and clinic suites, expanding the range of specialty and sub-specialty offered. The additional capacity would be supported by the growing patient base, from both local and foreign, particularly arising from the development in Melaka (such as Melaka Gateway project and several Chinese investments in Melaka).
Figure 3: Car Park 1 (Next to Mahkota; or between Hatten Hotel and Mahkota)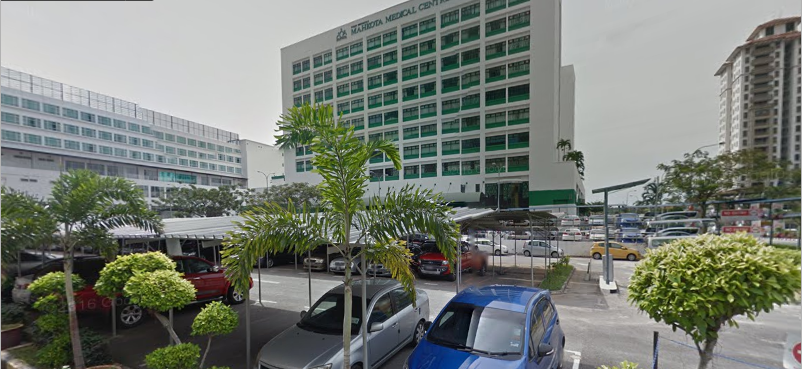 Source: Google Map, Image captured on Dec 2015
Figure 4: Car Park 2: Across the street (Opposite Mahkota)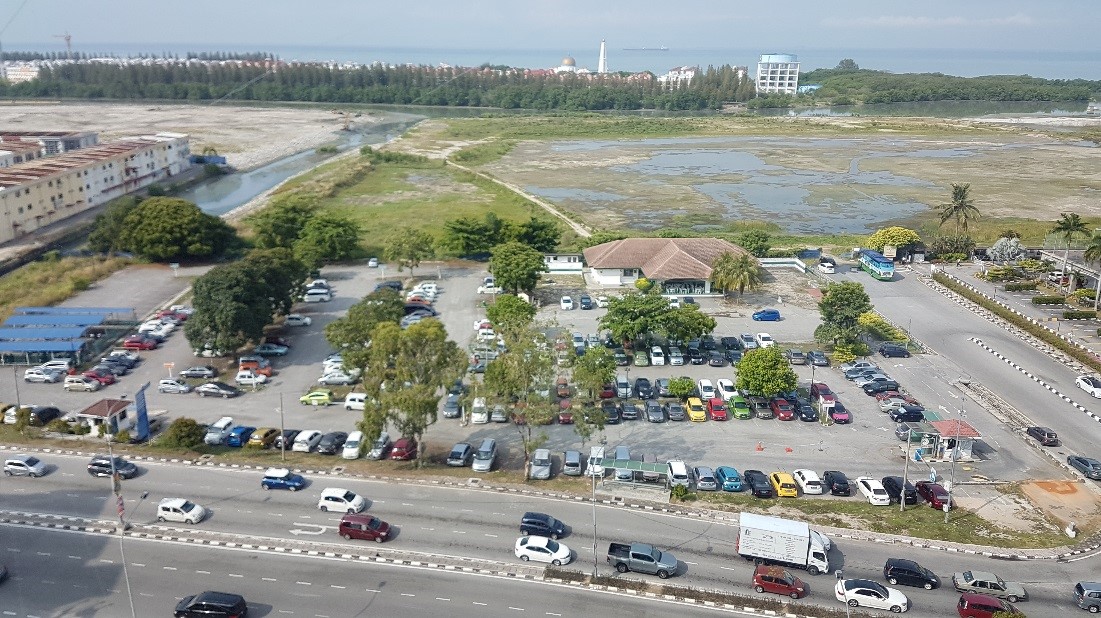 Source: PSR
Figure 5: Satellite view of Car Park 1 and 2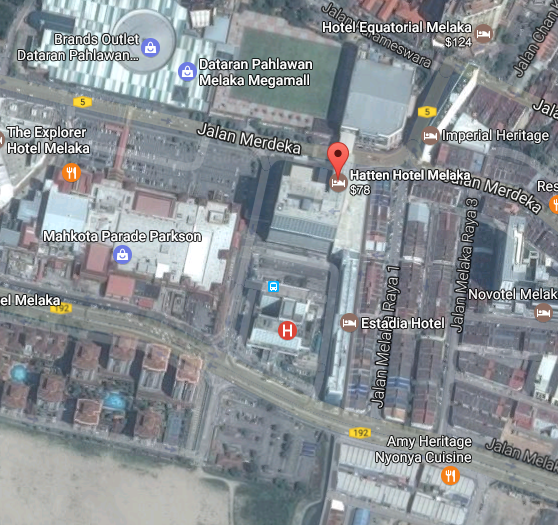 Source: Google Map, Image captured on 2017
Strategic Positioning and Growth Strategy
RSH, a Regional Solution for Locals; MMC, a Magnet to Medical Tourists
Recall that in our Initiation Report, we mentioned that, healthcare facilities in Johor is under-supplied with bed-to-population ratio* at 1.7, when compared to Malaysia's at 1.9. On the other hand, Malacca has higher bed density at 2.5.
Hence, the Group's growth strategy for the two hospitals are very different, with Regency focusing on meeting local demand gap; and Mahkota to tap on foreign market demand amidst saturated scene in the local market. This can be well reflected on the patient mix in Table 2.
Regency's next initiative would be collaboration with insurance and corporates to grow its corporate account
Management noted that only 70% of Regency's patients are insurance-covered.
Being the closest tertiary hospital and the only private hospital to have 24-hour A&E staffed by emergency specialists in Pasir Gudang industrial area and new Petronas oil refinery-petrochemicals complex area (i.e. RAPID), gives Regency an edge to attract corporate clients. (Note: Petronas is now a corporate client of Regency due to the reason mentioned)
Nonetheless, management does not discount that there is room for Regency to attract foreign patients. It has recently started its marketing outreach to international patients, in particular from Indonesia and Singapore. Being one of the two hospitals in Johor, Malaysia, approved for Medisave use, offers a stronger value proposition for Singapore patients.
Meanwhile, the strategic location of Mahkota offers a full ecosystem for medical tourists, including food, accommodation, and transportation
Mahkota is the only private healthcare provider in Melaka which provide transportation arrangement (via third party vendor) from Kuala Lumpur International Airport ("KLIA") to facilitate foreign patients travelling by air.
It also offers same-day repot for health screening and same-day surgeries, which help to save time and limit travel costs for foreign patients.
It is not surprising when Management shared that Mahkota has the highest foreign patient load in Malaysia. Its main competitor by states within Malaysia would be the private hospitals in Penang. Foreign patients in private hospitals in Kuala Lumpur are mainly expats, and note that the costs of living in Melaka is lower than Kuala Lumpur.
Within the state of Melaka, Mahkota being Indonesian's top preferred private hospital, despite Pantai Medical Centre Ayer Keroh having an 8 years of head start before the establishment of Mahkota, is a testament of effective marketing of its 17 representative offices in Indonesia.
Please sign in to read the full report in PDF.