Revenue and net profit missed our expectations due to higher operating expenses and correction in coal prices.
Production surged 66% while coal prices slightly dropped.
Multiple upward pressures on cash cost. We lower FY18e EPS to 2.7 US cents (previously 3.1 US cents) due to a higher than expected cash cost and a lower projected ASP. Based on unchanged peer average forward PER of 10x and the FX rate (USD/SGD) of 1.36x, we reiterate our BUY recommendation with a lower target price of S$0.36 for FY18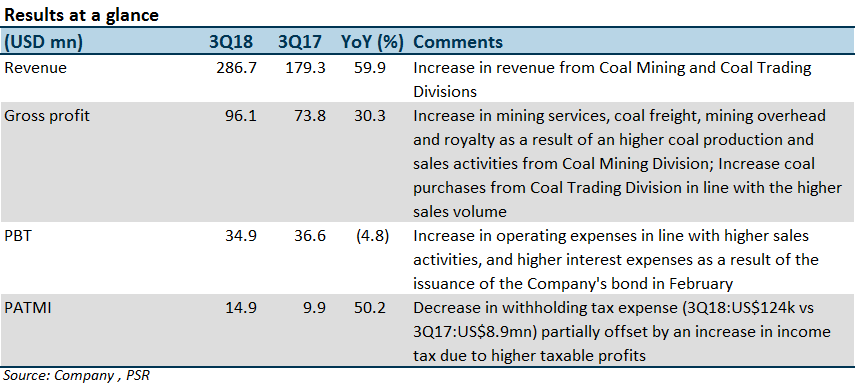 The Positives
+ Growth in production amid a slight drop in coal prices: Production from coal for 9M18 totalled 15.9mn tonnes (79.5% of 20mn tonnes of FY18 sales target).

HBA (Indonesia Coal Price Reference) had risen by 24.4% YoY to US$105.7/tonne in 3Q18. However, ASP for GEAR dipped YoY slightly due to the price cap on the coal supply to PLN. During the quarter, 1.2mn tonnes was supplied to PLN.
The Negatives     
– Several factors led to a higher cash cost: In 9M18, cash cost jumped 22.2% YoY to US$26.4/tonne. The increase in the strip ratio of BIB mine (9M18:4.8 vs 9M17:3.7) accounted for US$1.6/tonne out of US$5 of increment in cash cost. The increase in fuel price, the distance between mining field and overburden dumping site, coal hauling, and port/jetty cost lifted the cost by another US$0.5/tonne, US$0.75/tonne, US$0.65/tonne, and US$0.6/tonne respectively. Full-year cash cost is expected to be c.US$26/tonne.