This article was published on Business Times' column "ChartPoint" on 7 August 2017. 
The bull run on gold is only taking a breather for now. There has been an aggressive sell off in Gold in the past few weeks due to the new hawkish language from the Fed over plans to unwind its balance sheet reduction. We are unfazed by this. The tightening of the Fed's monetary policy should not hinder the current secular uptrend in the long run.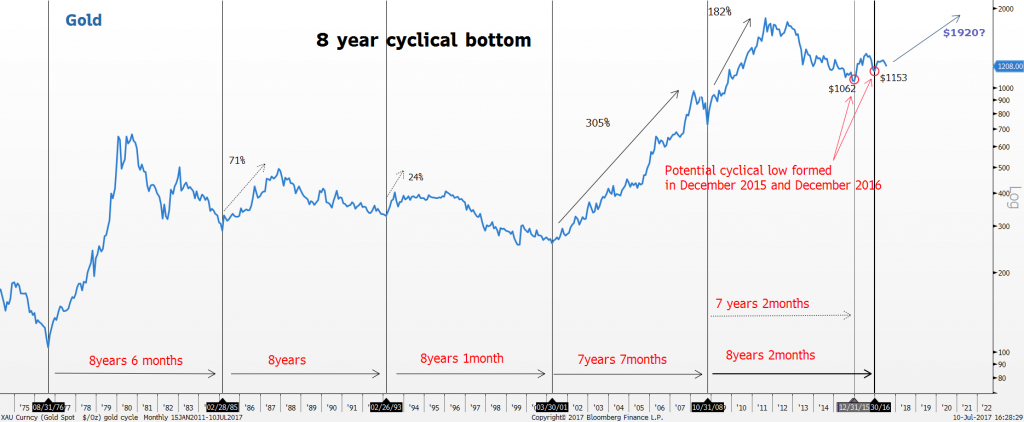 * Vertical line demarcates the cyclical low                           Gold monthly chart                                 Source: Bloomberg, PSR
Gold follows a long term cycle of approximately every 8 years. It forms a cyclical low in between 8 years. Each cyclical bottom is being followed by a raging bull market where the secular uptrend lasts for 3 to 4 years on average.
For example, the cyclical bottom in March 2001 took 8 years and 1 months to form, and the subsequent bull market in Gold resulted in a handsome 305% gain. The next cycle happened 7 years and 7 months later in October 2008 where Gold ended up with a substantial 182% bull rally.
If the 8-year cycle holds, using the most recent cyclical bottom in October 2008 as the guidepost will point towards October 2016 as the next cyclical bottom. However, with the benefit of hindsight, we can deduce the December 2015 low of US$1062 to be the cyclical bottom for the current cycle. In other words, this cycle took 7 years and 2 months to form.
By scrutinising deeper, the December 2016 low of US$1153 provides a better fit for the 8-year period as this cycle took 8 years and 2 months to finalise.
Simply put, we are expecting the US$1153 December 2016 low to hold for the cycle to play out. Alternatively, if the US$1153 support area fails to hold, the next critical level to watch will be the US$1062 December 2015 low for the new bullish cycle to stay valid.
We are expecting the current secular bull market in Gold to last for the next 3 to 4 years to target 2011, U$1920 all-time high.
As the war drums from the Korean Peninsula beat louder with North Korea testing two more Intercontinental ballistic missiles in July, the geopolitical tension continues to stay elevated globally. As a result, Gold should continue to experience the tailwinds from the ongoing escalations with the safe haven status.
Some near term levels to watch are the US$1300 resistance area on the upside and US$1200 support area on the downside. Once the US$1300 is breached to the upside, the next wave of buying should begin for the price to search for the US$1367 resistance area.