Recap on the first quarter of 2017
Events
President Trump fail to repeal the Affordable Care Act (ACA) aka Obamacare.
United States launched 59 Tomahawk missiles into Syrian airfield in response of a chemical weapons attack that killed dozens of civilians by the Assad regime.
North Korea testing of its nuclear program has inflamed President Trump and U.S. have responded by sending one of their aircraft carrier to the Korea peninsula.
President Trump made peace with China president Xi Jinping and toned down his tariffs talk in hope that China can help subdue the unruly North Koreans.
In Europe, a French revolution in politics is under way, as the first round of election saw Marine Le Pen and Emmanuel Macron going through to the second round of election.
Moon Jae-in was elected as the new president of South Korea after the after the impeachment of former president Park Geun-hye. The incumbent Park was officially removed from office on 10 March 2017 following her political scandal.
Markets
"Trumponomics" carried the markets higher at the end of 2016 and followed through to first quarter of 2017.
S&P 500 hit a new peak in March before correcting. Currently looking to breakout of the March 2017 high.
The Nasdaq, a proxy index to the technological companies in the U.S., has been making new high since breaking out of its all-time high set during the dot-com bubble.
U.S. Dollar currency index, which measure the strength of the U.S. dollar against a basket of trading partner currencies, has fallen ~5% since the start of the year.
10-year U.S. Treasury yield fell 33 basis points before recovering half the loss since the bottom in mid-April.
Looking Ahead
Geo-political risk remains high with the nuclear threat from North Korea unresolved. In addition, the bombing of Syria will have a negative impact on the already strained relationship between U.S. and Russia. The dismissal of Head of FBI, James Comey, will add to the complication of the U.S.-Russia relationship.
A bipartisan agreement was negotiated to prevent a U.S. government shutdown. With the approval of House of Representatives and Senate on the new budget, the U.S. government have kick the can down the road till September when they have to revisit the fiscal deficit problem.
Fed will most probably raise their benchmark rate to from 1 percent to 1.25 percent during their FOMC meeting in June. Market has priced in the probability at 100%.
In Europe, the election fever continue with the upcoming French General Election. Macron, whom won the French Presidential Election, is a candidate outside the establishment parties. We foresee he will face political headwind when he has to form his government. His En Marche! Party has no seat in the parliament currently.
Theresa May has also call for an early general election to be on 8 June 2017. She believe that a snap election should help her Conservative Party maintain its majority status in the lower house of Parliament.
Organization of the Petroleum Exporting Countries ("OPEC") and other major oil producers are meeting on 25 May 2017 to extend their agreement to hold oil production at 1.8 million barrels a day.
1. No sign of fear in the markets
Equity markets have been heading higher and are not pricing any form of geo-political risk. Indicators tracking fear in the markets are at their extreme low or have been trending downwards. This is a clear signal that risk aversion is low and markets are very much in a risk-on environment.  Looking at two of the most common fear gauges, we see both the VIX Index and the TED spread trending lower with the former closing below 10 for the first time in the past 24 years.

VIX Index measures the Volatility of the S&P 500 equity Index.
Ted Spread is the difference in rates between the 3-month LIBOR minus 3-month Treasury yield. This measure the interbank liquidity and a higher spread indicates an increase in market risk.
Fixed-income is not pricing in any risk
The traditional way of sensing the risk appetite of the markets is to look at the level of interest for safe haven asset, such as that of the U.S. Treasuries. Treasuries yields have increase throughout all tenors which points to a lower demand for the safe asset Treasuries. This disinterest in safe haven asset may indicates that investors seek higher return in riskier assets.
Credit markets are also showing similar signs as credit spread continues to tighten, an indication that markets are not pricing in any default risk.

2. Fundamental remains supportive of the optimism in the market
Corporate earnings recovering
Earnings results for the S&P companies have been very positive.  323 out of 421 companies that have reported results in the first quarter of 2017 have beaten estimates with an overall average of 9% surprise above estimates. Currently, the average EPS growth is at 33% YoY.
Economic condition providing tailwind for the market
Although the U.S GDP results for Q1 2017 fell short of expectation, it marks the 31st quarter of expansion since the U.S. experience a recession (defined as 2 consecutive quarters of negative growth). UK and China have also reported expansionary GDP growth in the first quarter of 2017.
Inflation is creeping back into the major economies as deflationary risk subsides. U.S. maintained an average of 2.5 percent inflation rate in the first quarter while Japan overturn a disinflationary pressure to maintain 6 months of price inflation.
This depict a sanguine economic growth environment which is positive for equity markets.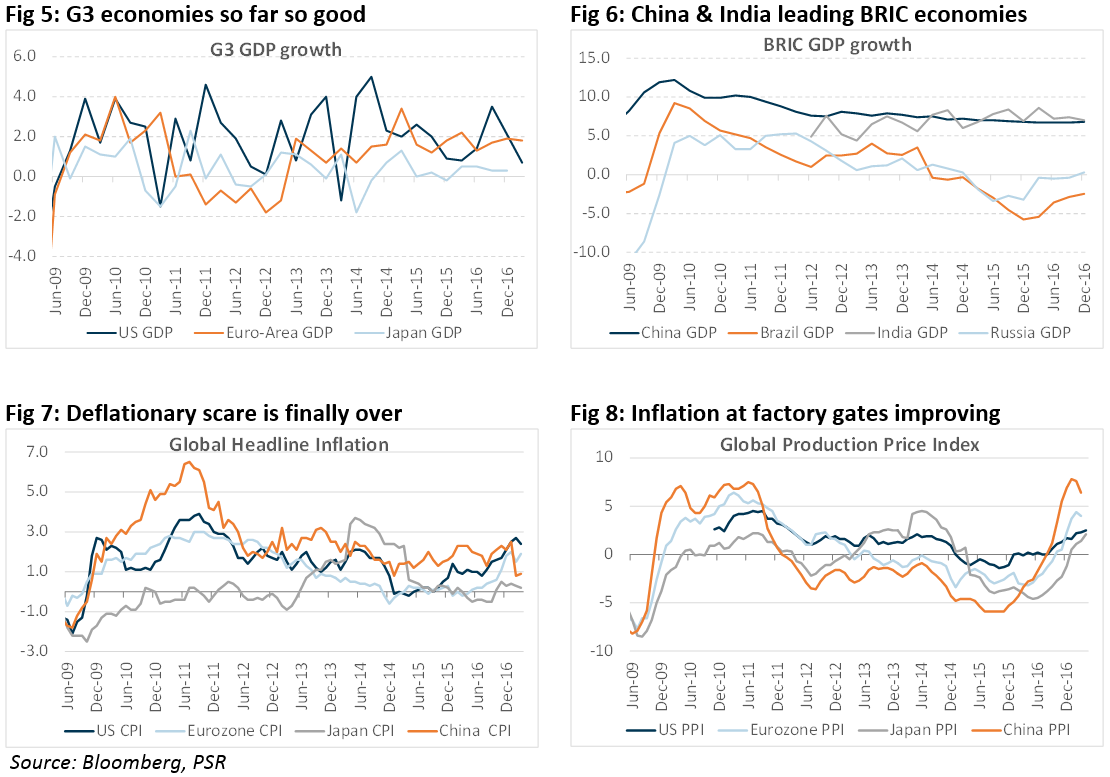 Global growth has maintained on an expansionary mode and talks of a secular stagnation has faded away.
Beside Russia and Brazil that are recovering from a recession, other major economies have posted economic growth albeit modest growth compared to period prior to the GFC.
Most of the inflation was due to a base effect of oil prices.
Soft data indicates better time ahead
Aside from historical data, soft data such as the Purchasing Manager Index (PMI), consumer confidence and business confidence index can give us an insight to future economic activities. So far, global PMI survey has been indicating expansionary sentiment while economic data is still surprising on the upside against estimates.

Survey from businesses are showing a healthy dose of optimism as global PMI remains above 50, indicating an expansionary environment.
Economic data is still exceeding economists consensus estimates as surprise remain positive.
Global monetary policies remain accommodative
Even as The Federal Reserve (the "Fed") embarks on a tightening monetary cycle, they have yet to unwind their balance sheet. Adding together with the quantitative easing from European Central Bank ("ECB") and Bank of Japan ("BOJ"), overall monetary policy from the 3 largest central banks has remained accommodative. There is still a combined total of US$13.5 trillion of liquidity supporting the markets.
Fig 11: Combined balance sheet of the 3 major Central Banks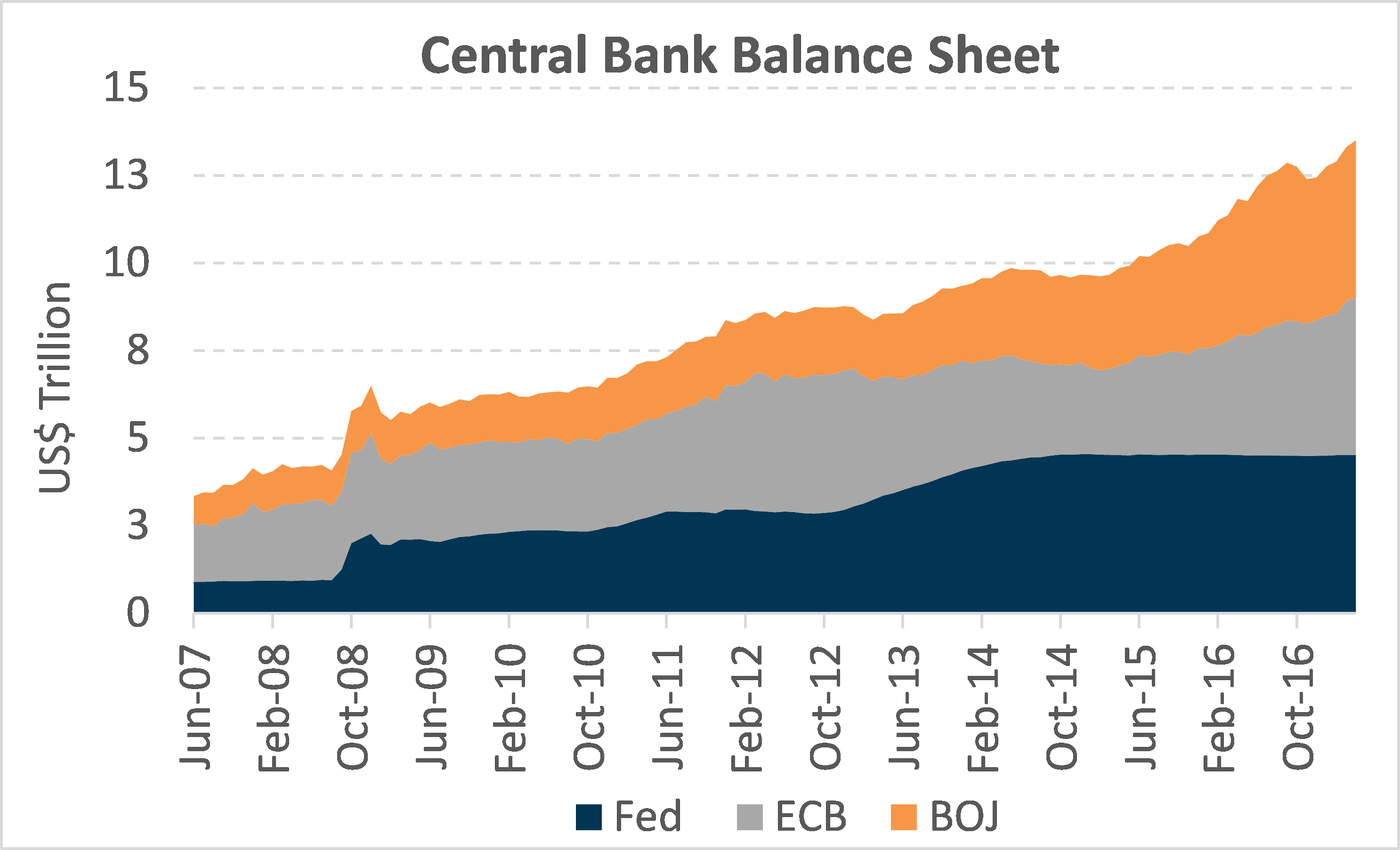 3. Our Investment Strategy
Buying into risky assets
As U.S. economy continue to experience reflation and the euro-skeptical movement facing a strong push back after the French election, there is a renewed optimism in the equity markets. Markets have also priced in the news of China tightening regulation on the shadow banking sector. Markets sentiments are turning positive on the "One Belt One road" infrastructure spending project initialed by the Chines government.
With the improving economic tailwind, it is not hard to understand why equity has outperformed all other asset class. Year-to-date (YTD) equity performance has supported our investment thesis as global equity returned 8.3%, the best performing asset class this year.
Fig 12: Equity the major outperformer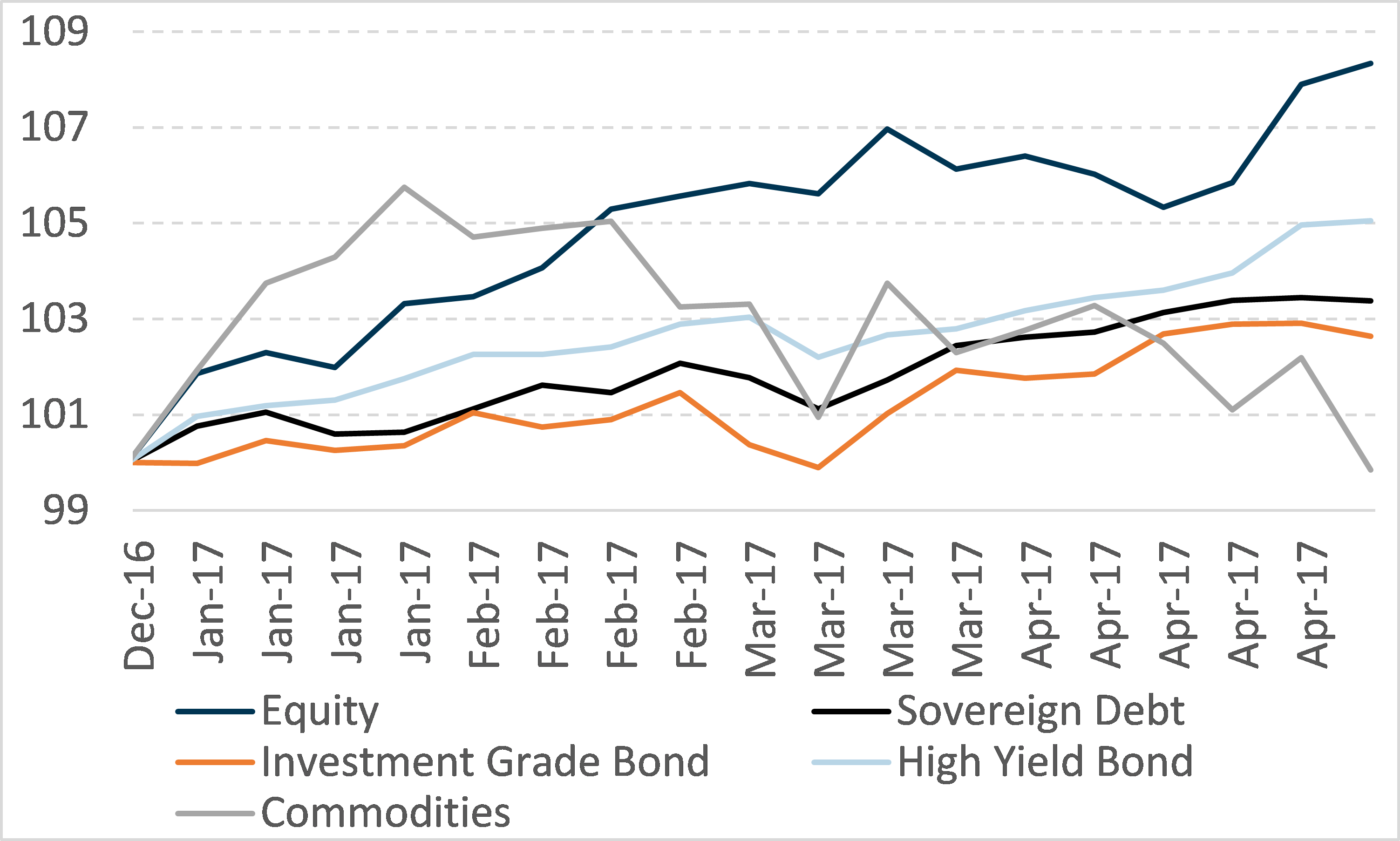 Source: Bloomberg, PSR
Please login to read the full report in PDF.