Description
GameStop Corp. (NYSE:GME) is a video game retailer. The Company distributes video game hardware, physical and digital video game software, video game accessories, as well as mobile, consumer electronics and other merchandise through its stores. The Company's segments consist of retail operations, engaged in the sale of new and pre-owned video game systems, software and accessories. The stores sell various types of digital products, including downloadable content, network points cards, prepaid digital, prepaid subscription cards and digitally downloadable software and also sells certain mobile and consumer electronics and collectible products. Its Technology Brands segment includes its Spring Mobile and Simply Mac businesses.
Investment Action
We are bullish on GME on the back of the company's strong financials, near term catalysts and their transition plans gaining traction. We believe that while GME may be facing headwinds in its core product lines, the share price is unfairly punished and ignoring several positive catalyst on the horizon.
Shares of GME have tumbled more than 20%. From their YTD high of USD 26.50 to USD 21.84. GME signaled that their core segment, video game sales, continued to fall yoy. As more and more gamers and gaming companies transition to digital sales, GME's core business segment is threatened. Furthermore sales cycle of current generation of gaming consoles may have peaked, with the Playstation 4 and Xbox One released in 2013. Many gamers who are interested in purchasing a gaming console would likely have already bought one. Furthermore, Microsoft announced plans to roll out a Netflix like service, where for a subscription price, gamers would be able to download and play games on the Xbox One. If successful, GME would face further downward pressure as gamers cut out the middleman and purchase games directly from the companies themselves.
Catalyst to revive the business. We believe that there are certain near term catalyst this year that might help boost GME. Firstly, the Nintendo Switch, Nintendo's new handheld console, was released on 3 March 2017, and was met with very positive reviews. The Switch sold nearly 331,000 units in its first 3 days in Japan and is facing supply issues in the USA. This is likely to translate into good hardware sales numbers in the next quarter results.Secondly, Xbox Scorpio, Microsoft's Xbox refresh for the current generation, is estimated to also be released later this year, although no specifics have been given yet. Initial looks at the specs of the Xbox Scorpio had glowing reviews regarding the console's capabilities and when it is released, will likely drive gamers to stores to purchase. As such, we believe that despite headwinds, 2017 might show GME posting better than expected numbers.
Transition plan. Finally GME is transitioning to other fast growing segments. Sales of Apple products, AT&T post-paid services etc through their Spring Mobile and Simply Mac stores have surged 52% yoy. Collectibles, toys and miniatures sales have also been booming, with sales up 60% yoy and projected to grow another 30% in 2017. Both these segments are also higher margin businesses than GME's core video game segment, which should help GME gross margins as the company looks to increase revenue contributions from these segments.
Key Points:
Technicals. GME has been stuck in a striking downtrend since November 2015 where it fell from a high of 47.48 to a low of 20.10 in November 2016. However, we are seeing some kind of a rebound playing out now.
There seems to be a pattern when price gaps down noticeably into oversold territory (RSI below 30), when bullish price action surface, the short term rebound would be strong enough to recover and close the gap eventually. For instance, on 2 November 2016, price gapped down 12% resulting in the RSI dipping lower to 14(extremely oversold), once the recovery took place, price eventually rebounded back higher and closed the gap. Similar price action happened again on 13 January 2017, when price gapped down 9%, taking the RSI down with it to 31(oversold), the recovery was quick and strong as it closed the gap subsequently on 3 February 2017.
Most recently, price suffered a staggering loss on 24 March 2017, resulting in a 10% gap down on the day with the RSI moving into oversold territory again at 24.5. The subsequent bounce off the 20.50 support area is currently lifting price up, in the midst of filing the gap, exhibiting the similar price action of recovery. As long as the 20.50 – 20.10 support area holds, then the current recovery phase from the sharp selloff since 24 March 2017 should fully retrace the loss where buyers aims to fill the 23.96 gap. If history is any indicator, then we can expect the current recovery to take out the 23.96 gap and even retest the 25.35 resistance area.
GME daily chart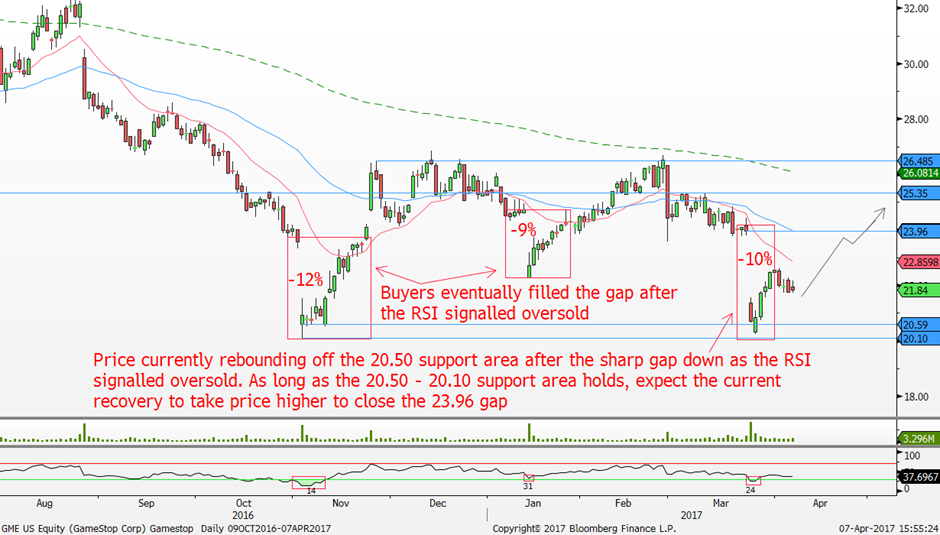 Resistance 1: 23.96 ; Resistance 2: 25.35
Support 1: 20.50 ; Support 2: 20.10
GME currently trades at a PER of 6.38. In comparison, Best Buy Co Inc (NYSE:BBY) is currently trading at 12.78. The company has a gross margin of 24.2% on the video game sales segment and a gross margin of 68.1% and 34.7% for the Tech Brand and Collectibles respectively. Its total gross margin is about 35%. The company has set a goal to transition to video game sales making up 50% of total sales and has managed to achieve non video game sales of 36.9% in its latest earnings release, up from about 24% in the previous year. The company pays a 6.96% dividend and is generating enough Free Cash Flows to cover the dividend at the moment. Given its near term catalysts and transition to higher margin businesses, we believe that its current PER is too low and hence believe that GME Under Valued.
GME's core segment is still responsible for the vast majority of its earning at more than 60% and they are likely to continue to face downward pressure in the future as more companies and gamers transition to digital downloads rather than physical sales. If the company is unable to sustain its transition or if gamers move to digital faster than expected, GME's current valuation is likely to face greater downward pressure.