1H18 Revenue/Core PATMI met 50%/27% of our full year estimates
Dairies remained the strongest performer; Vinamilk contributed c.S$33mn or 38% to 1H2018 Group EBIT
Higher input and packaging costs, and brand investment expenses weighed on profitability
Declared interim dividend of 1.5 cents per share, unchanged from last year
Upgraded to BUY but lowered TP to S$2.75 (previously S$2.83) as we trimmed our FY18e earnings by 29% on rising input costs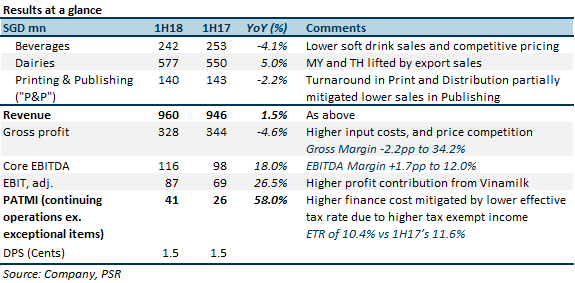 Note: We compared 1H18 vs 1H17 due to the timing of the sell-in window for Chinese New Year
The Positives
+ Higher export volume and stronger Malaysia Ringgit and Thai Baht drove Dairies sales. Double-digit export sales growth for Malaysia (mitigated lower domestic demand) and Thailand (reflecting an effective distribution expansion).
+ Profit contribution from Vinamilk supported 1H18 Group earnings. Vinamilk (Vietnam Dairy Products Joint Stock Company), the Group's associated company since Apr-17, has contributed c.S$33mn or 38% to 1H2018 Group EBIT. Despite rising input costs, 1H18 Dairies EBIT +28.9% YoY and cushioned the weaker performing Beverages.
+ Publishing & Printing continued to improve post-restructuring. 1H2018 losses narrowed from S$7.9m to S$6.7m on improved operational efficiencies and productivity.
The Negatives
– Operating environment remained challenging for Beverages. Lower soft drinks sales, higher input costs, stiff competition and brand investment expenses lowered 1H2018 Beverages EBIT by 77.8% YoY. 1H18 EBIT margin fell 1pp (percentage point) to 0.3%.
– Higher dairy-based commodity prices trimmed Dairies profitability. 1H18 Dairies Malaysia EBIT was down 38% YoY as higher input and packaging costs shaved its EBIT margin by 8pp to 12%. Higher input costs also cut Vinamilk's operating margin by 3pps to 25.7%. Meanwhile, Dairies Thailand performance was generally unchanged.
Outlook
We are cautiously optimistic on the trading environment in its core markets, i.e. Malaysia, Singapore and Thailand. We expect strengthening Ringgit and cash-handouts from Malaysia's generous 2018 budget to spur domestic spending post-election. Singapore and Thailand's private consumptions are turning the corner on the back of economic upturn.
Having said that, rising input costs and intensified competition, and the Group's continuous brand building efforts in New Markets, namely Myanmar, Vietnam and Indonesia, will continue to compress margins.
Upgraded to BUY on recent price retracement. However, we have lowered our sum-of-parts derived TP to S$2.75 from S$2.83, as we cut our FY18e earnings by 29% on lower Beverages and Dairies margins.
We believe that FY18e earnings would be supported by (a) higher profit share from Vinamilk with full 12 months contribution in FY18e, and (b) benefits from restructuring initiatives to be realized.
We expect Vinamilk to continue to drive over 40% of the Group's EBIT moving forward. Vinamilk has achieved 25% of its targeted 2018 net profit of VND10.75trn (or US$477mn) in the 1Q18. The Group currently owns 20.00% Vinamilk shares, up from 19.96% as at end-Mar18.
Potential re-rating catalyst: (i) Stronger than expected performance from Vinamilk; (ii) A strong earnings turnaround for Printing & Publishing segment.