1Q18 Revenue/PATMI formed 26%/17% of our full-year expectations
Beverages remain a drag; partially mitigated by contributions from its Vietnamese associate, Vinamilk
Continues to accumulate its interest in Vinamilk; Interest increased to 19.50% from 18.74% in end-FY17
Maintained ACCUMULATE and SOTP-derived TP of S$2.83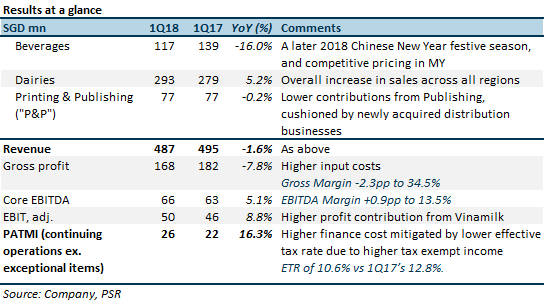 The Positives
Dairies buoyed profitability amidst higher input prices and weaker performances in Beverages. 1Q18 Dairies EBIT jumped 28.1% YoY, driven Vinamilk (Vietnam Dairy Products Joint Stock Company). Vinamilk contributed approximately S$17mn or 33% to 1Q18 EBIT.
The Group continues to add Vinamilk shares throughout the quarter. It currently holds 19.5% stake in Vinamilk, up from 18.74% in 4Q17. It has recently registered its interest to acquire an additional 1.0% from the open market.
Publishing and Printing registered its second consecutive quarter of profits, on improved operating efficiencies and cost rationalisation measures. The newly acquired Penguin Random House Pte. Ltd. and Penguin Books Malaysia Sdn. Bhd. also made its maiden profit contribution.
The Negatives
Weaker Beverages performance in Malaysia and Singapore due to seasonality. There was a 2-week shift in sell-in window for 2018 Chinese New Year (CNY) festive season compared to 2017's.
Earnings were hurt by (a) higher input costs – mainly sugar, skimmed milk powder and packaging costs; and (b) higher finance costs – the Group has turned into net debt position (with gearing at 9.1%) on borrowings to finance the acquisition of Vinamilk shares.
Outlook
We are cautiously optimistic on the trading environment in Singapore and Thailand; while we expect persistent headwinds in Malaysia. In addition to the rising input costs and intensified competition, the upcoming general election in Malaysia could further weigh against consumer sentiment and Ringgit's strength. The Group will continue to reinvest its earnings into brand building efforts in New Markets, namely Myanmar, Vietnam and Indonesia, adding new avenues for growth.
Maintained ACCUMULATE and sum-of-parts derived TP of S$2.83
We believe that FY18e earnings would be supported by (a) higher profit share from Vinamilk with full 12 months contribution in FY18e, and (b) benefits from restructuring initiatives to be realized. We expect Vinamilk to continue to drive over 40% of the Group's EBIT moving forward.
Potential re-rating catalyst: (i) Stronger than expected performance from Vinamilk; (ii) A strong earnings turnaround for Printing & Publishing segment.
Peers Comparison
FNN is currently trading at adjusted Trailing 12-month P/E of 33.7x. Our SOTP derived TP implied a 27.1x FY18e P/E, which is 27% higher than its ASEAN Beverages peers at 21.3x. Around 45.7% of our SOTP comes from Vinamilk.