In a phase to fill in the gap due to loss of sales from its Beer business and Red Bull
Lack of near term catalyst: new markets are still in nascent stage and no concrete acquisition plan yet
Actions taken to improve sales and margins, but will not return to FY2014-level
Persistent macro headwinds dampen ASEAN consumer sentiment
We expect cautious consumer spending in the region to continue weighing against topline, and growth should remain tepid following the divestment of MBL business. Meanwhile, Fraser and Neave, Limited (FNN) leverages on strategic partnerships to build presence in new markets.
Losing momentum after the sale of Myanmar Brewery Limited (MBL)
To recap, its Beer segment accounts for c.38% of FNN's FY2014 EBIT with c.33% EBIT margin.
Dairies is the only bright spot now. Low commodity prices and favourable product mix buoyed margins. We expect Dairies' high EBIT margin of 12% to sustain into FY17F. However, due to lack of new geographical markets, there is limited room for Dairies to grow its topline.
Without a strong growth driver, the Group's focus is now on margin enhancement initiatives and strengthening of its distribution network. But overcapacity issues in soft drinks still lingers post Coca-Cola's departure. On the other hand, with a low single-digit royalty fees, we do not think the cross-production distribution from its partnership with Thai Beverage Public Company Limited (ThaiBev) could contribute much to the bottom line during its brand building phase. On that note, we also think that higher marketing costs will erode their bottom line.
We do not expect growth and margins to return to FY2014 level. But, we noted potential re-rating catalyst, and the question remains as: When and How?
Vietnam is on state divestment drive, with two deals on the street: Vinamilk and Saigon Alcohol Beer and Beverages Corporation (SABECO). However, the divestment process has been going very slowly. Vietnam government announced its intention in mid-2015 but has yet to detail plans for the divestment, stating that it will sell its stakes only when it has identified new investments that are more profitable. Market may be celebrating a little too early.
50% dividend payout policy attainable in FY16-17F. Proceeds from MBL-sale provides plenty of capital headroom for the Group to expand. While there is no concrete acquisition plan yet, we expect FNN's net cash position to strengthen to S$1.05bn and S$1.11bn at end-FY16F and FY17F, respectively, from the current S$0.97bn (as at 30 June 2016).
Investment Risks
Adverse foreign exchange movement could erode margins
at least 80% of the cost of raw materials are denominated in USD
77% of sales are derived from outside out Singapore
Turnaround in prolonged low raw material prices would compress margins
Investment Actions
In view of macro headwinds and cautious consumer sentiment, and lack of significant growth catalyst, we reset the FY17F EV/EBITDA multiple to peer average's 10.0x (from 12.8x). With the change of analyst, we downgraded our TP to S$1.93 (from S$2.40) and maintain "Reduce" rating.
A mixed picture in ASEAN
ASEAN: Overall good, but markets where FNN operates in are challenging
Weighed by the uncertainties arising from Brexit, coupled with the muted US growth and Chinese economy slowdown, the International Monetary Fund (IMF) has cut global growth forecast by 0.1 percentage point for 2016 and 2017 to 3.1% and 3.4%, respectively.
Although ASEAN economies are expected to grow above global average at 4.8% and 5.1% in 2016 and 2017 respectively, we expect soft demand in FNN's key markets to extend into the rest of 2016 and 2017. Spillover of increased global uncertainties has caused slower growth and greater currencies fluctuations in FNN's key markets, namely, Malaysia, Singapore and Thailand.
Malaysia (c.47% of its total FY2015 revenue)
Bank Negara expects Malaysia's economy to slow from 4.7% in 2015 to between 4% and 4.5% in 2016. In view of the broader economic climate and local events, Malaysians are adopting cautious spending.
Singapore
Economic growth remains lacklustre. The Ministry of Trade and Industry (MTI) has narrowed the growth forecast for Singapore's economy in 2016 to between 1% and 2%, down from the initial range of between 1% and 3%.
Thailand
Thailand's growth has picked up slightly since a military junta seized power in May 2014. The Chamber of Commerce has set a target of at least 3.3% economic growth for 2016. However, domestic consumption remains subdued. Consumer sentiment hit 2-year low in June 2016 amidst slow economic growth and political uncertainties
Figure 1: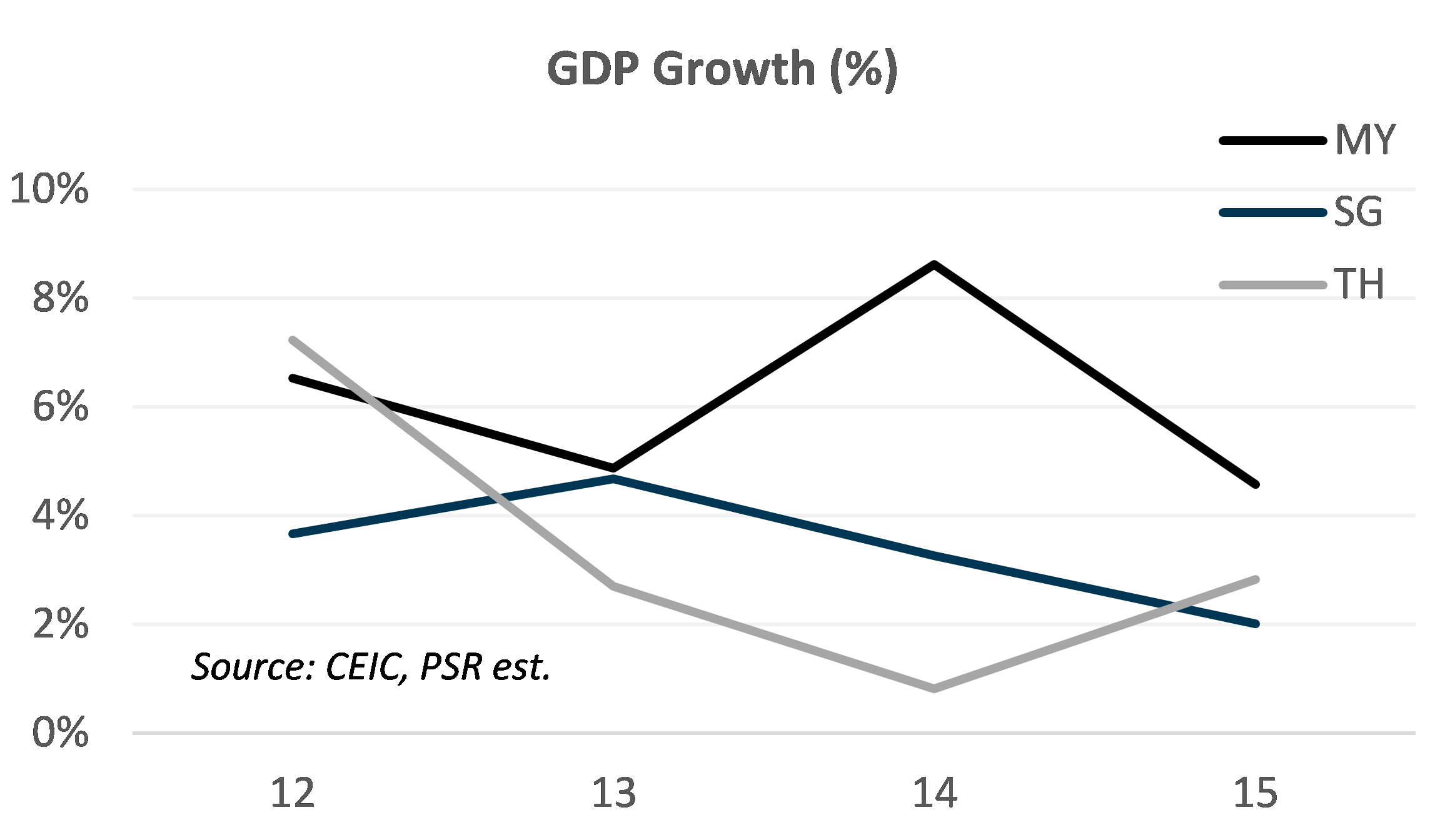 Figure 2: