Investment Action
We are bullish on FB on the growth of its user base (up 16% yoy to 1.79 bn active monthly users), as well as the promising results of its other avenues, such as Instagram Stories (up 50% to 600mn active monthly users) and Facebook Live (400% growth in usage since May 2016). We believe that the sell off from its high in October 2016 has caused the stock to be discounted relative to its growth rate. Add in FB's very strong balance sheet, and the stock seems to be a convincing investment.
After reaching an all-time high of USD133.50 in October 2016, Facebook shares tumbled by almost 14%. There are a number of factors for the hit the share price took, namely, weaker guidance for 2017 and a Donald Trump victory at the presidential election. Technology stocks in general did not participate much in the stock market rally following the Trump victory, as they were not seen as the sector that would benefit much from Trump's infrastructure spending. FB and other social media were also criticized heavily during the election period over "fake news".  For the 4th quarter of 2016, the Dow Jones grew about 9%, Nasdaq grew 3% and FB fell 9%.
While the Trump factor is likely to have contributed, the weaker guidance from FB itself is likely to be the main contributor to the fall in share price. FB's revenue for full FY16 will be released in February 2017 but estimated revenue is expected to grow by about 50% yoy. In comparison, FY17 revenue is expected to grow by about 30% yoy. Besides facing a tough yoy comparison in FY17, FB warned that it is nearing maximum ad load on its platform. With growth potentially slowing down and its main revenue generating segment reaching capacity, it is no wonder FB faced a selloff.
However, we believe that the selloff was overdone. FB has been investing and expanding its other revenue segments and have been reaping promising results. In particular, FB's Instagram Stories have been hugely successful and Instagram reported that its user base has grown to more than 600 mn monthly active users, up from 400 mn that it reported in 2015. Instagram is expected to generate USD 1.5bn in FY16 and is expected to reach USD 5bn by 2018. Facebook Live is FB's attempt to increase engagement by allowing users to live stream, and since its release in May, it has seen almost 400% growth in usage. FB Messenger also reached the 1bn user mark in 2016, and if its "bots" program takes off, Messenger could potentially replace many individual business apps and generate billions in estimated revenue.
Key Points:
Technical
FB has been rising in a sturdy uptrend since May 2015 with the 20 and 60 weekly moving average propelling price higher on every pullback shown by the highlighted areas. The most recent correction off the 133.50 all-time high was no exception as price subsequently rebounded off the 60 weekly moving average, keeping the long term uptrend intact. In addition, there was a bullish breakout above the 7 weeks range on the week ended 6 January 2017 suggesting the next leg higher. The 14 November 2016 low at 119.13 should mark the next higher low point within this long term uptrend.
Expect the uptrend to resume next for price to retest the 133.50 all-time high next followed by 140.00 round number psychological area.
FB weekly chart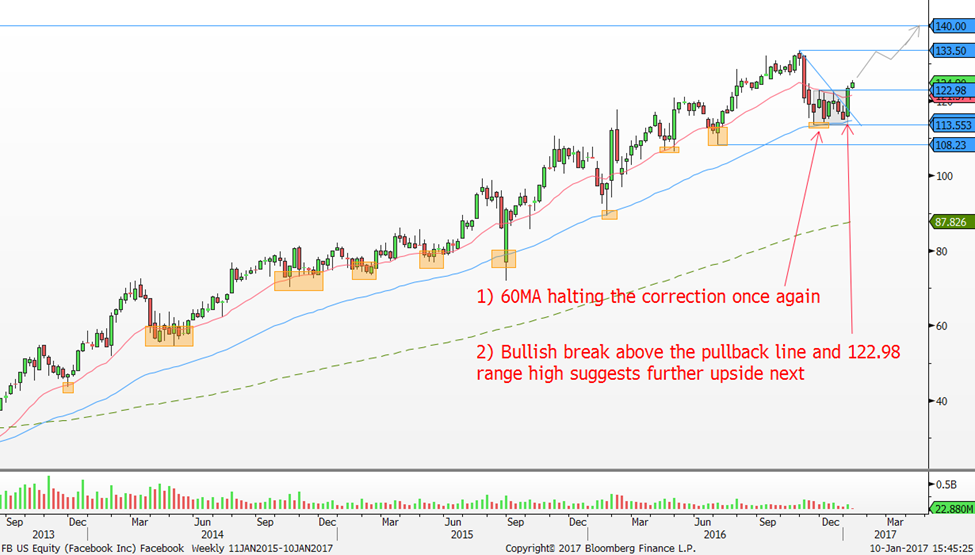 Resistance 1: 133.50 , Resistance 2: 140.00 / / Support 1: 113.55 , Support 2: 108.23
Red line = 20 period moving average, blue line = 60 period moving average, Green line  = 200 period moving average
Source:  Bloomberg, PSR
Valuations
FB currently trades at a PER of 48.21. In comparison, Twitter is loss making and Snapchat, which is due to IPO soon, has yet to release information regarding its financials. While FB's PER of 48.21 might seem pricey, its forward PE is about 25.22 and it has a PEG of about 1.6. FB's current price seems to indicate a discount to its growth rate. As mentioned above, FB is expected to grow its revenue by almost 50% for FY16 and 30% by FY17. Its net income is expected to grow by more than 30% yoy for both FY16 and FY17. It has an operating margin of 34.72% and a net profit margin of 20.57%. Additionally, FB has a very strong balance sheet, with almost USD 26bn in its cash hoard and 0 debt. Overall, we believe that FB is currently Slightly Under Valued.
Risk
As mentioned above, FB is nearing capacity for its main revenue generating segment. While it is still showing signs of growth, the more organic growth is expected and needs to come from its other segments. As such, if the other segments fail to deliver in driving revenue growth, or if FB's ad revenue from its main platform starts to fall off, FB is likely to see a substantial correction in price.