Ezion attained the consent from banks on a conditional refinancing plan
Proposal of restructuring of notes is awaiting approved
Management drafted a strategic transformation plan
Timetable for the subsequent events
Ezion Holdings Limited (Ezion) held the analyst briefing on 24-Oct, sharing recent updates of negotiations involving various stakeholders including banks, creditors, and shareholders. At present, Ezion has not defaulted on any existing notes nor bank loans. Operationally, it managed to fulfil the contract terms, making delivery and deployment on time. However, the group will undergo several key meetings to secure consent from creditors and shareholders to restructure its debt Jan-18.
Key takeaways from the briefing
Banks offered a conditional refinancing plan: 6 banks will provide up to US$100mn to the group to fund its working capital. Meanwhile, banks are willing to take 200bps reduction of interest rate, which lightens Ezion interest burden of up to US$30mn per annum. Moreover, banks can receive staple warrants to a portion of their loans if they decide to further lower interest rates. Ezion must repay a minimal fixed principal every month over the next 6 years. As a result, the group expects minimal positive net cash flows accordingly. However, all the terms are on the condition of the approval of consent solicitation statement (CSE) from noteholders of all series (Figure 1).
Ezion proposed options for creditors: As of Oct-17, the notes due within 4 years are shown in Figure 1. The group provided a proposal of notes restructuring for Series 003 – 007 and Series 008 respectively. The proposal included straight bonds of 7 and 10 years (0.25% coupon), convertible bonds (CB) and bonus warrants for early conversion of CB. It is worth noting that the warrants are detachable and non-tradable. Ezion will raise additional S$344mn if warrants are fully exercised at the price of S$0.2763. As a result, the proposal will trigger potential dilutions of existing shares, see Figure 2.
Figure 1. Notes payable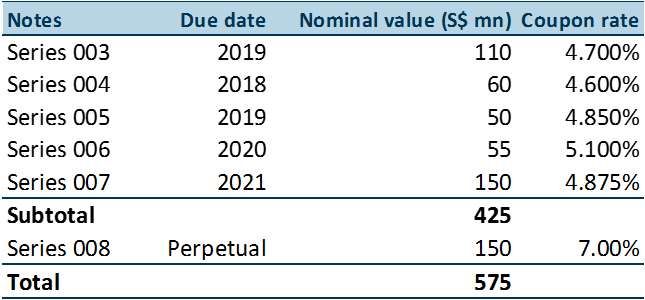 Figure 2: Potential dilution to existing shareholders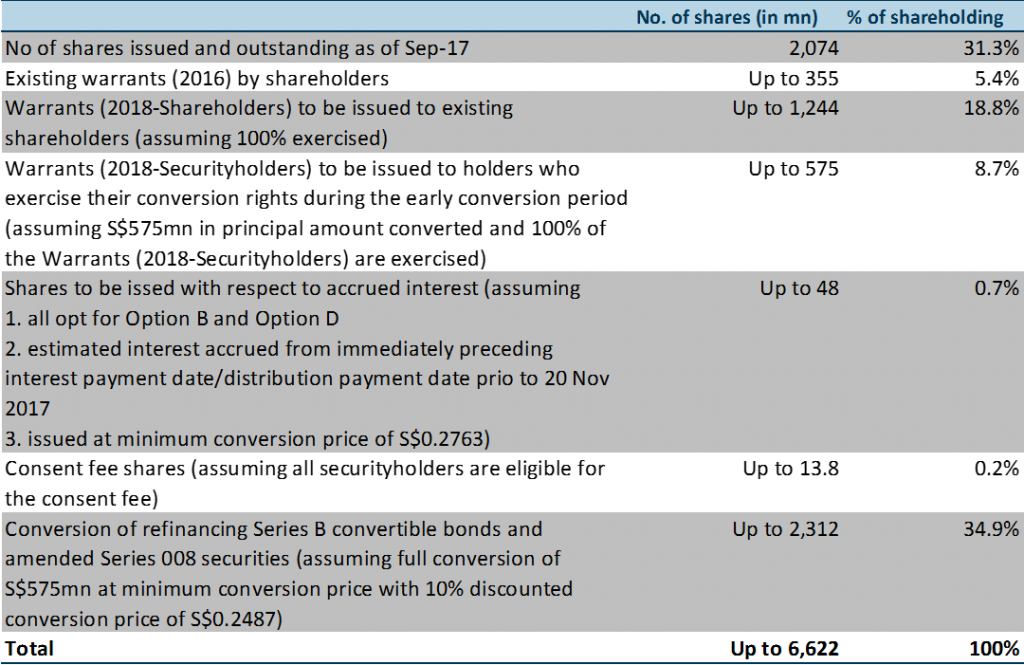 Source: Company, PSR
Strategic transformation of deployment of assets: As per Figure 3, the current fleet size that has been deployed is 25 vessels, but 6 out of 8 service rigs have some collection problems. Moving forward, the group will conduct a strategic review, including:
Focusing on 100% deployment of liftboats (consider converting several service rigs into liftboats)
Expecting improvement of day rate from 2H18
Enhancing deployment of other assets
Minimise capex costs
Disposal of assets that generate low returns, require high capex, and are difficult to deploy due to oversupply
However, the prerequisite for the implementation of these plans is to clear the overhang of liquidity issues mentioned above.
Figure 3: Group fleet as of Oct-17

Source: Company, PSR
Timetable for subsequent events:
Figure 4: Expected timetable

Source: Company, PSR
Investment actions
The resumption of trading suspension will be no earlier than shareholder's EGM. Therefore, neither recommendation nor rating is available as of now.