Investment Idea – Short term Playbook
Volatility in the equity market is bound to ensue during the U.S. election period. Instead of seeing your portfolio getting whipsawed from this unwarranted volatility, fixed-income could provide a safer bet for now, or at least until the Federal Reserve FOMC meeting for the interest rate decision in this December.
Figure 1 shows the average volatility before and after the election for the previous 3 presidential elections. It reflects a build-up of volatility in the nearer 2 weeks, right before the date of election and subsiding right after the election. Further away periods (represented by the 3rd and 4th weeks prior and after the election date), we observed a lower average volatility.
Figure 1: Volatility before and after the Presidential Election Day
Date of Election
Avg Volatility
2 weeks
before & after
Avg Volatility
3rd and 4th weeks before & after
6 November 2012
17.51
15.65
4 November 2008
63.62
63.56
2 November 2004
14.66
13.92
Source: Bloomberg, Phillip Securities Research (Singapore)
In favour of Sovereign Debt over Corporate Debt
Within the fixed-income asset class, Sovereign Debt is favoured over Corporate Bonds as credit spreads are too tight to justify the risk-reward for additional credit risk. Credit spreads have been trending lower since it has peaked in January 2016, following the global stock markets rout.
Figure 2: Credit Spreads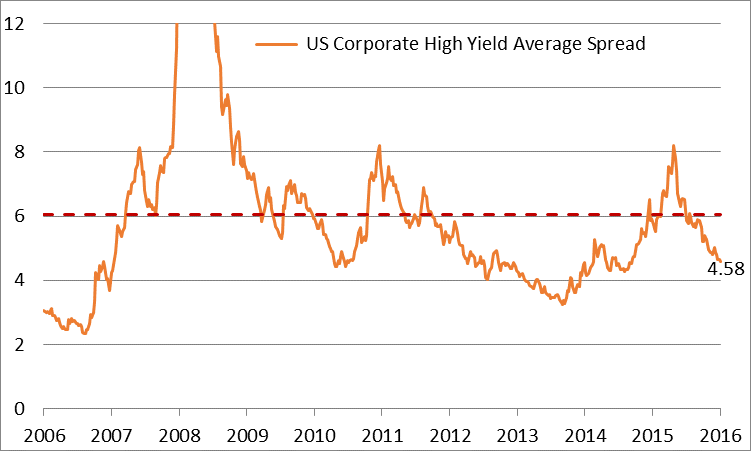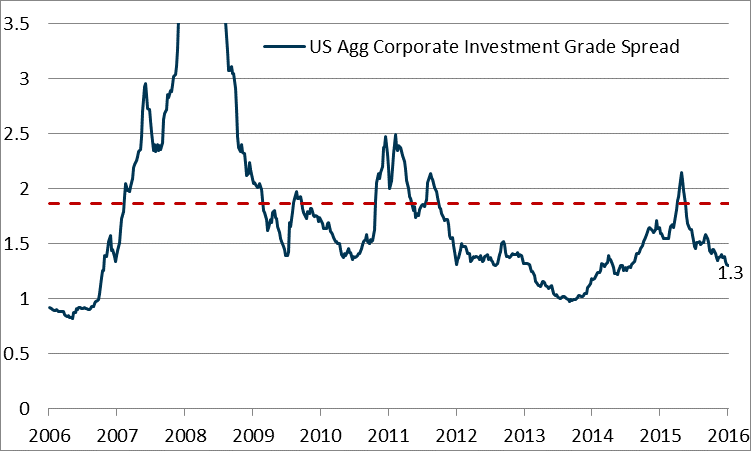 Source: Bloomberg, Phillip Securities Research (Singapore)
U.S. Treasuries is the preferred choice
Within the sovereign debt market, U.S. Treasuries ("UST") is the preferred investment due to the depth and liquidity of its market. As at end of 2Q 2016, the value of all outstanding U.S. Treasuries stands at US$13.4 trillion.
With inflation edging up, eroding into the return of any fixed-income investments, we think Treasury inflation protected securities (TIPS) is the preferred strategy to gain exposure to the U.S. Treasuries market for the next 2 months before the FOMC meeting in December.
What is TIPS?
Treasury inflation protected securities (TIPS) are treasury securities that are inflationary-adjusted so that investors are protected from the negative effect of inflation rate. This is achieved by adjusting the par value of the bond in line with inflation as measure by the Consumer Price Index (CPI) while the coupon remain fixed.
Figure 3 shows the spread between the TIPS bond ETF and the U.S. 7-10 Year Treasuries ETF. The spread (denoted by the green line) has been rising since February this year due to higher inflation expectation.