DPU in line with our expectations. NPI fell short of expectations mainly due to loss of revenue from AEI at Xiaolan Metro Mall.
Healthy rental reversions despite AEIs at its two largest malls, Shiqi and Xiaolan.
Average debt term-to-maturity doubled to 1.6 years, with the extension of its initial first tranche of debt done at a lower interest margin.
Notwithstanding the effect of rental straight-lining, slower-than-expected growth at its "growth malls" expected to pick up pace with more upside built into lease structure.
Maintain ACCUMULATE with adjusted TP of S$0.94 (prev. S$0.95).
Results at a glance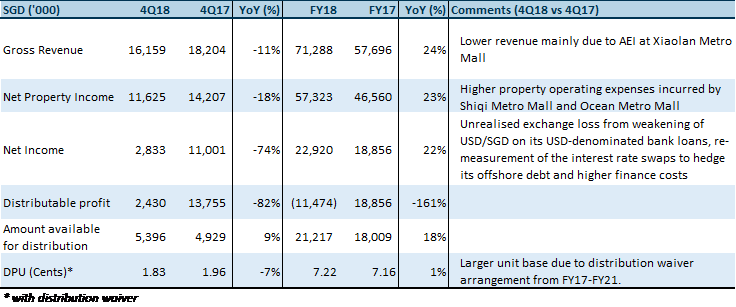 Source: Company, PSR
The Positives
+ Healthy reversions despite AEIs at Shiqi and Xiaolan. Rental reversion of 8.2%, on a portfolio basis, was achieved in FY18 despite AEIs done at Shiqi Metro mall and Xiaolan Metro mall (the two highest contributing malls, by GRI) through 2H18. The AEIs have been completed as end-Dec 2018 and full fitting-out of all new tenants is expected to complete by 1H19.
+ Average debt term-to-maturity doubled to 1.6 years. Dasin's first tranche of offshore debt – comprising S$106.6mn and USD52.4mn, which was due to expire in Jan 2019 – had been extended by two years, to Jan 2021, at a lower interest margin (reduction of c.70bps). Less than 1% of its total debt is due in 2019.
The Negatives
– Slower-than-expected growth at "growth malls". Excluding Dasin's matured malls (Shiqi and Xiaolan), performance for its growth malls (Ocean Metro and Dasin E-Colour) fell short of our expectations as FY18 NPI for these two malls fell in excess of 4% YoY. Notwithstanding the effect of rental straight-lining, the bigger contributors to this dip stemmed from the loss of event space at Ocean Metro in 3Q18, as well as expenses incurred for its carpark renovation at Ocean Metro and higher operating expenses at Dasin E-Colour. We note that a significantly higher proportion of leases at Ocean Metro mall are now on the "fixed rent with built-in escalation" structure (as opposed to solely "fixed rent"), at 61% of the mall's GRI (4Q17: 43%). This would provide more upside to the leases at Xiaolan Metro mall going forward, given that it is the newest and fastest growing mall in the portfolio.
Outlook
The AEIs done at Shiqi and Xiaolan malls will see renowned names such as Hai Di Lao enter the tenant mix. Favourable renewal and rental escalation are thus expected at these two malls going forward.
2018 saw the opening of two of its 20 pipeline malls, Doumen Metro mall and Shunde Metro mall, which could be among the immediate acquisitions as these newly opened malls would provide Dasin the runway for growth.
In addition, the blueprint for the Greater Bay Area Master Plan that was released on 18 Feb 2019 further entrenches the positioning for both Dasin's existing and pipeline malls, which are spread across Zhongshan, Zhuhai, Foshan and Macau (all in the Greater Bay Area – figure 1).
A future macro catalyst would be the Shenzhen-Zhongshan Corridor, which is expected to be completed in 2024. It will be a 51km eight-lane highway that is expected to reduce travel time between Shenzhen and Zhongshan/Jiangmen by approximately 30 minutes.
Maintain ACCUMULATE with adjusted target price of S$0.94 (prev. S$0.95)
We adjust our target price to account for lower finance costs and certain changes to the lease structure arrangement. Our target price of S$0.94 translates to a FY19e yield of 8.2% and a P/NAV of 0.64x.