Revenue and PATMI were within our expectation
15 cents final dividend proposed (2H17: 6.05 cents)
FY18 10.5 cents total dividend (75% payout), higher than FY17 10.4 cents (77% payout)
Downgrade to ACCUMULATE due to recent price appreciation since out last report; slightly higher target price of S$2.72 (previously $2.69)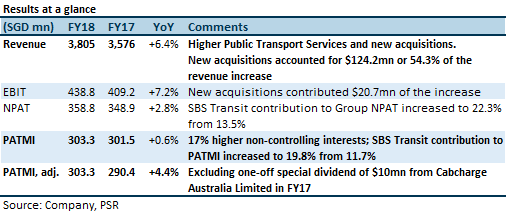 The Positives
Public Transport Services EBIT benefitted from 64% YoY higher SBS Transit EBIT. This was from commencement of Seletar and Bukit Merah bus packages in March 2018 and November 2018 respectively, and full year contribution from higher ridership on Downtown Line (DTL) following the commencement of DTL3 in October 2018.
DTL loss in 4Q18 has narrowed YoY, driven by +24% higher YoY ridership. DTL loss for the quarter was ~$11mn, which is -30% YoY lower, but +26% QoQ higher. The reason for the QoQ higher loss is due to seasonal effect of lower ridership in 4Q. DTL is expected to turnaround in 2020, aided by the +4.3% fare increase effective 29 December 2018.
The Negatives
Taxi FY18 profit 4.2% lower YoY. This was mainly due to the -17% smaller average Singapore (Comfort and CityCab) fleet. The Singapore fleet idle rate was 2% to 3%. This was offset by acquisitions in UK (Dial-a-Cab) and Australia (Metro Taxis).
Goodwill on balance sheet increased 58% YoY as a result of acquisitions. Goodwill now accounts for 13.1% of total assets, compared to 8.8% at the end of FY17 and the 10-year historical average of 6.7%. In our previous report, we projected goodwill to reach 14% of total assets by the end of FY18.
Outlook
The outlook is positive. We expect Public Transport Services to continue driving earnings growth in FY19 mainly from narrowing of DTL loss. Recent acquisitions in Singapore, Australia and UK are also expected to contribute positively to Group earnings. While the entrance of Go-Jek may exert some near term pressure on the taxi business segment, we do not expect it to be as prolonged or severe as during the Grab-Uber era. A business model based on artificially cheap fares and predatory pricing has proved to be unsustainable.
Downgrade to ACCUMULATE due to recent price appreciation; slightly higher target price of $2.72
Our target price gives an implied FY19e forward P/E multiple of 18.5 times. We also think there is scope for higher dividend in FY19.