S$34.06mn 3Q FY16 revenue in line with our forecast of S$35.10mn
S$7.83mn 3Q FY16 NPAT missed our forecast of S$8.82mn by 11%
Long-term fundamentals riding on Jurong Island project

Jurong Island Chemical Logistics Facility: The next pillar of growth
The project is situated on a 3.5-hectare site at Tembusu Crescent (Jurong Island). The land was officially handed over to Cogent on 13 October 2016 and Cogent has started working with various consultants and authorities for Phase 1 of the project.
Our views, forecasts and expectations for the project remains unchanged from our last update report (21 October 2016).
Margins expansion driven by sustainable cost control measures
We again highlight the successful integration of operations at the Cogent 1.Logistics Hub. While the largest operating expense (OpEx) of Staff costs increased by 4.6% year-on-year (yoy) to $7.20mn, it was offset by the second-largest cost component of Rentals on leased premises being down 9.5% yoy to $6.21mn; and Depreciation expense remained flat yoy at $2.42mn. The lower Rentals expense was the largest contributor to the lower yoy OpEx.
As stated in previous reports, the consolidation of operations has the effect of lowering Rentals expense incurred and replacing it with a fixed depreciation charge. Depreciation expense has stabilised at S$2.42mn quarter-on-quarter (qoq) and we see this as sustainable going forward.
Further Rental savings to be realised at end-2016 or early-2017
Rentals on leased premises were lower yoy mainly due to downward rental rate reversion and partial return of container depot land back to JTC in December 2015. We expect some further cost savings to come in the late part of this year or early next year, when Cogent fully returns the Jalan Terusan container depot site back to JTC. This would come after the issues with the crane system at the roof-top depot have been resolved. Full-quarter effect will not happen in 4Q FY16; possibly in 2Q FY17 for a full-quarter effect.
Reiterate "BUY" rating with unchanged DDM-backed target price of S$1.11
The current forecasted dividend yield of 3.3% is modest, but investors can look for capital appreciation that is underpinned by earnings growth from the Jurong Island project. As the earnings growth will only materialise in FY19, investors will need to remain focused on the long-term fundamentals and not be distracted by near-term price volatility.
While we have included a technical view overleaf, our fundamental view will take precedence over any subsequent technical signals.
Price support at Fibonacci level
We observe that price had retraced from the all-time high of 90 cents to the 38.2% Fibonacci retracement level. Current price weakness represents an entry opportunity near a technical support level.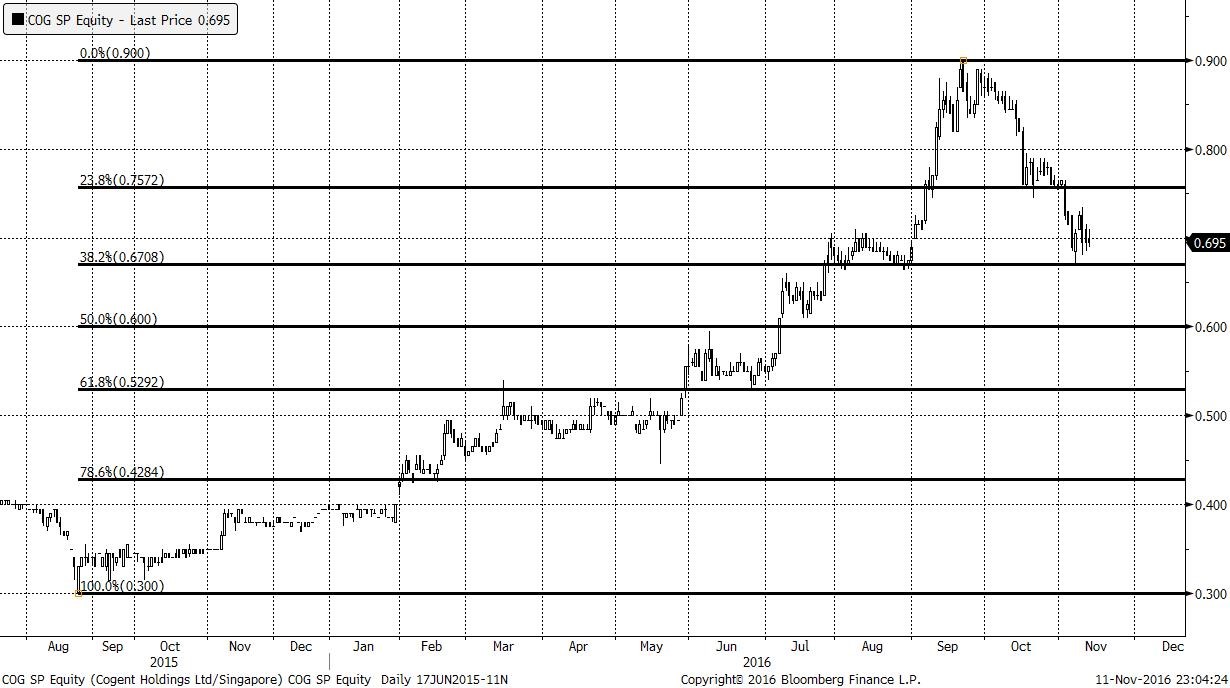 Source: Bloomberg, Phillip Securities Research (Singapore)
Please sign up to access our full report.