City Developments' (CDL) share of launched but unsold units in Singapore dropped 13.8% QoQ to 668.3 units as at 3Q16
Balance sheet continues to be strong with S$3 billion in cash and 27% net gearing

Encouraging take up of units at soft launch of Gramercy Park but not expecting New Futura to be launched in the near term
CDL launched and sold 38 out of 40 units at the 174-unit Gramercy Park at an ASP of S$2,600psf which was within our expectations. Management intends to launch the remaining 134 units at a later date which we believe is likely to be after the overhang of unsold units in the Core Central Region ease further. CDL has ample time to launch these units since QC extension fees will only be due in May 2018. Additionally, the Group still has an unlaunched 124-unit development project, New Futura, which is 700 metres away from Gramercy Park. We are of the view that the launch of New Futura could only happen after the adjacent development, OUE Twin Peaks, which still have another 40% unsold units gets more substantially sold.
South Beach Tower retail units are fully leased and hotel operation is slated to commence in January 2017
The 32,000 square feet of retail and 510,000 square feet of office space at its Joint Venture mixed development, South Beach Tower, have been fully leased. Following the re-branding of South Beach Hotel into The JW Marriott Hotel Singapore South Beach, hotel operations are expected to commence in January 2017. Management mentioned that they will "evaluate and review market conditions" to launch the 190-unit South Beach Residences. We are of the view that the launch is unlikely to happen in the near term or at least until there are significant improvements in market conditions considering that CDL is not in a rush to clear these units since mixed developments are not subjected to the clawback of ABSD remissions and CDL has a strong balance sheet to hold onto them.
Sales for China residential projects continue positive momentum
Sales for Hong Leong City Center in Suzhou (CDL's biggest project in China, c.56% of total China projects RNAV) remain buoyant with all 156 units of their Phase 2 Residential Tower launch sold within an hour. Sales of residential projects in Shanghai, Suzhou and Chongqing continue to register y-o-y growth in total floor area sold despite rounds of cooling measures, with majority of cities continuing to see price increases this year. We expect the Group's China projects to continue their positive sales momentum due to their favourable locations and positive macro developments in some of the cities such as Chongqing.
Investment Action
While we pre-empt price cuts in certain development projects, the impact on profitability is limited considering these projects are >50% sold. Overall, we remain optimistic about CDL's property development segment as unsold units continue to move gradually. We also think the pessimism surrounding CCR properties has been overblown as recent transactions suggest slight discounts from current prices is sufficient to bring back a good volume of value investors. We remain confident of the Group's overseas development strategies, especially in China. We maintain our 'Accumulate' rating with an unchanged fair value of S$9.98 based on our FY17 RNAV estimates.
No significant price cuts at Commonwealth Towers and The Venue Residences yet; Expect further price cuts to accelerate unit sales as ABSD due dates are nearing
The average transacted prices at Commonwealth Towers in October 2016 has declined 5.9 percent to S$1,628 per square feet (PSF) from an average year-to-date (YTD) transacted prices of S$1,731 PSF which was within our expectations considering that the additional buyer's stamp duty (ABSD) deadline (February 2018) is approaching and there is currently still a large proportion of units (48%) unsold. We are of the view that CDL is likely to cut prices at Commonwealth Towers after the launch of the adjacent 732-unit development, Queen's Peak. The average transacted prices for the 242 units during the launch at Queen's Peak was S$1,632 PSF which coincides with the average YTD transacted prices at Commonwealth Towers. We expect ASP to fall to a region of S1,550 PSF which translates to a potential development margin of 10.7 percent and add S$0.03 per share to our revalued net asset value (RNAV) while assuming a breakeven cost of S$1,400 PSF.
The average transacted prices at The Venue Residences in October 2016 was up 16.2% month-on-month to S$1,410. We believe that the robust sales and sales volume (c.35% more units sold compared to YTD average) was partly due to the strong demand at the launch of Forest Woods which sold 66% of total units at an ASP of S$1,400 PSF on the first weekend of its launch. However, we are anticipating price cuts at the development in order for sales to accelerate considering that the ABSD deadline is in September 2017, and there are currently another 97 units (36.5%) remaining unsold. We are of the view that ASP cuts are unlikely to be significant as the take up rate for new units within the area is gradual but far from muted. In spite of this, we continue to maintain our assumption of an ASP of S$1,300 PSF (development margin: 13%) which will potentially add S$0.02 to our RNAV estimates, and believe that the assumed ASP is a conservative estimate for CDL to move the remaining unsold units before the ABSD deadline.
Rental from office units was down 8.2% but occupancy rate is improving despite a declining national average
3Q16 rental revenue from CDL's investment properties was down 7.5% to S$278.2 million mainly due to an 8.2% drop in rental revenue from office properties amid a rising supply of new office space and a weaker economic environment. However, we are expecting the decline in office rental revenue to taper moving forward as occupancy rate has recovered 2.4 ppts to 96.2% despite the national occupancy rate for office space continuing to decline (3Q16: 89.6%, 2Q16: 90.9%).
Overseas Properties Update – China (43% of Overseas Properties RNAV): CDL China continued its steady sales performance of residential projects in Suzhou, Shanghai and Chongqing. Hong Leong City Center, Suzhou (HLCC), CDL's biggest project in China (c.56% to total forecasted China Properties RNAV), launched its Phase 2 residential tower during the quarter. The launch received an overwhelming response with all 156 units released purchased within an hour. Management expects the positive sales momentum to continue for the upcoming launches in this project. Total sales value generated so far for HLCC has hit RMB 2.55bn (S$524m).
On a more macro level, despite having more than 20 cities adopt restrictive measures to tame fast-rising prices, 63 out of 70 cities saw m-o-m increase in residential home prices in September 2016, continuing the strong momentum since the start of 2015. Shanghai and Suzhou for instance, have rolled out measures such as enforcing higher down-payments for second home purchases to stem a surge in property prices.
Figure 1: 63 out of 70 Chinese cities saw month-on-month property price increase in Sept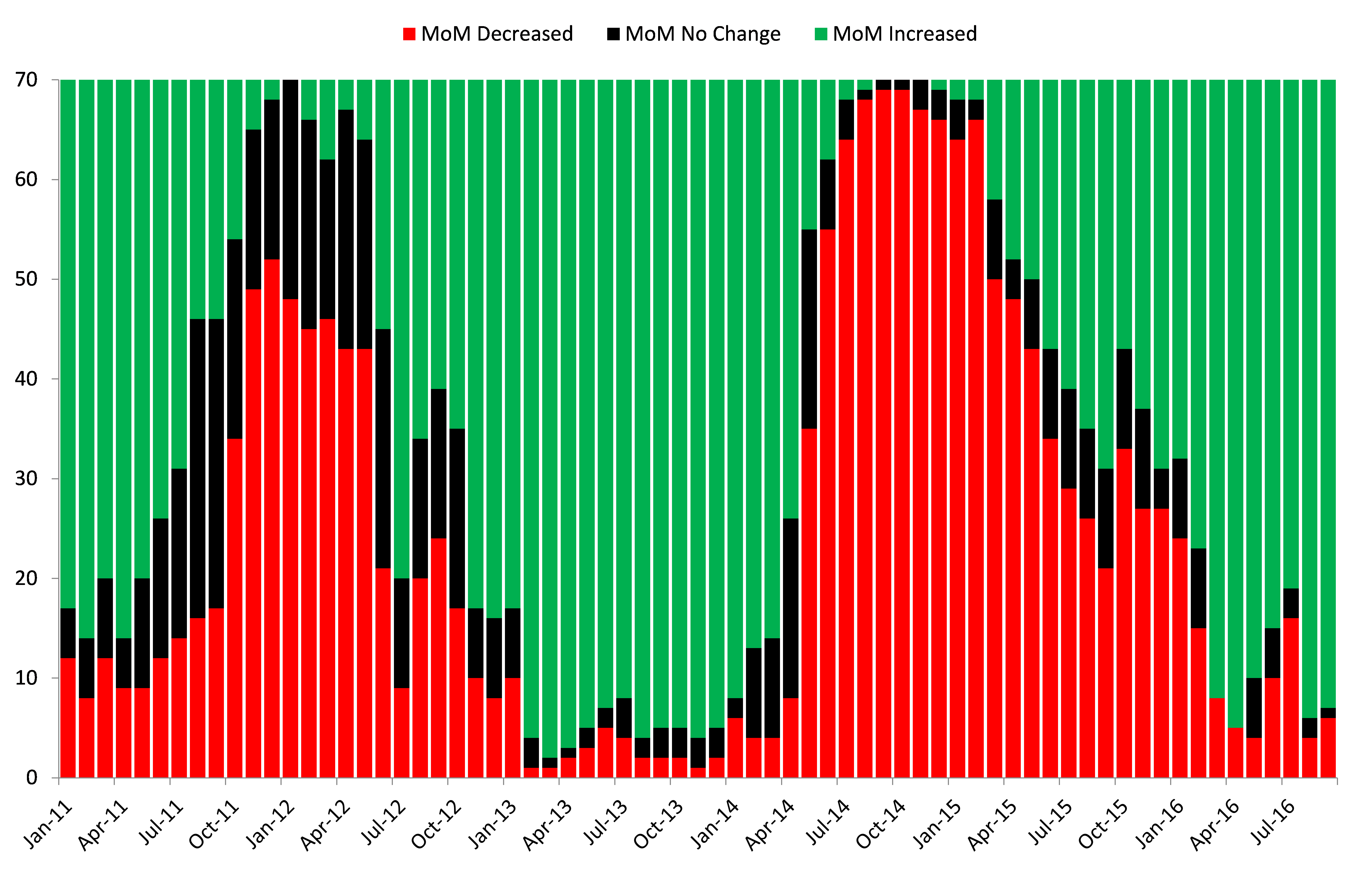 Source: CEIC, Phillip Securities Research (Singapore)
Total floor space sold similarly continued to grow on a year-on-year basis, despite declining growth rates. We expect the Group's China projects to continue their positive sales momentum due to their favourable locations and positive macro developments in some of the cities. Chongqing for instance, has, in September this year, been given approval by the central government to develop its free-trade zone and CDL's investments in the city are expected to benefit from this.
Figure 2: Y-o-Y change for total residential floor space sold ytd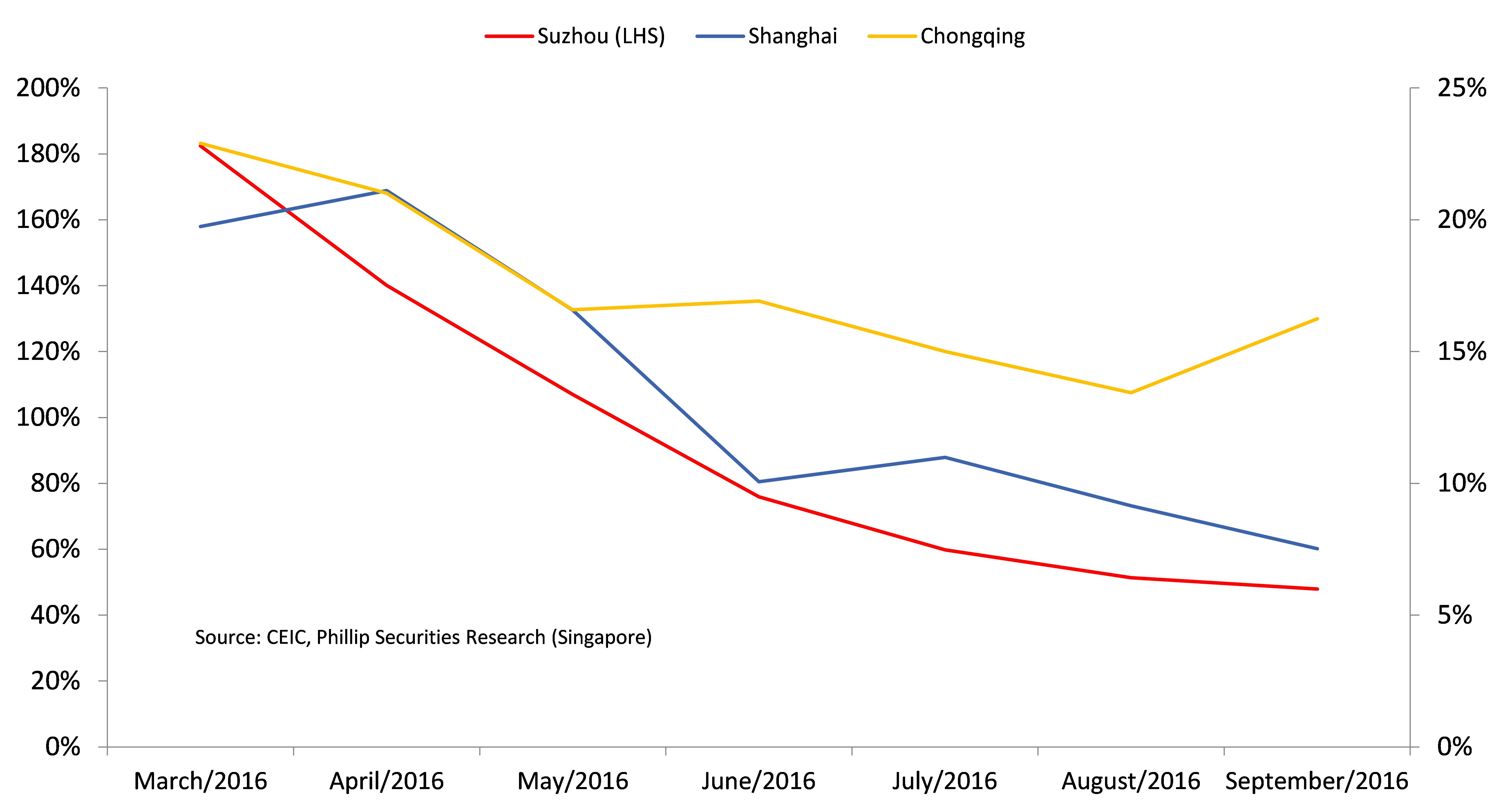 Overseas Properties Update – UK (37% of Overseas Properties RNAV):  UK remains the Group's second largest market overseas for property development, constituting 37% of total RNAV for CDL's overseas properties. The Group's biggest projects at Pavilion Road Knightsbridge, Teddington and Stag Brewery remain long term projects with first completion at least three years away.
Hospitality business. Hotel revenue declined by 2.8% on a constant currency basis for Millennium and Copthorne to £581 million for 9M16. Declines in RevPAR for New York and Singapore, at -14.8% and -9.6% respectively, were the biggest causes for the drop in revenue. We expect Singapore's hotel portfolio to remain a drag given the anticipated 6.1% increase in hotel room supply in 2017. Most of the supply in 2017 belong to the upscale/luxury sector, which would pose a threat to CDL's current Singapore hotel portfolio. We do not foresee a strong enough uptick in tourist arrivals and lodging spending in 2017 to catch up with this upcoming supply.
Please sign up to access our full report.