Positives
+ New capacities commenced commercial production. Two expansion projects, namely 10,000-tonne Insoluble Sulphur (IS) production line and Phase I 10,000-tonne accelerator TBBS production line, started commercial production in Nov-18 and Jan-19 respectively. Accordingly, we expect to see a respective 50% and 28% jump in IS and TBBS sales volume. As of Jan-19, the total annual capacity of rubber accelerators, IS, and anti-oxidant arrived at 97,000 tonnes (FY18: 87,000 tonnes).
+ Dividend for FY18 at a record high. The company declared a final dividend of 5.5 SG cents for FY18, representing a 21% of payout of net profit which was reported an 88% YoY jump. Based on the last closing price of S$1.26, the dividend yield is 4.4%.
Negatives
– ASP correction extended in 4Q18. As shown in Figure 1, the ASP of each product declined to a various extent. The overall ASP in 4Q18 decreased by 15% YoY and 8% QoQ to RMB19.1k/tonne due mainly to the drop in raw materials whose average price fell by 8.8% QoQ during the same period. Hence, the price spread between end products and raw material was holding up in 4Q18, see Figure 2. Accordingly, the company's GPM decreased slightly by 4ppt to 32.3% in 4Q18.
Figure 1: Sales volume and ASP breakdown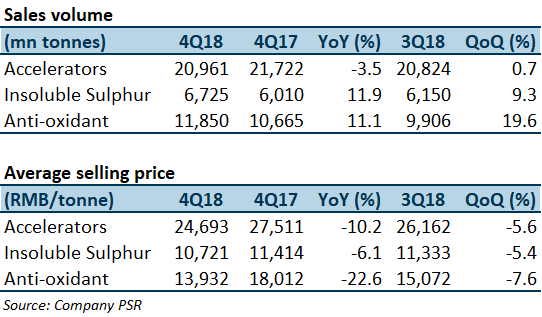 Figure 2: Price spread (accelerator/antioxidant and aniline)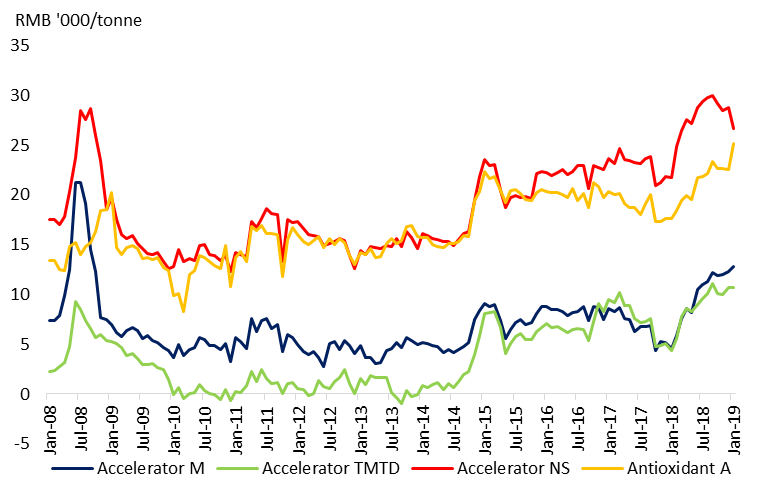 Source: CEIC, PSR
Outlook
The ASP of rubber chemicals and the cost of underlying raw materials will continue to normalise in 2019, reverting to a level that both up- and down-stream players are more comfortable with. On the hand, the crude oil prices are expected to recover back to US$60/bbl to US$70/bbl which supports chemical raw materials prices. We believe that the GPM could correct due to the increase in the market supply of products that are driven by lower prices. Meanwhile, the company has another 20,000 tonnes of TBBS production line to be established by the end of 2019. Hence, we can still look forward to the volume growth until 2020. As of Dec-18, the company had over RMB1bn (S$200mn) cash in hand which represented around one-third of the current market capitalisation. The business which generates steady positive free cash flow will remain healthy this year.
Maintain BUY with a lower TP of S$1.55
Due to the expected softer ASP which translates into a lower bottom line, we revise down our TP to S$1.55 (previously S$1.68) and maintain our BUY recommendation.