Sunsine is the market leader in rubber accelerator industry, commanding 18% share of global production.
We expect the current attractive rubber accelerator product spread to sustain for the next couple of years as supply continues to consolidate in China.
Stringent environmental policies in China are phasing out smaller producers in favour of the leading producers such as Sunsine.
Additional growth by capacity ramping by a third to 117k tonnes by 2020.
We initiate a BUY call with a TP of S$1.60 (FY18e PE: 10x).
Background
China Sunsine (Sunsine) is the largest producer of rubber accelerators in the world and the largest producer of insoluble sulphur in China. It has a client base of more than 1,000, including two-third of the top 75 global tyre manufacturers.  By 2018, Sunsine annual capacity is expected to reach 172k tonnes (+6%).
China has dominated the rubber chemical market. As of 2015, total production of rubber chemicals in China reached 1.1mn tonne, accounting for 76% of the global output. Production from 47 companies took up more than 80% of the domestic volume.
Investment Thesis
Healthy demand from tyre industry. 90% of the consumption of rubber chemicals is associated with the automobile industry, predominantly in the production of car tyres. The consumption ratio of rubber chemicals to rubber is 6:100. Global tyre production is expected to grow from 2.2bn in 2017 to 2.7bn in 2020 with CAGR of 3.4% during the period. Meanwhile, total global production of rubber chemical is expected to reach 1.8mn tonnes by 2020, delivering a CAGR of 3.5% from 2015 to 2020.
Supply short and upswing prices of raw materials drove market prices to surge: In 2016, supply-side reform initiatives in China began phasing out environmentally obsolete capacity. Consequently, shortage began to appear as quality producers were not able to make up the demand gap. The average export price of aniline, the main material of rubber chemicals, was on course for recovery with 33% growth in recent two years and the average domestic price soared by 131% during the period.
Existing leading companies will consolidate further the market: Three main factors will result in a more consolidated market in the foreseeable future:
Stringent environmental requirements are raising the entry barrier, restricting new capacity and phasing out small mills in China.
Cost of switching supply source supply is high for tyre producers, especially global brands, resulting from due diligence on suppliers for a high standard of environmental protection and product specification.
The market leaders have superior production techniques, wider client base and better waste processing.
Investment Actions
Based on a required rate of return of 7.9%, sustainable growth rate of 1%, and FX (SGD/RMB) of 4.85, we derive a TP of S$1.60 (FY18e PE: 10x) by free cash flow to equity (FCFE) valuation method and initial a BUY call with an upside of 44.4%.
Company Background
Established in 1977 in China, Sunsine was listed in SGX in 2007.
The company is the largest producer of rubber accelerators in the world and the largest producer of insoluble sulphur in China.
It is engaged in the production of specialty chemical, rubber accelerators, antioxidant, and insoluble sulphur. Meanwhile, it also produces and supplies heating power for internal usage and to external customers.
With 40 types of product mix, Sunsine has achieved a leading position in specialty rubber chemical market. The client base expanded to be more than 1,000, including 65% of the top 75 tyre manufacturers.
The production plants are located in Shanxian, Weifang and Dingtao in Shandong Province in China.
By 2017, it is expected the total annual capacity to reach 152k tonnes, comprising of 87k tonnes of rubber accelerators, 45k tonnes of antioxidant, and 20k tonnes of insoluble sulphur.
Investment Thesis
Overview of rubber chemical sector
Rubber chemicals, also called rubber additives, are ingredients used to blend into either natural or synthetic rubber to produce rubber products that can possess various properties such as antioxidation, antidegradation and extension of lifespan. It is an indispensable intermediate that improves technique and quality in the process of production of rubber products, shown in Figure 1.
Figure 1: Rubber chemical industry chain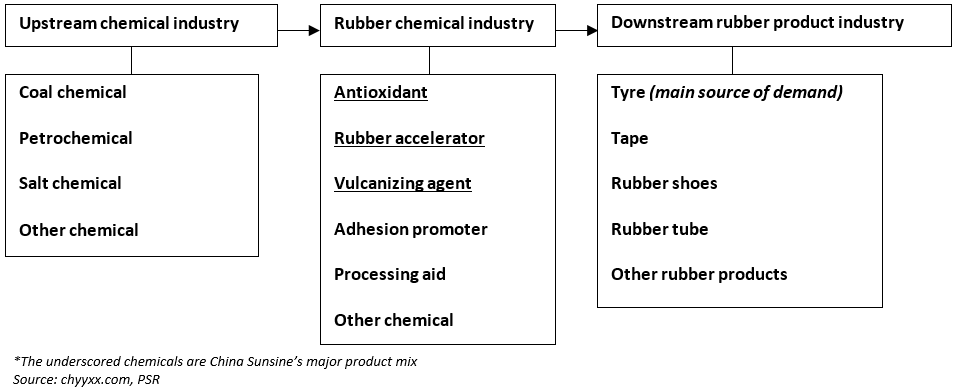 The raw materials of rubber chemicals comprise of aniline, carbon disulphide, hydrogen peroxide and morpholine. Aniline is the key chemical that is used for the production of antioxidant and rubber accelerator. Theoretically, aniline consumption ranges from 50% to 70% of per unit production of antioxidant and accelerator. Therefore, the price of it substantially affects the overall cost of production.
90% of the consumption of rubber chemicals is associated with the automobile industry, and 70% of the output is used for the production of car tyres, which consumes 70% of global rubber output averagely. The consumption ratio of rubber chemicals to rubber is 6:100. Therefore, the supply of car tyre markedly drives the demand for rubber chemicals.
China has become the biggest rubber chemical market and expected to consolidate
Over the past 10 years, China has been taking the lead in this niche market. See Figure 2, total production of rubber chemicals in China arrived at 520k tonnes, taking up 45.6% of the global volume in 2008. Since 2013, domestic production surpassed 1mn tonnes along with more than 70% of global market share. In the recent four years, the total output maintained at above 1.1mn tonnes, and the market share stabilised at c.75%. It is worth noting that more than 80% of the output come from 47 members of China Rubber Industry Association Rubber Chemical Committee. According to China Rubber Industry Association, as of 2016, gross industry output value of rubber chemical sector grew by 5.1% YoY to RMB19.2bn, and total sales grew by 7.4% YoY to RMB18.8bn in 2016. During the period, sales generated by top 5 companies, shown in Figure 3, accounted for more than 40% of the whole industry sales. Sales from top 20 companies out of over 100 peers took up more than 80% of market share. In a nutshell, the sector is trending to be consolidated, favouring the existing market leaders to maintain or even expand their market shares.
Figure 2: Production volume of rubber chemical in China dominates the world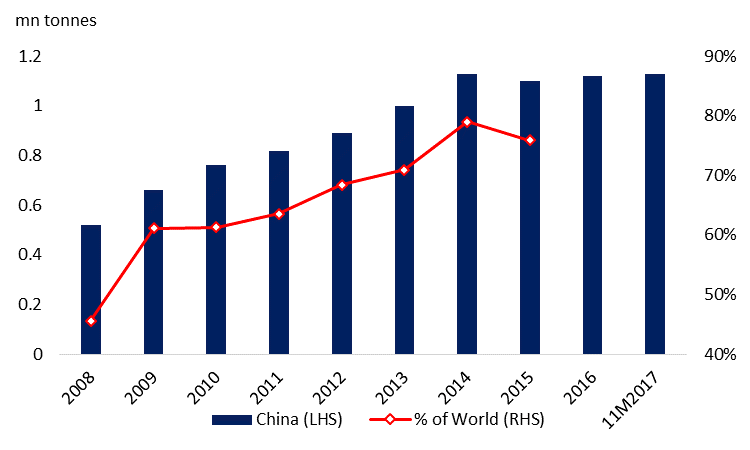 Source: China rubber industry yearbook 2015-2016, cria.org.cn, PSR
Figure 3: Top 5 rubber chemical companies in 2016 (sorted by sales)

Sustainable growth of auto and tyre demand underpins the sector prosperity
According to Organisation Internationale des Constructeurs d'Automobiles (OICA), also called International Organization of Motor Vehicle Manufacturers, China has become the fastest growing countries in the development of auto industry, see Figure 4. As of 2016, total car production in China reached 28mn units, representing a 15% YoY growth that outperformed the global 5% YoY growth. Meanwhile, the number of vehicle in use (VIU) in China has been maintaining at an over 10% annual growth for the last decade, which delivered a CAGR of 18%, shown in Figure 5. Apart from tyres being equipped with the newly built cars and vehicles, other car accessories such as tubes, dampers, and brake pads are also sources of consumption of rubber and rubber chemicals. The expanding volume of VIU that increasingly require recurring replacement tyres and components also drives it. In 2005, China surpassed US and became the top tyre producer globally along with the domestic tyre production arriving at 250mn units. During the last decade, China has also been the largest tyre consumer and exporter in the world. Shown in Figure 6, tyre production generated a CARG of 8%. It is expected that the volume will reach a new high of 635mn with 4.1% YoY growth in 2017.
Figure 4: Growth of China auto production outpaced the world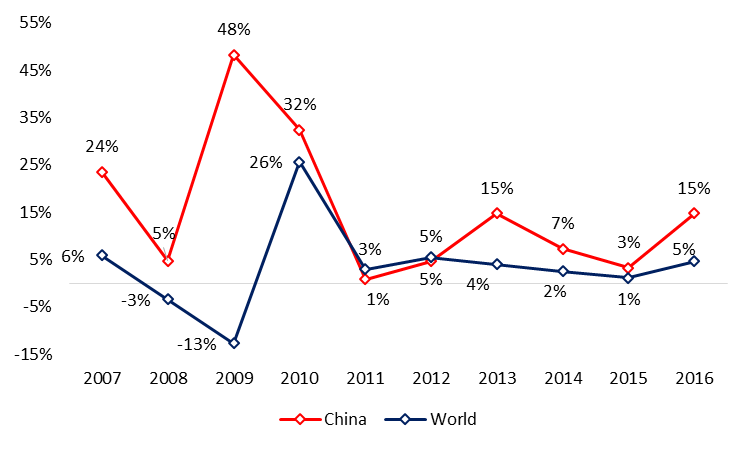 Source: OICA, PSR