Revenue met 52% of our full year expectations of HK$2,536mn.
HK$464mn gross profit met 39% of our full year expectations of HK$1176mn.
HK$188mn net profit met 33% of our full year expectations of HK$561mn.
Due to lower than expected performance in 1H16, we revise downwards our full year net profit forecast from HK$561mn to HK$527mn, implying expected EPS of 20.2 HK cents (3.6 SG cents). We maintain our "Accumulate" call with a lowered TP of S$0.69 (from S$0.73), implying a potential return of 15.6%
Results at a glance

Expanding business scale is top priority, but there remains more room to improve profitability.
In 1H16, CEWL secured three Waste Water Treatment (WWT) projects and one integrated water project, namely, Zhangqiu WWT, Maidao WWT upgrading, Xinyi WWT PPP Projects, and Zhenjiang Sponge City Project. With the additional total daily WWT capacity of 455,000 m3, the Group has only completed 30.3% of its full year target of 1.5mn m3/day in 1H16. As of 1H16, the total designed WWT capacity amounted to approximately 5.1 m3/day. Moving forward, Management is still confident of achieving the full year target in FY16, and lifting the Group's designed capacity to over 10mn m3/day in the upcoming 2 to 3 years. Management reiterated that expanding the Group's total capacity is the top priority for CEWL, because operating with economies of scale allows the group to reduce operating costs.
The construction services segment was the main revenue generator in 1H16 (see Figure 1 below), taking up 53% of total revenue, following by Operation Income (27%) and Finance Income (20%).  Meanwhile, gross profit margins of the Construction Services segment declined from 30% in 1H15 to 21% in 1H16. As a result, the Group's total gross profit only improved mildly with a mid-single digit growth. Besides the rise in overhead costs such as staff compensations, marketing, and other operating expenses, FX losses from the devaluation of RMB also further compressed operating margins. As of Jun-16, 56% of the HK$5.6bn borrowings were denominated in RMB while the remaining 44% was in HKD and USD.  Year-to-date, US$1.36b worth of financing leases were gradually repaid, out of which 3 loans were repaid by the end of March and the last one was repaid by July. Therefore, the negative impact from FX losses will be reduced substantially in 2H16 with the refinanced loans mostly denominated in RMB according to Management.
Fig 1: Revenue breakdown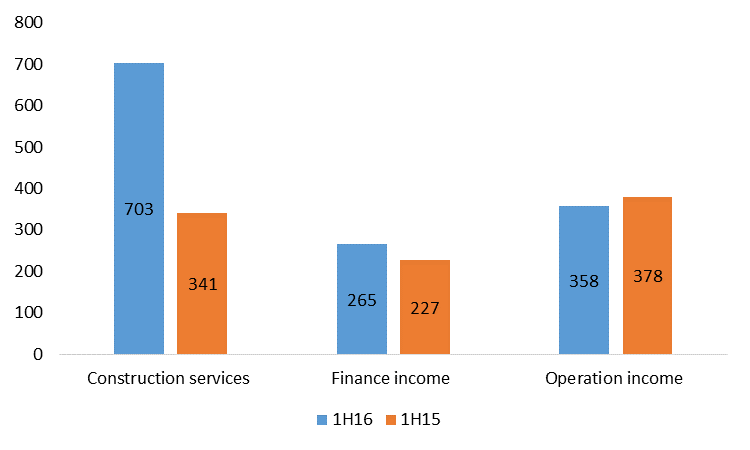 Source: PSR, Company
For 2H16, Management guided that in totality, CEWL is expected to deliver double-digit y/y growth for full year net profit, since several one-off impacts seen in 1H16, such as FX losses and recalculation of deferred tax would not be substantial in 2H16. The continuous implementation of cost controls and mitigation of FX risk through hedges would also contribute to the double digit y/y net profit growth.
Management has been actively engaging Chinese local governments to ensure timeliness of receivables.
There have been concerns in the market on the collectability of the Group's receivables, especially for the Dalian Dongda projects. Management guided that fiscal difficulties triggered by the sluggish economic growth in northeastern China hampered the local government's ability to repay the overdue tariffs. CEWL has been actively pursuing these issues with the authorities, creating a yearly repayment schedule accepted by both parties.
Going forward, the Group remains committed to actively engage the local governments to ensure timely repayments of overdue tariffs. As of Jun-16, the total amount of receivables was reported at HK$9.7bn, and Management aims to reduce this amount by the end of FY16.
Diversification of business and development of technological innovation in water resources amidst ongoing water tariff hike and upgrading works.
Another negotiation with the local governments concerns the water tariff hike, which we think would not be a challenge for CEWL. As we mentioned in our previous report, the uptrend of WWT tariffs was underpinned by the guidance from central government. With the gradual upgrade from G1B to G1A for Dongda's plants, the overall tariff hike is just a matter of time. Therefore, margins could be increased in the foreseeable future. Management strategized that other priorities will be expanding the business into other fields in order to establish the integrated business of treatment and protection on water resources, as well as the kick-starting of technological innovation, which CEWL prepares to devote more resources and attention to in the near term. Summing up, we think water tariff hikes will positively enhance profitability while business integration and technological innovation will entrench the Group's market position and enable it to tender for more projects with higher success rates.
Investment Action
Subject to lower margins of construction services, FX losses, and the increase in tax expenses, CEWL's profitability was compressed in 1H16. Thus, we revise our full year EPS forecast downwards by 5.3% from 3.8 SG cents to 3.6 SG cents. We maintain our Accumulate call with a reduced TP of S$0.69, based on the updated estimated EPS of 3.6 SG cents, and the average forward PER of 19.2x.