Investment Merits
Period of reckoning when efforts start to bear fruit
In 2017, a record one million square metres of retail GFA is set to be opened, which will be CapitaLand (CAPL)'s largest ever retail GFA offering in a single year. Close to 90% of this record offering in 2017 will be in China. The new total retail GFA due to open in 2017 represents c.10% of CAPL's total global retail exposure (including Integrated developments, IDs). In particular, the total new retail GFA in China represents a significant c.13% of the total retail GFA (including IDs) CAPL has built up in China over two decades since its entry in 1994.
Majority of launches in CY17 are in Chinese cities currently facing undersupply; Recent tightening of capital controls could lead Chinese homebuyers to turn inwards despite cooling measures
CAPL China plans to launch 8,430 units for sale in CY17 across 11 cities in China (Refer to Figure 18). Out of these 11 cities, eight of them have been facing at least a mild undersupply condition in the past six months since September 2016. The recent tightening of capital controls which surmounted the difficulties of Mainland Chinese to purchase overseas properties could lead them to turn towards domestic markets despite the recent implementation of cooling measures across Chinese cities.
Tapping on key competitive advantage to evolve into Asset Light Model for more sustainable future growth
CAPL's new asset light management contract model for retail acts as a kicker for ROE, allows CAPL to expand network and brand visibility without huge capital expenditure, and paves the way for future acquisition as they take on management contract roles for third party malls with a right of first refusal. A similar contract management model adopted by Ascott also allows it to scale up rapidly, and achieve its target of managing 80,000 units by 2020, a CAGR of 16% from 2017-2020. We are optimistic that the Group is able to accelerate management contract wins given its ongoing success on shopping mall management.
Initiating coverage with "ACCUMULATE" rating and target price of S$4.19
We initiate coverage on CAPL with an ACCUMULATE rating as the Group's expansion into China progressively start to bear fruits. Applying a 20% discount to our FY17 full-year RNAV estimates, which is consistent with the 7-year average post GFC discount to book, and a discount our house views as appropriate for big cap developers, we arrive at a target price of S$4.19.
Company Background
Move towards recurring income and expanding presence in China
Singapore and China account for 80% of CAPL's total assets. As a result of a strategic shift towards recurring income, 76% of total assets now belong to the investment properties category, contributing to recurring income and smoothing out the lumpiness in earnings from the trading properties segment (24%). Singapore and China now make up two of the largest markets for the Group.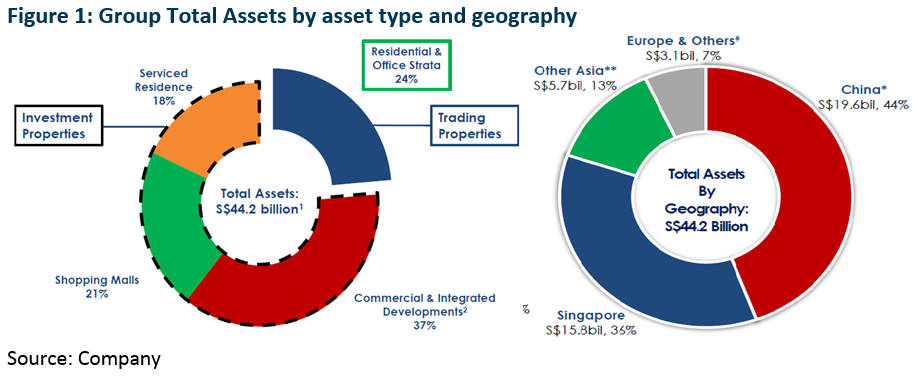 Singapore Residential: Well executed with minimal extension charges risk except for Victoria Park Villas
Structural and regulatory challenges in the Singapore market have led to CAPL adopting a cautious approach to Singapore residential development projects. Restrictive property cooling measures since 2010, together with the government adopting a more cautious approach to population growth since the 2010s which curtailed demand, resulted in Singapore's property price index dropping c.11% from its peak in 3Q2013 to 4Q2016.
Figure 2:  Singapore Private Property Price Index dropped 11% from peak in 3Q13 with 13 consecutive quarters of price easing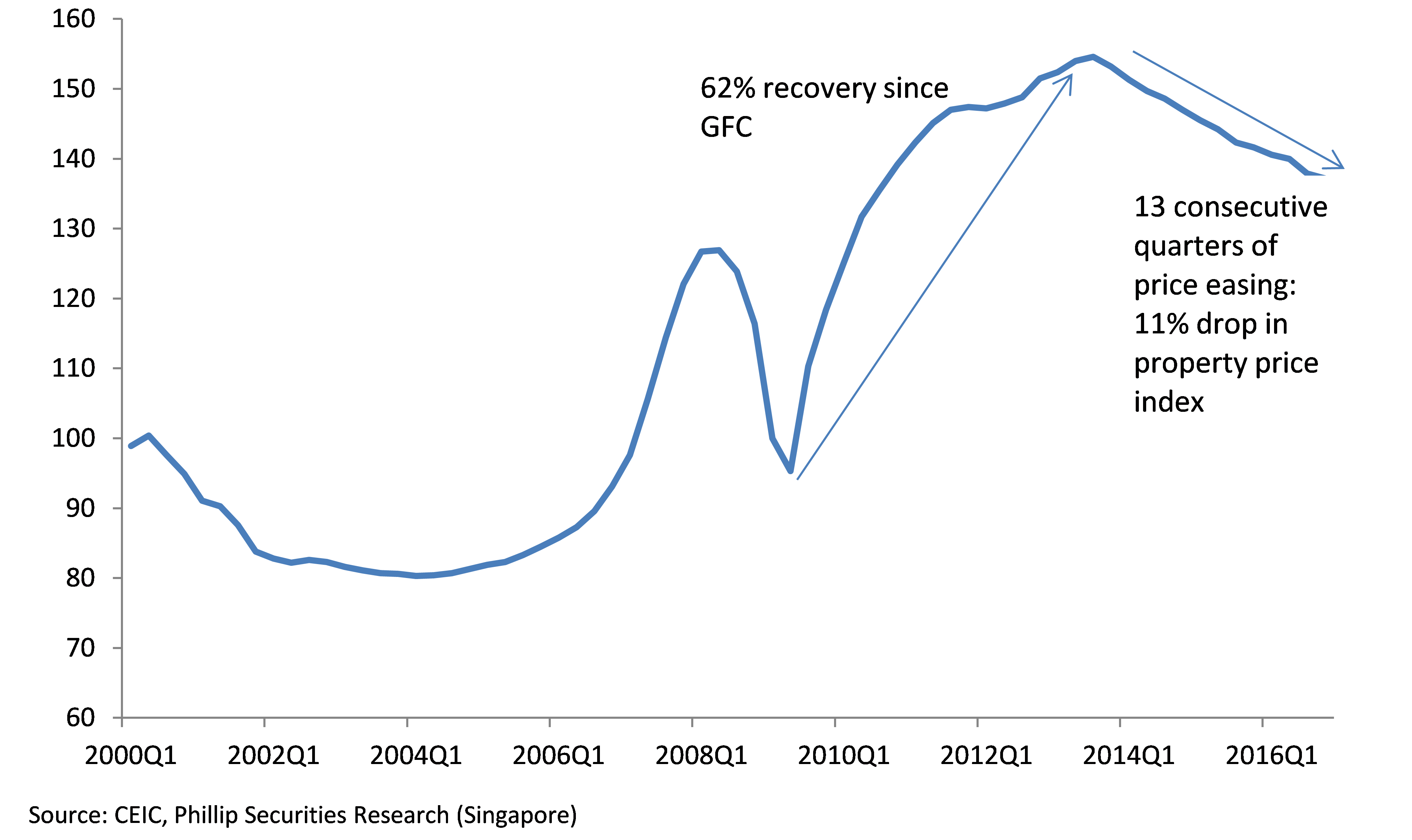 The 2013 Population White Paper has projected for workforce growth rates at 1-2% per annum for the rest of this decade and about 1% p.a. until 2030 (Fig 4). This contrast starkly with the average of 2.8% in the 1990s and 2.5% in the 2000s. As a result of the slowing population growth, we do not expect the record home sales volume witnessed in the 3 years post GFC from 2010-2012 (Fig 3) to be sustainable or repeated. We expect earnings for CAPL in the next 5 years to be driven heavily by investments in China, with Vietnam also playing an increasingly important role in the portfolio.
Figure 3: Total Singapore residential sales volume dropped 54% from 2012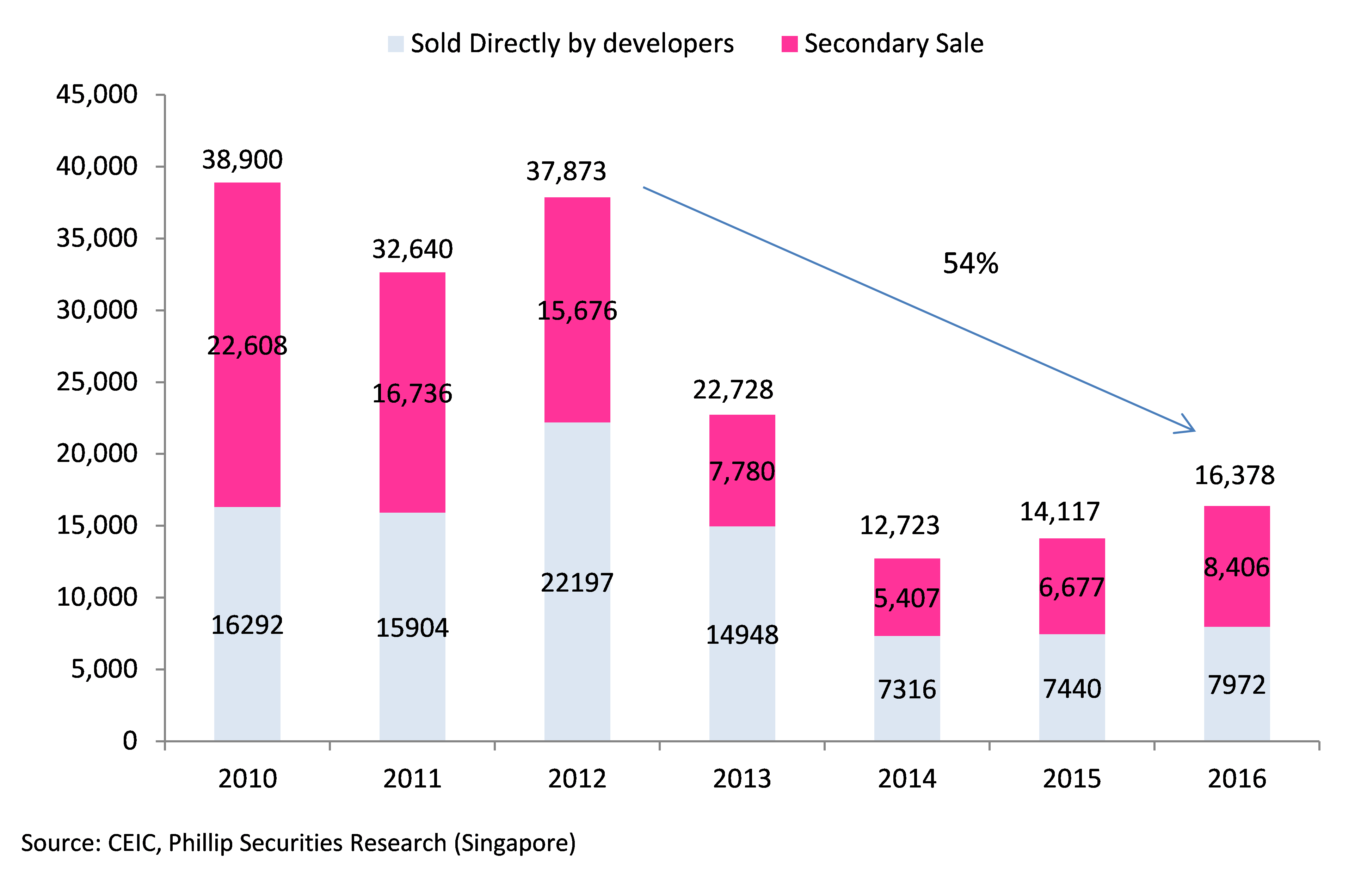 Please sign in to download the full report.