S$28.05mn Gross revenue exceeded our forecast of S$26.94mn by 4.1%
847 cents DPU missed our forecast of 1.977 cents by 6.6%
847 cents DPU in line if we exclude our assumption of capital distribution component
S$36.1mn fair value adjustment applied to 51 Alps Avenue (Schenker Megahub)
Lease expiry profile is manageable, significant lease expiries only in 2018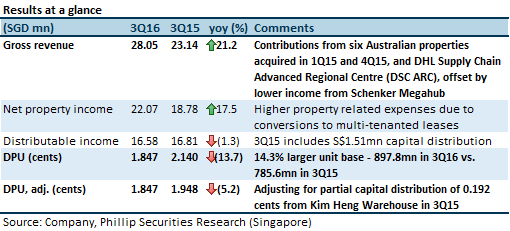 No capital distribution component this quarter; and do not expect it going forward
Our 3QFY16 DPU forecast of 1.977 cents consist of 1.811 cents core-DPU and 0.166 cents capital distribution from divestment of Kim Heng Warehouse. Our core-DPU forecast was in line with actual DPU of 1.847 cents. Management indicated that the S$2.98mn balance capital from the divestment is to be used for other purposes such as capital expenditure; and there is no commitment to distribute any of the balance in future quarters.
51 Alps Avenue (Schenker Megahub) fair value adjusted downwards by 31%
The property was valued by an independent valuer and revalued downwards by S$36.1 million from S$116.8 million to S$80.7 million. Net asset value (NAV) per unit is consequently 4 cents lower quarter-on-quarter (qoq) to 83 cents. The fair value is based on market rent being effectively achieved for the five years (i.e. favourable outcome in Court) of Schenker's lease. Meanwhile, Cache will collect on a single-net basis, rent of S$0.77 psf/month from 1 September 2016 through end-2017, and the valuer's assumption is that the property will revert to market rent (of S$1.40 to S$1.50 psf/month) on 1 January 2018 (post-Court proceedings); and a lump-sum payoff for the shortfall in rent over the 15 months (September 2016 to December 2017) to be paid in 2018.  Capitalisation rate for the property remains unchanged at 6.5%.
Management remains confident of a favourable outcome from Court proceedings, but in the event of an unfavourable outcome, the property will be revalued to S$66.6 million.
Prospects for opportunistic acquisition dimmed, expect downside to organic DPU
As a result of the downward revaluation of 51 Alps Avenue, aggregate leverage has increased to 41.2% from 39.8%. Management shared that it will not be tapping on new equity to lower gearing; it is looking to rebalance the portfolio by recycling lower yielding properties and retire debt. The strategy for growth is to focus on Australia. In view of the elevated gearing and limited debt headroom, we are not pinning our hopes on any opportunistic acquisitions until gearing has been pared down.
Maintaining our "Reduce" rating with unchanged  DDM valuation of S$0.81
We have made some adjustments to our forecasts, principally bringing our revenue forecasts in line with revaluation of 51 Alps Avenue, and removing our capital distribution assumptions. Our near-term FY16e/FY17e DPU have been revised downwards by 4.1%/1.8; but FY18e DPU revised 6.8% higher due to one-off payout for the rent shortfall.
Lease expiry profile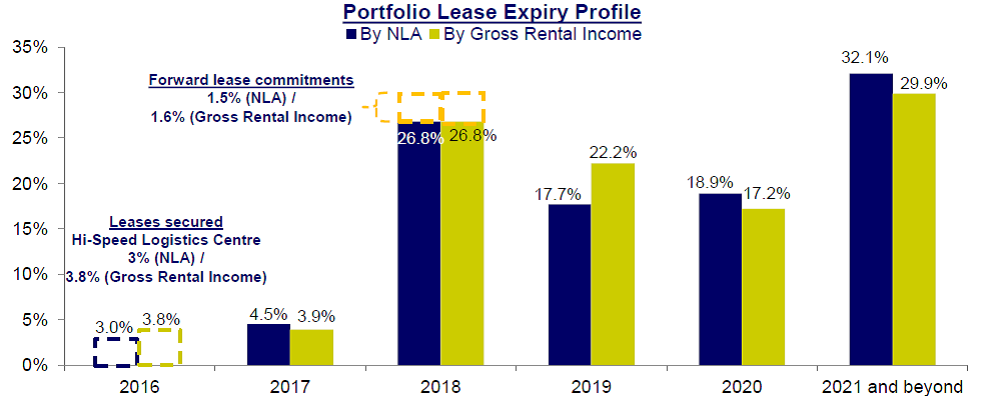 Source: Company 3QFY16 Results Presentation, 21 October 2016
4.5% of leased lettable area up for renewal in FY17
There are no master leases expiring during the year. The Manager shared that the expiries are in Singapore (properties located at the west), Australia (Coopers Plains) and China (Jinshan Chemical Warehouse). The multi-tenanted properties located at western Singapore are Cache Cold Centre and Pandan Logistics Hub.
26.8% of leased lettable area up for renewal in FY18
This arises primarily from the master lease of CWT Commodity Hub which will be expiring in April 2018.
Peer relative valuation
Cache Logistics Trust is approximately on par with its nearest peer in terms of trailing P/NAV multiple, and has a higher 12M trailing yield.