1Q17 gross revenue in line with our forecast
1Q17 DPU from operations exceeded our forecast by 5.0%
Quarter-on-quarter improvement in occupancy to 97.2% from 96.4%, but WALE continues to shorten to 3.6 years
Adjusted our FY17e/FY18e revenue forecast higher by 1.6%/1.5%
FY17e/FY18e DPU forecast adjusted higher by 3.9%/1.3%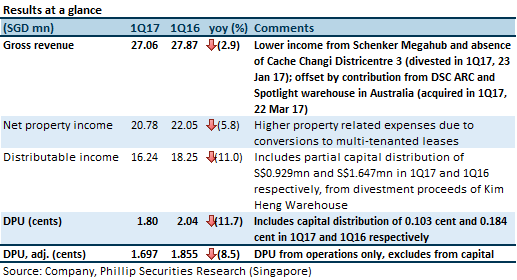 Manageable lease expiry profile for FY17; FY18 not out of the woods
None of the 4.7% of leases by net lettable area (NLA) expiring in FY17 are master leases, hence they do not pose a major threat to the portfolio. Of the 20.8% of leases by NLA expiring in FY18, expiry of the CWT Commodity Hub master lease accounts for ~13% and ~8% from the rest of the portfolio. According to JTC data as at December 2016, planned supply of warehouse space in 2017 is 58% higher than the net new supply in 2016. This could result in an overhang of vacant warehouse space going into 2018, thus impacting leasing for CWT Commodity Hub.
Business as usual, pending completion of takeover of CWT Ltd by HNA Holding Group
In terms of the right of first refusal (ROFR) agreement, CWT will grant the ROFR as long as ARA-CWT Trust Management (Cache) Limited remains the manager of the trust, and CWT holds at least 15% of the manager. Hence even after a takeover by HNA, CWT could continue to inject properties into Cache's portfolio. Going a step further, HNA may even inject its own properties into Cache after a takeover.
Unchanged view: high gearing is the key idiosyncratic impediment to inorganic growth
With aggregate leverage at 43.1%, our debt headroom estimate is ~S$49mn; this is in comparison to property portfolio of S$1.24bn. It is inevitable that new equity has to be raised, in order to grow the portfolio meaningfully, but it will be at the expense of dilution to DPU.
Maintain "Reduce" rating with slightly higher target price of $0.75
The price of Cache Logistics Trust has appreciated 5.5% over the last month, compared to 3.5% for the FTSE REIT Index. We believe the out-performance has been driven by market optimism of a consolidation among the smaller capitalised REITs. However, we think the probability of a consolidation for Cache is lower compared to the other REITs, on account of its fragmented unitholder structure and absence of a substantial unitholder.
Our target price is an implied FY17e P/NAV multiple of 0.98x.
Relative valuation
Cache Logistics Trust (Cache) is trading approximately on par with its logistics peers in terms of P/NAV multiple.