2Q18 Gross revenue within expectation; DPU 6.8% lower than forecast due to higher than expected property expenses – we had under-estimated the impact from the conversion of CWT Commodity Hub to multi-tenancy lease
1H18 revenue and DPU met 50.4% and 48.4% respectively, of our full year FY18 estimate
Portfolio WALE remains unchanged QoQ at 3.5 years by NLA
Downgrade to Neutral; new target price of $0.82 (previously $0.91)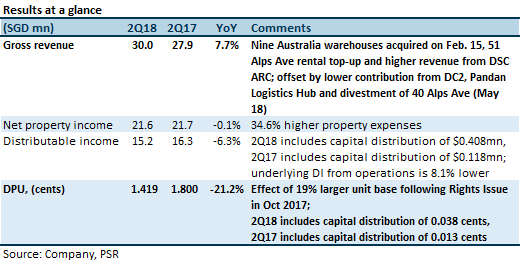 The Positives
+ QoQ lower gearing from 38.5% to 35.3%. This was expected, and we had commented in previous reports on the use of proceeds from the divestment of 40 Alps Ave to pare down debt. We estimate a debt headroom now of ~S$110 mn, which can potentially be used to growth the AUM by 8%.
+ Higher than expected occupancy at CWT Commodity Hub. Committed occupancy is 92.7%, which is higher than the 86% in April 2018 when it was converted to a multi-tenancy lease structure, and also higher than the 88.5% for island-wide warehouse space according to JTC. However, the higher occupancy was at the expense of shorter leases. Also, Cache's overall portfolio committed occupancy is lower QoQ from 97.3% to 96.8%.
+ Limited vacancy risk remains for 2H 2018. Only 3.1% of leases by rental income is expiring in 2H 2018. However, the lease expiry of 28% of the portfolio by rental income in 2019 is a concern.
The Negatives
– YoY lower NPI despite YoY higher gross revenue. Lower net property income (NPI) was due to the higher property expenses, mainly in relation to the conversion of CWT Commodity Hub to multi-tenancy lease structure in April 2018.
– YoY lower DI underpinned by lower underlying DI from operations. Underlying distributable income (DI) is S$1.315 mn or 6.3% lower YoY, in part due to the lower NPI, and mainly negatively impacted by S$1.371 mn paid to perpetual securities holders. There was no payment to perpetual securities holders in 2Q17, as they were issued in January 2018 in relation to the acquisition of nine Australian properties.
– Portfolio rental reversion of -4.0% for the quarter. This is effectively the Singapore portfolio, as the Australia portfolio is mainly on long multi-year leases. We expect reversions to continue to be negative for the rest of the year, as overhang of space continues to be absorbed. The manager is optimistic on rents to bottom by the end of the year.
Outlook
The outlook is negative. Negative rent reversions expected to persist till the end of 2018, at the very least. The 2019 lease expiry of 28% of the portfolio by rental income poses a significant renewal risk. Moreover, some leases at Commodity Hub are currently above market rent, so there is scope for negative reversion at that asset in 2019. Non-renewal of other master leases in 2019 could put additional pressure on distributable income. Utilisation of the debt headroom to make accretive acquisitions would make us turn more positive towards the stock.
Downgrade to Neutral; new target price of $0.82 (previously $0.91)
The most significant change to our forecast is an increase to property expenses estimate. Our FY18e/FY19e DPU estimate is 6.5%/9.4% lower than previous. Our target price represents an implied 1.16x FY18e P/NAV multiple.
Relative valuation
Cache Logistics Trust is fairly valued relative to logistics peers in terms of P/NAV multiple. But it has a higher than average trailing yield.