FY16 Gross revenue of S$111.3mn in line with our forecast of S$111.3mn; and in line with consensus expectation of S$111.1mn
FY16 DPU of 7.725 cents in line with our forecast of 7.592 cents; and missed consensus expectation of 8.10 cents by 4.6%
DPU of 1.850 cents declared for 4QFY16 (4QFY15: 2.074 cents)
The price of Cache Logistics Trust had shed 11% during 2016, to close at S$0.81 at the end of the year. Unitholders would have received 7.922 cents DPU for the 12-month holding period from January to December 2016, arising from 4QFY15 to 3QFY16 (2.047, 2.039, 1.989 and 1.847 cents) distributions. For 2017, we view the high gearing of 43.1% as the key idiosyncratic impediment to inorganic growth. New units created through an equity fund raising will likely put DPU under pressure again, as what happened in 2016.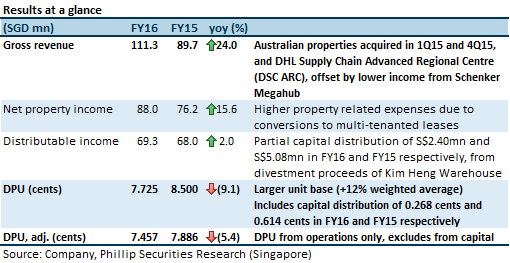 Singapore portfolio battered 7%, aggregate leverage raised to 43.1%
S$80.74mn fair value loss in investment properties for the full year was effectively by the Singapore portfolio. There was a S$36.1mn fair value loss in 3QFY16 in relation to 51 Alps Avenue (Schenker Megahub). The remaining S$44.6mn loss in 4QFY16 was mainly due to four properties – CWT Commodity Hub, Cache Cold Centre, Hi-Speed Logistics Hub and Pandan Logistics Hub. In contrast, the Australia portfolio appreciated a modest 1.7% year-on-year (yoy) to A$168.6mn. Overall, NAV/share is lower by 10 cents yoy to 78 cents.
51 Alps Avenue remains unresolved, Cache Changi Districentre 3 divested
The manager remains confident of its position in the tenancy dispute at 51 Alps Avenue and expects a positive outcome from the court proceedings. Divestment of Cache Changi Districentre 3 was completed on January 23, for S$25.3mn. The manager has not specified how the cash proceeds will be deployed, but we believe the immediate consideration would be to lower aggregate leverage by retiring debt, followed by making an acquisition and lastly stabilising DPU by paying out capital as distributions.
Leases expiring in FY17 not a major concern, but FY18 has concentration risk
4.9% of leases by gross revenue will be expiring in FY17; none of them are master leases. Thus they will not pose a major impact to the portfolio. However, FY18 will see 22% of leases expiring – split between CWT Commodity Hub master lease (13%) and others (9%). More than 60% of the space in Commodity Hub has been forward renewed.
Downgrade to "Reduce" rating with lower  DDM valuation of S$0.73 (previous: S$0.78)
Confronted with the dim prospects for inorganic growth without further unitholder dilution, and track record of yoy lower DPU from operations, we now use -1.5% as our terminal growth assumption. Our target price is an implied 0.95x FY17e P/NAV.